The growing poverty rate and parents dedicating less time to their children are contributing to increased behavioural problems in schools, according to prefect of discipline Philip Pace.
"As long I have been in the system, for 15 years, behaviour in general is getting slightly worse due to various factors, including social ones," said Mr Pace who, for the past five years has been responsible for the 14 State schools that make up the San Ġorg Preca College.
Through their behaviour, the children expose what society likes to keep hidden
"Recent statistics showed more people are closer to the poverty line. This is going to translate into something. Through their behaviour, the children expose what society likes to keep hidden."
He referred to figures released this month by the National Statistics Office which showed that, in 2013, one in 10 people suffered from severe material deprivation.
"We face realities you cannot imagine. We have children who are using one bathroom shared among a number of families," he said.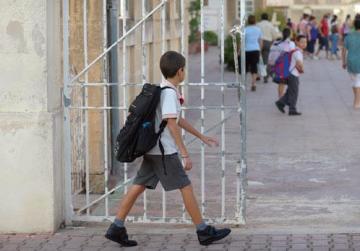 Prefect of discipline Philip Pace says that when some children walked through the school gates they carried with them their anger and hurt. Photo: Matthew Mirabelli
As he went on to illustrate his point he said that, recently, a teenage boy was caught sniffing lighter fuel at school. It turned out several members of his family did drugs. A plan was drawn up – by the school and other support agencies – to help him and his family in an attempt to have "one less shattered child".
"Things that happen outside school are soaked up by the children and get poured into the classroom... Can a child function at school if, yesterday, he didn't have a place to stay? School is the last thing on their mind. We are here to help them pick themselves up," Mr Pace said.
The San Ġorg Preca College is currently experiencing a heightened number of behavioural problems that include bullying, at the Ħamrun boy's school.
Things that happen outside school are soaked up by the children and get poured into the classroom
Last month, this newspaper reported that the school started implementing a tailored programme to target the behavioural problems of a handful of boys who were disrupting the school.
Mr Pace explained that when these children walked through the school gates they carried with them their anger and hurt. Some bullied others to feel in control or to hide their insecurities.
Others kept everything closed up inside – and these were the children that worried him most, he said, adding that one such student ended her life.
Apart from working to support the students, the school also tried to help the parents. He added that he wished to see parents more involved in their children's discipline and education.
"The onus of the upbringing and education is being shifted onto the school. This, to a certain point, is also the fault of the system. When services increased we created more support, this support gave some a reason to abdicate their responsibility," he said, adding that he was fully aware that, because of his role, he came across the negative cases more than the positive examples.
The success stories
Being a prefect of discipline, Philip Pace is surrounded by stories of social problems that may demoralise many. He shares some success stories that keep him going:
Misunderstood: A boy was bullied by his classmates because of his odd behaviour. It turned out he had undiagnosed Asperger's Syndrome. The school worked with his mother to help her accept and understand the condition. Today the boy is no longer bullied since the situation was explained to his classmates. "Other children now look at him as an online library and they understand and protect him," Mr Pace said.
Great bully: Since he was in kindergarten this boy exhibited extremely problematic behaviour that included sticking pins to door handles. As he grew older he terrorised entire schools and became very good at manipulating other students to follow his orders. "We finally calmed him down with a guitar and a key. We discovered he was learning the guitar, encouraged him to bring it to school and with the key opened a classroom during break time."
Expelled: A boy was expelled from another school because he was uncontrollable. "We soon realised he had a story. He was kicked out from home. We practically raised him. We washed and cut his hair, fed him and clothed him and, today, he is more independent and can prepare his own lunch even though his mother cannot... We try to help these children see that there is good out there and things in life can be better."
Treated like a dog: One student, who never concentrated in class, turned out to be abused by his mother. For some reason, she preferred his brother and treated him like a dog giving him the leftovers. Unlike his brother, he had no door to his bedroom. He was placed in residential care where he found stability and his grades are constantly improving.
MUT president Kevin Bonello.
A wider perspective
Students should not be distributed in schools according to geographical location since this was creating a concentration of social problems in some colleges such as San Ġorg Preca, Malta Union of Teachers president Kevin Bonello said.
He said the union had long been suggesting that secondary schools should by divided according to specialisation, for examples sciences and languages, as opposed to location.
Mr Bonello also said the union had long insisted on the importance of parents' involvement as 70 per cent of education took place at home.
He stressed that this was not just a problem in State schools as the union had various reports from private schools where children – often with well-off parents – had behavioural problems often stemming from a different type of poverty such as lack of communication with their parents.