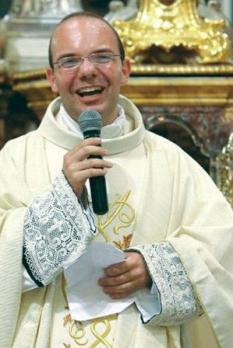 Fr Renè Cilia
Żejtun parishioners walked out of church in tears yesterday after learning that the young priest they so admired, Fr Renè Cilia, died in a traffic accident on his way to celebrate the 7am Mass.
The 27-year-old priest, affectionately known as Dun Renè, had only been serving in the parish for about two years. But his "unique smile" and happy outlook on life brought him close to the people during this short period.
"Żejtun feels lost… We can't believe he's gone. He worked so much for our young people," one woman said as she walked out of the church sobbing.
Her teenage daughter said: "We didn't only lose a priest. We lost a friend."
Fr Cilia died on impact when he lost control of his car on the Tal-Barrani Road, Żejtun, yesterday at about 6.30am, the police said.
He was on his way from his Qormi home to Żejtun where he was recently appointed deputy to the archpriest.
The police said the accident happened when Fr Cilia's car mounted the central strip, went onto the other carriageway and crashed into two oncoming cars. The driver of one of the cars suffered serious injuries but was not critical while his passenger was slightly injured. The other driver was not hurt.
Żejtun archpriest Fr Eric Overend had to break the news to people who gathered for Sunday Mass.
"People were shocked and quiet… He had a sense of solidarity with people in various circumstances. He was jolly, gave people hope and was appreciated by everyone," he said.
Fr Overend said Fr Cilia showed an interest in all aspects of the parish but focused specifically on children and young people.
Every Sunday he also celebrated the 9am Mass for children and was working on a new project aimed at bringing young people together that was meant to start next week.
"He was a magnet for children and their parents," he said.
Mauro Abela, a teenager who worked with Fr Cilia, said: "He was down to earth and was one of us. He looked at life through a happy lens, despite his personal problems. He was always smiling."
Fr Cilia's father had died in an accident a few years ago but this did not dampen his faith or passion for life.
This was a trait many pointed out on the Facebook tribute page set up yesterday.
"What was so lovely about Renè is that even though he was racked with sadness after his father's death… he was always very positive and sunny, especially to people who were down," one man wrote.
Żejtun vice mayor Joan Agius said he was very involved with youth and the community and worked on the recent village event Żejt Iż-Żejtun.
Parishioner Joseph Mercieca described him as a young priest filled with enthusiasm. "His worry was whether he was doing enough for his parish," he recalled.
Fr Cilia wanted to ensure the Church reached out to everyone and, after completing a course in basic Maltese sign language, he planned to work to include deaf people more into the Church, said Fr Martin Micallef, director of Id-Dar tal Providenza, the residential homes for the handicapped in Siġġiewi.
In fact, the deaf community and the Church was the theme of a post-graduate dissertation in pastoral theology he was working on.
Fr Cilia was also a published author and his work Is-Saltna Tal-Ħamsin was released in 2010.
The National Book Council said it hoped to publish a number of his still unpublished manuscripts.
"All those who knew Dun Renè admired his enthusiasm for life and the word of solace he always had for everyone," the council wrote.
Commenting on Facebook, author Alex Vella Gera wrote that, although he did not know him, when the controversy over his story Li Tkisser Sewwi (published in the University newspaper Realtà) erupted three years ago, Fr Cilia was the only person from the Church to contact him, encouraging him to stand strong. "What a breath of fresh air," he said.
Archbishop Paul Cremona referred to Fr Cilia during Mass for newly-appointed deacons in Mosta.
The funeral will be held tomorrow at the Qormi St George parish church at 3pm.
Independent journalism costs money. Support Times of Malta for the price of a coffee.
Support Us