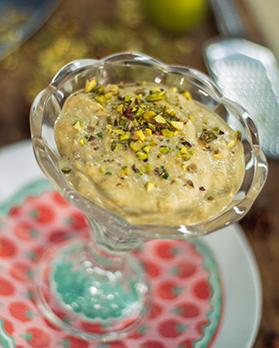 Photo: Illumina Media
I avoid preparing food that contains raw eggs and this dessert is influenced by Tiramisu with the addition of pumpkin. I like to make it in individual portions and the earthy flavor of natural dark coconut sugar complements the flavors of this dish.
You will need:
200g pumpkin, peeled and chopped
4 tablespoons Dical House Coconut Sugar by Bio Rinatura
1 Star Anise
2 cardamon pods, lightly crushed
1 Dical House Bourbon Vanilla Stick by Jurgen Langbein
Pinch of grated nutmeg
500ml water
200g mascarpone
200g ricotta
100g pistachios, chopped
12 Dical House Amarettini Biscuits by Leverno
1 cup strong coffee
1/3 teaspoon chocolate powder
2 tablespoons marsala
Start by making the pumpkin puree. Place the chopped pumpkin into a saucepan and immerse in water. Add the star anise, cardamon seeds and nutmeg. Remove the vanilla seeds from the pod and save the seeds to add with the cream ingredients. Add the empty pod to the saucepan for flavor. Bring to a boil, lower the heat and simmer for 20 minutes. Drain the water and puree. Leave aside.
Whisk the ricotta with the mascarpone. Add the vanilla seeds, pumpkin puree, chocolate powder and coconut sugar.
Mix the marsala with the coffee. Break up the Amarettini biscuits in half. Place 3 or 3 pieces at the bottom of individual serving dishes. Drizzle 2 tablespoons of the coffee mixture on top of the Amarettini. Pour some of the pumpkin mascarpone mix and smooth it down with a spoon Place in the fridge for an hour and scatter chopped pistachios before serving.
You can find more of Lea's recipes on www.timesofmalta.com and follow her blog www.goodfoodeveryday.wordpress.com. She cooks live on TVM2 every Monday Tuesday and Friday afternoon.
Independent journalism costs money. Support Times of Malta for the price of a coffee.
Support Us