In an interview with Iggy Fenech, director Rebecca Cremona reveals exclusive details about Simshar's DVD release on ZAAR and shares stills from never-before-seen deleted scenes of Malta's most internationally successful film.
When I first met Rebecca some three years ago, I instantly fell in love with her quirkiness and dark sense of humour. We hit it off over our mutual love for designer Sef Farrugia, and I remember how she recounted rummaging through flea markets to find unique pieces of jewellery that suit her bohemian-inspired style.
Thing is, the more I spoke to her, the more I realised how humble she is. When discussing her projects, for example, she doesn't only list her achievements like many others would do but tells tales of heartbreak, failure and perseverance. In fact, I believe it's her innate ability to keep herself grounded and working hard that has made Rebecca such a force to be reckoned with in the world of local filmmaking. But Rebecca was turning heads long before Simshar was even made.
She shot her first film, entitled My Story/L-Istorja Tiegħi in the summer of 2005. On top of being featured at the second edition of the Kinemastik Film Festival here in Malta, the short movie also sealed the deal for her to read for a Masters in Directing at the American Film Institute, a conservatoire in Los Angeles that has welcomed the likes of Terrence Mallick, Darren Arronofsky and David Lynch.
"There I directed three short films," she reminisces over a cup of tea. "Mended Spectacle, Kathy's Song and Second Story Angel. They were all very different in style and content as I was really using my time at the conservatory to explore my filmmaking voice."
Rebecca was then granted a scholarship to join the Art Centre College of Design, which has been ranked among The Hollywood Reporter's list of the Top 25 Global Film Schools. It was here that she directed Magdalene, a short film as part of her thesis that won a Director's Guild of America Jury Prize, was nominated for a Student Emmy Award, and was even internationally distributed – an unusual feat for short films, and is, in fact, still available on iTunes.
Malta's geographical position makes our stories and cultural identity very appealing to a vast spectrum of audiences
It was at this point that Rebecca started developing the idea for Simshar, and as time's gone by, she and her feature length-film have gone on to penetrate Maltese pop culture like no local film or director have managed to before or since: they have kept a constant presence in local media, have become benchmarks of local filmmaking, and have made us proud at every pit stop they had throughout Simshar's international journey.
Featuring Clare Agius, Jimi Busuttil, Lofti Abdelli and Chrysander Agius, Simshar tells the real-life story of young Theo's final journey at sea with his family. The film has become an ode to this tragedy that shook our nation, however, it is much more than that as it deals with many things Maltese, be it tradition, our geography, our customs, our landscapes, our politics (in the broader sense of the word), and our empathy.
That mix was clearly favoured by international audiences and juries, and it would take about half of the ESCAPE section to list all the places it's been to, and all the awards it's won or has been nominated for. To name a few, there's been a Special Achievement Award for Direction at the 64th edition of the Mannheim Heidelberg International Film Festival in Germany, Best Director at the Agadir Cine Festival in Morocco; Best International Film at the Edmonton International Film Festival in Canada, and most recently both the Jury and Audience award at Cinemondes in France.
Other than the busy festival circuit, Simshar is the first Maltese film to be released theatrically outside our shores. After a box office hit in Tunisia and a critically-acclaimed nationwide release in Australia, the next release is now in France this September. Moreover, it was even the first Maltese-made movie ever to be submitted for an Academy Award Nomination.
"It is so amazing to have the film watched by audiences in so many corners of the world," she says, "and it's a great bonus that diverse juries and audiences awarded Simshar in such different contexts – both from a cultural and from a filmmaking perspective. The eclectic nature of the awards reinforces my belief that Malta's geographical position as a cultural crossroads, which results in our molten-pot culture, really makes our stories and cultural identity very appealing to a vast spectrum of audiences."
While Simshar didn't make the final list at the Oscars, Variety Magazine (the foremost film industry magazine) singled the film out as a notable exclusion from the shortlist, which stands testament to the team and the film in Malta's changing role in the world of filmmaking.
Yet there has been one questions that has haunted Rebecca ever since the film premiered – and by haunted I mean I and several others asked her this repeatedly: Will the film ever make it to DVD?
And we, finally, have the answer… Yes!
"From the beginning Simshar has been a project of national collaboration with international aspirations," she explains. "In a sense, this started from the real events themselves, which shook our nation, however, it also sent waves through regional – if not international – media. With the making of the film, this tradition continued… Through the 29 locations around Malta and Gozo used for filming, hundreds of Maltese people involved directly or indirectly in its making, and various entities and authorities collaborating with us, the production, which was a national effort combined with foreign companies for its completion, culminated in international distribution and festivals all over the world.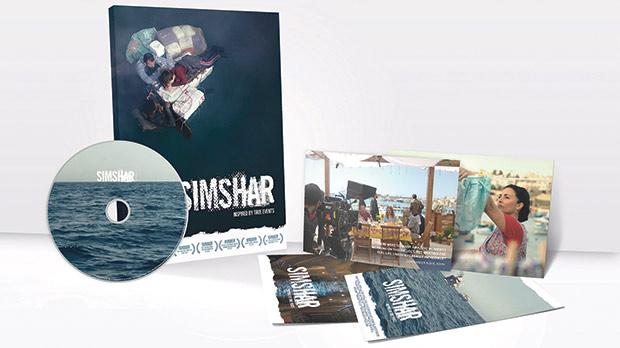 "That's why we wanted to launch the DVD on a platform which has the same spirit at its core. We believe ZAAR.com.mt is just that: a local platform with an eye towards internationalisation. A platform which is offering Maltese artists and entrepreneurs scope to take their initiatives out into the world, while celebrating the fact that it is local. On the other hand, the crowdfunding model will allow us to get a better product to our audience, and give us the opportunity to include a lot of exciting bonus material, too!"
Every DVD, as Rebecca explains, will come with never-before-seen deleted scenes, a 45-minute 'Making Of' documentary (made by Jean Pierre Gatt) and four collectors' postcards – all this will be included in the DVDs purchased from Agenda Bookshops all throughout the country from October onwards.
"But those who choose to purchase theirs from ZAAR.com.mt will have several other perks available, including limited edition artwork, bundle deals and signing of memorabilia, as well as a shorter release date," Rebecca concludes.
There's not much to add to that other that I, for one, am incredibly excited to be able to own a piece of such a game-changing voyage that has taken Rebecca, Simshar and Malta on a tour of the world!