Temperatures might be soaring and local beaches packed with bathers, but for some birds, it's already practically autumn.
So-called 'wader' species have started to appear in local wetland reserves as they make their migration south to Africa, BirdLife Malta has said.
Għadira and Simar remain the best safe havens for these early migrants, with two Spoonbills having spent a couple of days at the latter, feeding on insects, crustaceans and tiny fish.
A scarce migrant, the Eurasian Spoonbill (Paletta) has a large, flat, black bill with a yellow tip, white plumage and dark legs and a yellow breast patch.
A group of similarly all-white Egrets (Agrett Abjad) have been at Simar for some weeks now - so much so that some can be considered a resident species.
Other waders which were noticed at BirdLife Malta's nature reserves during July and August include a number of juvenile Glossy Ibises which spent a couple of hours at BirdLife Malta's Għadira Nature Reserve at the beginning of August.
Two Wood Sandpipers (Swedja Ċara) and a Common Sandpiper (Pispisella) were also spotted and released back into the wild at Għadira Nature Reserve after being ringed.
A Dunlin (Pispisella tad-Dabra), Purple Herons (Russett Aħmar), Grey Herons (Russett Griż), Night Herons (Kwakk) and Little Egrets (Agrett Abjad) have also been spotted at Għadira Nature Reserve.
BirdLife Malta also noted that some Black-winged Stilts hatched at Għadira Nature Reserve were now on the verge of bidding the island farewell. 2016 was a record-breaking year for Black-winged Stilt breeding at Għadira, with three pairs of birds each producing four chicks.
A Dunlin spotted at Għadira Nature Reserve. Photo: Aron Tanti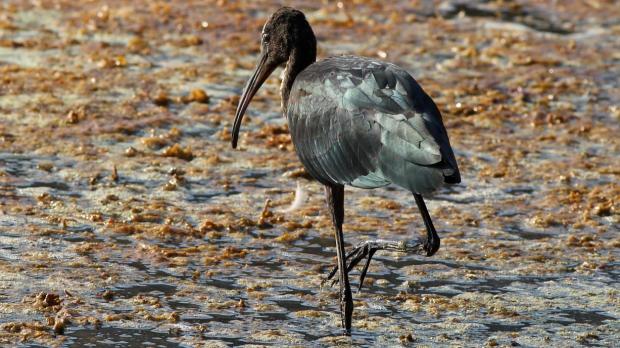 A Glossy Ibis. Photo: BirdLife Malta
Independent journalism costs money. Support Times of Malta for the price of a coffee.
Support Us