Update 4.49pm - Added FAA statement
Activists from Kamp Emerġenza Ambjent this morning forced their way through the gates at Manoel Island to gain access to the foreshore.
The activists, who have the support of a number of environmental organisations were joined by the Gżira mayor. They cut locks to make their way in, in a bid to ensure that access to the island would remain open.
They will be camping on site and have invited the public to join them.
The action follows a protest against the blocking of access to the coastline by private consortium MIDI by Gżira residents earlier this week.
Access was sealed when MIDI was given the concession to the island 16 years ago. The concession had been given on condition that development would be carried out and access would remain open.
But apart from restoring Fort Manoel, none of the other development that had been agreed upon was carried out.
The Gżira council said earlier this week the closure was also in breach of the law enshrining the foreshore as part of the public domain.
Last June, environmental NGO Flimkien Għal Ambjent Aħjar filed applications with the Planning Authority seeking to have seven sites declared public domain, with Manoel Island among them.
In a statement expressing its support for today's action by Kamp Emerġenza Ambjent, FAA noted that the Planning Authority has yet to make any progress on processing its applications, "despite its obligation to do so as specified in the Public Domain Act."
Photo: Darrin Zammit Lupi
Photo: Kurt Sansone
Photo: Kurt Sansone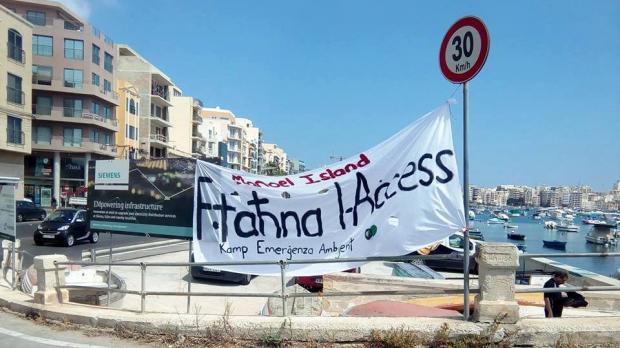 Independent journalism costs money. Support Times of Malta for the price of a coffee.
Support Us