It was around this time of year five decades ago that a group of artists at the Domus Pius IX in Cospicua were left scratching their heads over the white tablecloth in Leonardo da Vinci's Last Supper.
Ian Busuttil carefully sprinkles salt and brings to life the Garden of Gethsemane scene from the film Jesus of Nazareth.
They needed to complete the scene, interpreted using cereal grains and seeds, for the upcoming Lent exhibition but were missing a white medium with which to finish the tablecloth.
"The options included washing powder, which was dismissed, as it was not food related, and sugar, which was also dismissed, as it could attract insects.
"Fine table salt had just been introduced in Maltese households, so we gave it a try and never looked back," Lawrence Hili, 68, told this newspaper as his colleagues at the Domus Pius IX were gearing up for the exhibition, which opens tomorrow on Matty Grima Street.
Salt – thereby introduced by accident in 1967 in the second oldest Mejda tal-Appostli (Apostles' table) – that is, it was preceded by the one in the St Dominic's Sacrament Oratory – has now become synonymous with the Cospicua exhibition.
Mr Hili added that, starting the following year, the group of artists started experimenting with salt of various colours.
The artist's palette is made of stacks upon stacks of differently coloured rice or salt. Photos: Matthew Mirabelli
The process took years to develop, as the group tried mixtures of salt with coloured powder and different ambient temperatures. The artists are, in fact, still experimenting to this day, giving tips to those interested in taking up the skill. Volunteers who hail from different towns and villages encourage relatives and friends to learn, and some of them share their tips with schoolchildren.
Apart from the flat, very detailed scenes, the Domus Pius IX society displays low-relief and "translucent" scenes, made out of white salt lit from below.
But the exhibition is not made up of "salt plates" only. Some of the scenes are made of cereal grains or pasta, while others are made of rice.
One sneeze or one tremble can mean having to start all over
Since no glue is used for any of the plates, it takes much more than just an artistic eye to complete each scene.
Whether placing one grain of rice next to another with tweezers, or gently sprinkling salt with a teaspoon, the artists need a lot of patience and a steady hand.
One sneeze or one tremble can mean having to start all over. Other accidents include dropping spectacles, tweezers or spoons onto the plate in front of them.
Teddy Stivala carefully places grains of rice.
The ordeal does not end when the scenes are completed. When they are all done and ready to be exhibited, the plates need to be taken down a flight of steps, from the dehumidified workshop to the display area downstairs.
This area of the Domus Pius IX premises includes various other items on display, such as the "Holy Friday crib", depicting scenes from the Passion of Christ.
While it takes around a dozen artists to produce over 100 scenes made of salt, rice, pasta and cereals, the event needs the support of some 30 volunteers, said David Cioffi, artistic director of the exhibition.
The exhibition takes three months of preparation and is usually tied to a theme chosen by bible studies expert Dun Karm Attard.
This year's theme is St Matthew's Gospel, which is unique in its inclusion of the betrayal of Jesus for 30 pieces of silver (the price of a slave) and the defence of Jesus by Pontius Pilate's wife.
Sadly, weeks of preparation end up in the bin once Lent and Easter celebrations are over, and the artists must start from scratch in nine months' time.
Called Mejda tal-Appostli u Golgota, the exhibition will open its doors to the public tomorrow – Lady of Sorrows Day – and run until Easter Sunday.
Visitors are welcome between 9.30am and 12.30pm and 5pm to 9.30pm from tomorrow to Wednesday, between 9.30am until late at night on Maundy Thursday, on Good Friday between 8am and 11pm, on Easter Saturday from 9.30am to 12.30pm and 5pm to 9.30pm and on Easter Sunday from 9.30am to noon.
Salt was first used as a medium in Malta for the Apostles'' table at the Domus Pius IX between 1967 and 1968.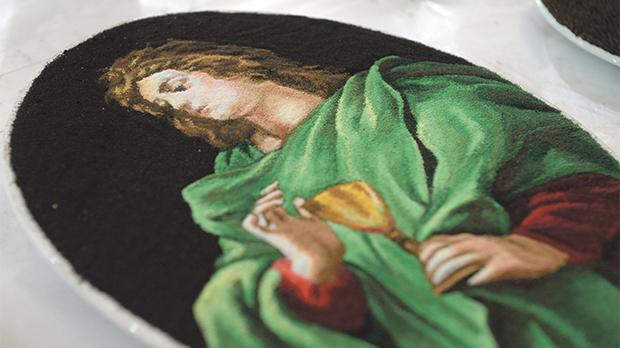 Details from the salt plates.