Updated 9.05pm - President dissolves parliament
A general election will be held on Saturday, June 3, Prime Minister Joseph Muscat announced today, nine months before due date.
Speaking to a crowd of thousands gathered in Valletta for the traditional Workers' Day rally, Dr Muscat said he had spoken with President Marie-Louise Coleiro Preca and would be visiting her this evening to ask her to dissolve parliament.
The Prime Minister was seen exiting the Presidential Palace at San Anton following his meeting with the President at 7.40pm.
In a statement, the Office of the President confirmed that President Coleiro Preca had dissolved parliament with immediate effect and set a June 3 election date.
Dr Muscat said that the country was "showing the first signs of suffering from uncertainty", in an allusion to the Opposition's tactics in the wake of the Egrant saga.
READ: Labour rallies the troops in Valletta
"We are at the halfway point," the Prime Minister told the crowd.
The Prime Minister called on the President this evening. Video: Jonathan Borg
"We either stop here or else we will continue moving ahead together and risk losing everything. I am here to ask you if you want to continue walking with me," he said as the crowd burst into a roar of approval and chants of "Joseph, Joseph."
The Prime Minister said the question voters had to ask themselves was "who do you want as Prime Minister to bring more jobs to the country?"
This is what leaders do. They don't run away
In his speech, Dr Muscat veered from triumph - "we have become the envy of Europe" - to scorn, saying his rival, PN leader Simon Busuttil, had a "weak character" and had that his thirst for power meant he had no problem dragging Malta's name through the mud.
The Prime Minister exits the Presidential Palace at San Anton. Photo: Jonathan Borg
The Prime Minister pointedly avoided mentioning Dr Busuttil by name, save for a single reference at the tail-end of his speech, and derided the "coalition of confusion" for having only one thing in common - a dislike for him.
Dr Muscat ticked off his government's achievements but said he was thirsty for more. "I want more success for Malta," he told the roaring crowd.
The Prime Minister included a note of contrition in his speech, telling his audience that his government had made mistakes "some small and some serious [goffi]" and that at times "we should have known better."
"I take the blame for these mistakes," he went on to say, before swatting away any suggestion that he might do so by stepping aside. "This is what leaders do. They don't run away," he said.
And as the Prime Minister moved towards the crux of his speech and announced the election date, he told the crowd he had nothing to fear because he had truth on his side.
"I have no reason to drag my feet," the Prime Minister said. "If there's a decision to take, let's take it."
In its statement confirming the dissolution of parliament, the Office of the President also noted that Principal Electoral Commissioner Joseph Church and Speaker Anglu Farrugia had both visited the president at San Anton palace today.
Mr Church, together with electoral commissioners Mario Callus, Noel Cutajar, Paul Sammut, Salvu Sant, Victor Scerri, Joseph Scicluna, Raymond Zammit and Joe Zammit Maempel were entrusted with managing the electoral process.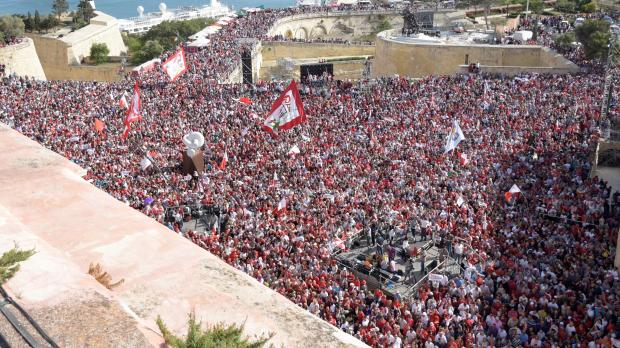 Dr Muscat told crowds in Valletta that an election will be held on June 3. Photo: Mark Zammit Cordina
Photo: Mark Zammit Cordina