Updated 12.10pm - Added video
A group of people from all walks of life have launched a legislative framework for the regularisation of marijuana which would allow the government to "take control of the current wild west system".
The ReLeaf manifesto was drawn after years of a failed national drug policy and the criminalisation of cannabis users, Jonathan Cilia told Times of Malta.
"As we speak, there are Maltese citizens who are being forced to buy from shady dealers who try to push them onto harder drugs.
"Others, who are caught with cannabis for medicinal or personal reasons face dragged court trials and eventually imprisonment and a large fine," he said at the launch in front of Parliament this morning.
READ: Doctors call for more access to medical marijuana
Among others, the manifesto is calling for the legal age of cannabis consumption to be set at 21, while access to medical marijuana should be through a prescription.
People should also be allowed to grow up to six plants in a private place (four mature plants and two seedlings), while it would be legal to carry up to 30 grams of cannabis. Purchases from a licensed establishment should be limited to five grams, the group is proposing.
Doctor forced to cancel lecture
On the eve of the launch, family doctor Andrew Agius, who has been calling for greater access to medical cannabis was stopped from holding a lecture on the subject.
This morning he told this newspaper that the Superintendence of Public Health informed him that self-advertising was illegal, that stating misleading information was unethical and patient safety was a priority.
READ: Cannabis may harm brain development in adolescents
The lecture (one of a series) that he was meant to give yesterday was about cannabis and cancer treatment. He said he would have been providing information about current evidence about cannabis use in palliative care and ongoing research looking into such treatment.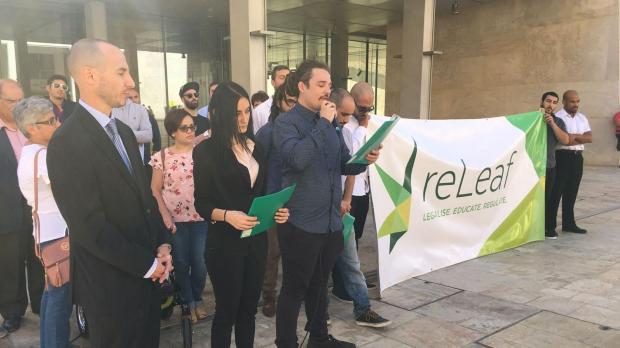 Activists launched their manifesto outside parliament today. Photo: Matthew Mirabelli
Also present for the launch were representatives from Alternattiva Demokratika, which is supporting the campaign in favour of regularisation.
AD is urging for better access to medical marijuana, homegrown cultivation for personal use, and the provision of cannabis from licensed shops.
More information about the initiative on www.releaf.com.mt
Independent journalism costs money. Support Times of Malta for the price of a coffee.
Support Us