Protests surrounding the murder of Daphne Caruana Galizia have reached Berlin, where Malta's embassy has been lit up with projections noting that "Europe is waiting" for justice.
The projections, which appeared on Thursday evening and come five months since Ms Caruana Galizia was killed, are the result of a collaboration between local activist group Kenniesa and human rights activists PixelHELPER.org.
Last month, Kenniesa activists grabbed headlines after projecting the phrases 'House of Impunity' and 'Who Killed Daphne' onto the Prime Minister's Office at the Auberge de Castille.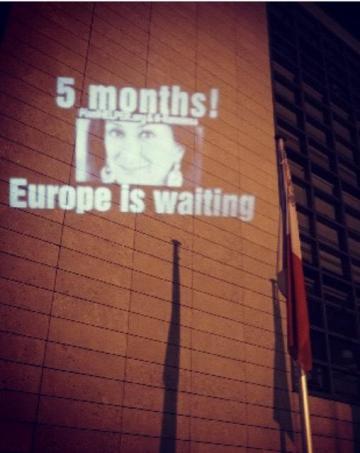 Photo: Kenniesa
"Malta's most prominent journalist was assassinated and this government continues to operate with complete impunity," Kenniesa said in a statement accompanied by photos of the projections.
READ: Slovak PM quits in wake of journalist's murder
The group noted the stark differences between the way things had unfolded in Slovakia following journalist Jan Kuciak's murder in February, and what had happened in Malta.
Three Slovak ministers, including the country's prime minister, have resigned in the weeks following the murder.
PixelHELPER have previously staged projection protests against Saudi Arabia, among others. Photo: PixelHELPER.org
"Those who hold responsibility in Daphne's assassination are those exposed in her work," Kenniesa argued. "What are the police waiting for to question those suspects?"
PixelHELPER have previously protested against Recep Tayyip Erdoğan's Turkey as well as the House of Saud monarchy while rules over Saudi Arabia, projecting large-scale images on those countries' respective embassies.
Kenniesa said PixelHELPER activists had offered their expertise after being "shocked" at the way in which the Maltese government was handling the Caruana Galizia case.
"pixelHELPER are committed to supporting our future projects in reminding the Maltese government what it's priorities should be- in finding who commissioned Daphne's assassination," Kenniesa added.