Volunteers, activists and at least one MP rolled up their sleeves on Sunday morning and got busy collecting rubbish, as part of a nationwide clean-up across 77 locations.
The World Earth Day cleanups were organised by Malta Clean Up, which teamed up with various local councils to coordinate events and locations.
Malta Clean Up is the brainchild of Camilla Appelgren, an activist who has worked tirelessly to drum up public support for clean-up and waste reduction efforts.
Clean-ups focused on a variety of sites, with divers cleaning up the seabed in Wied iz-Żurrieq, limits off Qrendi, St Julian's and St Paul's Bay, culture vultures collecting rubbish outside Valletta's historic bastions and nature lovers taking their garbage bins to Chadwick Lakes and Dingli Cliffs, among other places.
Activists got to work collecting trash from as early as 7.30am, and by 2pm most of the clean-ups had been completed.
Ms Appelgren told Times of Malta she was delighted with the "record-breaking" turnout and thanked those who had dedicated their Sunday morning to helping to make Malta a cleaner place.
Data about the total amount of rubbish collected from the various sites was still being compiled at the time of writing.
A clean-up team in Qala featured the town's mayor, Paul Buttigieg. Photo: Facebook
Baden Powell scouts members clean up in Mtarfa. Photo: Baden Powell Scouts Malta
Gozo Minister Justyne Caruana paid a visit to clean-up sites in Marsalforn Valley, Xagħra, Munxar and Xlendi. In total, activists in Gozo gathered a total of 70 sackfuls of rubbish, which the Cleansing Department then carted away.
Minister Caruana urged people to avoid littering and to minimise waste, adding that anyone keen on organising a clean-up in Gozo should coordinate with the Eco-Gozo department by filling in the form available at mgoz.gov.mt.
Partit Demokratiku MP Godfrey Farrugia went one better and headed to Għajn Tuffieħa, to help with the clean-up effort there.
In a statement, Dr Farrugia and PD deputy leader Timothy Alden warned of the "unprecedented" problem the world faced from microplastics entering our food chain, and urged the government and MEPs to push for legislative change.
"Malta is a small country and is in a privileged position to make sweeping changes which can reach everyone," they said. "The time to act is yesterday."
A colourful collection of empty shotgun cartridges found by activists cleaning up part of Binġemma. Photo: Facebook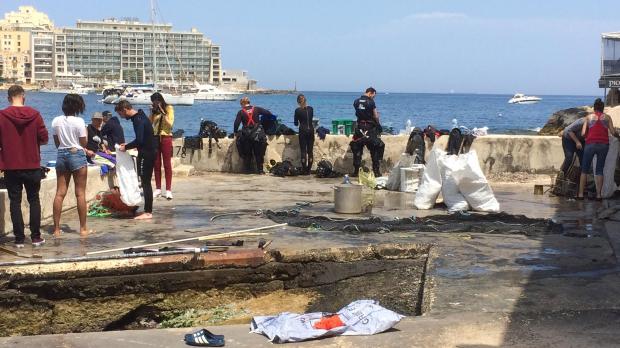 A dive team hard at work, cleaning Malta's seas. Photo: Maarten van Alkemade
A volunteer picks up rubbish at Xlendi. Photo: Gozo Ministry/Terry Camilleri
Independent journalism costs money. Support Times of Malta for the price of a coffee.
Support Us