Updated - Thousands gathered in Valletta on Sunday afternoon in a "manifestation for truth and justice".
Scores chanted "ħallelin, giddibin, għal ġol-ħabs intom tajbin " ("Thieves, liars, your place is in prison") after allegations of corruption and wrongdoing continued to emerge about Tourism Minister Konrad Mizzi and chief of staff Keith Schembri .
The protest came in the wake of revelations by the Daphne Project- a consortium of investigative journalists from 18 local and international media houses that came together to continue the work of murdered journalist Daphne Caruana Galizia.
Carrying Maltese flags and placards reading "Tillgate" and "Hearnville" – a reference to Dr Mizzi and Mr Schembri's Panama companies, the crowd made its way from Castille Place to Republic Street.
Nationalist MPs Jason Azzopardi, MEP David Casa and former Opposition leader Simon Busuttil walked at the front of the protest, carrying a banner supporting organizers Occupy Justice and the Atturi group.
Opposition leader Adrian Delia was also in the crowd, in his first appearance at the activists' numerous protests.
Several speeches were delivered at the end of the event.
MEP David Casa said that what the country worked so hard to build was being destroyed piece by piece.
The "culture of death was being strengthened by corruption," he said.
Mr Casa said that people will continue to feel unprotected and in danger because the country's institutions were compromised.
"We destroyed Pilatus Bank and we will ensure that the investigation into Daphne Caruana Galizia's murder will not be compromised," he said.
Awturi founder Alexander Hili said the crowd was demanding change and investigations.
The Daphne Project showed what those entrusted with the country were really up to, he said. Malta deserves better, he concluded.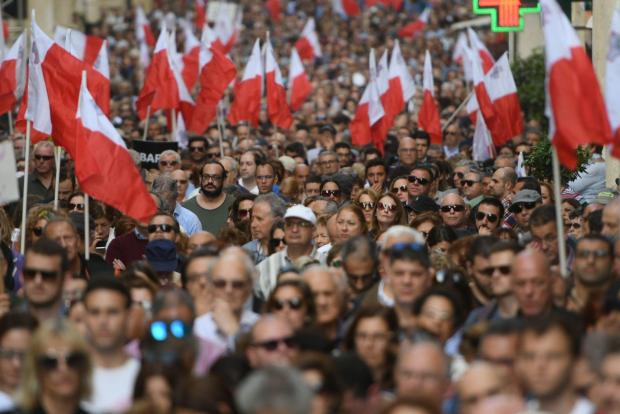 "Konrad Mizzi, Keith Schembri, Chris Cardona and Joseph Muscat need to go"
The general secretary of the Nationalist party youth branch (MZPN) Emma Portelli Bonnici said Malta's name was being tarnished.
The corruption allegations should unite the country, she said. Everyone should be united against corruption.
Those accused of corruption should be given what they deserved. "There's no two ways about it: Chris Cardona, Konrad Mizzi, Keith Schembri and Joseph Muscat need to go," she said.

Whistleblower and former Pilatus Bank employee Maria Efimova in a recorded message said she wished she could be present to "stand up for the country and democratic values."
Mrs Efimova said that some people at Pilatus Bank knew more than they let on, but they were afraid to speak out.
She encouraged the crowd and applauded those who work "to safeguard children's futures."
MP Godfrey Farrugia said there was a sense that something in Malta has changing.
"Let us be brave and work together during this trying time in the country," he said.
Occupy Justice Activist Rachel Williams said there were those that tried to deter people from continuing to protest.
"They told us no one would come, but that does not matter," she said, adding the group wanted to show Malta did not belong to Dr Muscat's clique.
"You could fill Tritons Square 40 times over, but the corruption will still remain," Mrs Williams said.