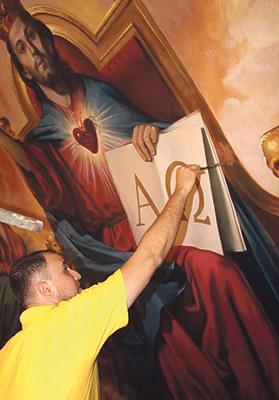 One of the largest paintings on canvas in Malta, the work of a 29-year-old Gozitan artist, will be unveiled at the Christ the King parish church in Paola just in time for the locality's feast next week.
Parish priest Fr Marc André Camilleri hopes the painting, 20 metres wide by 13 metres high, will be the first step in the entire ceiling being painted one day.
The design for the painting in the church's apse was approved by the Diocesan Commission for Sacred Art last May, giving the artist, Manuel Farrugia, a little over two months to finish the massive mural.
"I did not have much time to finish this piece, so I had to work almost constantly. The ingredients were patience, dedication and a sense of proportion," Mr Farrugia said, looking up at his completed work. He travelled daily from Gozo to Paola, working on scaffolding, only stopping when Mass was being said in the island's largest church.
Mr Farrugia said the painting was a dedication to the International Eucharist Congress, held in Malta in 1913. In fact, the church itself was dedicated to that event.
I had to work almost constantly – patience, dedication and a sense of proportion having been the ingredients
The concept behind the massive painting is the Greek notion of Pantocrator, a title of Christ represented as the ruler of the universe. In the painting, Christ the King is seen sitting on a throne of grace with the God the Father and the Holy Spirit above him.
To His right are St Joseph, holding lilies, and the Virgin Mary, along with St John the Baptist and St Paul. On His left, kneeling, is a woman, who personifies Malta. The figure, modelled on the artist's wife, holds a plaque bearing the Maltese cross. She is kneeling beside a depiction of the angel of the apocalypse – a symbol of adoration. Running down the centre of the painting is a stream with seven branches, which represent the sacraments, and a flock of sheep that symbolise the faithful.
Manuel Farrugia hard at work on the section of the massive painting that features a portrait of the Virgin.
Painter Manuel Farrugia and Fr Marc André Camilleri
Independent journalism costs money. Support Times of Malta for the price of a coffee.
Support Us