The lush green canopies of grape vines are ready to yield their sweet bounty. Harvest time is here.
Out in the vineyards, the smell of ripe grapes is all around. Families and friends come together, as they have done for thousands of years, ready to pick this most precious ancient fruit.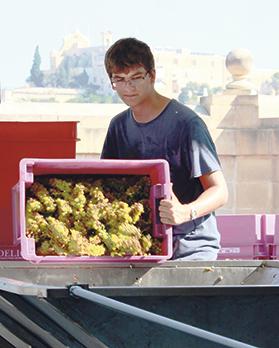 Delicata's first hand-picked grapes of the 2018 vintage are being crushed.
At the wineries, cellar hands are prepared to work almost round-the-clock. Speculation is rife about the progression and quality, as well as the volume of Malta's 2018 wine grape harvest.
The Delicata winery started harvesting a week earlier than normal. This year's vintage commenced in the early hours of July 31 with the arrival of the first lots of early-maturing Sauvignon Blanc and Chardonnay grapes, and the crush will go on for several weeks.
Different grape varieties ripen at different times. In Malta, nearly all the international varieties are harvested during the month of August whereas the native Girgentina and the Ġellewża grapes are typically collected later in September.
Like each year, Delicata's viticultural team will carry out day-by-day berry sampling and technical analyses, which establish a definite harvest date for each variety and vineyard area. However, it is already clear that most grapes will reach their point of optimum maturity sooner than in previous vintages.
At the time of going to print, the 2018 Maltese wine grape harvest appears to be a good one. Early reports predict a healthy, high-quality crop and a yield that's average (rather than productive) in the case of most grape varieties.
This portends very good tidings for Malta's wine country, which was dealt two very low yielding years. Severe drought in 2016 and 2017 reduced the size of the local grape crop, which compounded the perpetual problem of grape shortages.
In Malta and Gozo more new vineyards are needed. There's a ready-made market for wine grapes – which have started to command higher prices – now that Malta-grown wines are more popular than ever.