Update 20 at 9.15pm
A major fire broke out at the Wasteserv plant in Magħtab early on Friday morning, prompting a health hazard alarm.
The fire was finally being brought under control hours later, but the authorities said it would take days to completely put out the flames.
Meanwhile, large swathes of Malta were put on alert about the possible health impact of the fumes.
The fire as seen from Sliema.
Residents were alerted to the fire by sounds of fire engines rushing to the scene around 5.50am. A quick look outside their windows revealed a huge black plume of smoke.
Dramatic photos sent in show the fire from different angles but nobody was injured. The fire is reminiscent of the Wasteserv facility in Sant' Antnin incident in May 2017.
The Civil Protection Department asked residents of Magħtab, Naxxar, San Ġwann and Sliema to keep their windows shut.
It gathered 10 fire engines on site with more than 30 personnel to put out the blaze. Truckloads of dust were also dumped onto the blaze to dampen the flames.
Public health authorities urged people to ensure they washed all fruit and vegetables before consuming or cooking them, as burnt material from the fire may have come to rest on local crops.
Photo: Civil Protection Department
Plant not impacted, refuse-derived fuel destroyed
Wasterserv CEO Tonio Montebello confirmed that it was the refuse-derived fuel which caught fire - this kind of waste is produced daily from grey and black bags. It is then sent abroad to generate energy.
Minister Jose Herrera addressing the press. Photo: Jonathan Borg
In the past this used to be put in landfills, and then stored at Marsascala, while exporting small amounts. Following a similar incident at the plant last year, it was being temporarily stored at a cell in Magħtab, and covered with construction material.
"We were granted permission to export it to Portugal last month. We knew of the risk that once uncovered there could be self-combustion, so we had firefighting equipment on site. We minimised the risk by separating it from the rest."
RDF is made up of plastic, cardboard and paper.
The plant was not impacted. The Magħtab complex will keep receiving waste, the ministry assured, thanking all the authorities for helping with the operation.
The Naxxar police informed Magistrate Marseanne Farrugia of the incident, who decided there was no need to carry out an inquiry. Environment Minister Jose Herrera, however, said he believed there should be an inquiry.
"Although it shows that there was no foul play, I believe there should be an inquiry. I have asked the AG to hold an internal investigation."
Asked about the fact that this was the second such incident in a year, he said waste generation was an increasing challenge also because of increasing population.
READ: Minister's words are of no comfort, says PN leader Delia
He said EU directives have limited the use of landfills. The government decided to take radical decision to invest in an incinerator, which would do away with such a storage.
The implications on health
The health authorities issued a warning, saying that people with heart or lung diseases, or asthma are at higher risk to exposure and should stay indoors. They should also contact their doctor if they experience any shortness of breath or respiratory problems.
Respiratory physician Martin Balzan explained to Times of Malta that the smoke appeared black due to carbon particles, which could spell problems for vulnerable people with respiratory problems - although the cloud appeared to be passing at a relatively high altitude.
Nationalist Party leader Adrian Delia also voiced concerns about people's health at a press conference held on Friday afternoon, and said it appeared no lessons had been learnt following the massive fire at Wasteserv's Sant' Antnin in May 2017.
That prompted a rebuttal from the Environment Ministry, which said Wasteserv had changed several processes following the 2017 fire but that a magisterial inquiry into that incident had yet to be concluded.
The Environment and Resources Authority reacted on Friday afternoon, saying in a statement that it would be engaging "international experts" to test soil in different areas affected by fallout from the smoke plume.
The soil studies would test for dioxin and furan levels in the soil, the regulator said.
"These persistent organic pollutants will be tested for because they are usually present when plastic burns at a low temperature," ERA said.
ERA officers would be inspecting the site once it was safe to do so, with the regulator adding that it would be issuing additional information in the coming days.
#Magħtab fire: Whatever the cause, Government should have issued an immediate bulletin to explain details, risks and required action. Like last year, it did not. #Malta deserves better. On the other hand, thanks to Civil Protection workers for doing their job.

— Michael Briguglio (@BriguglioMike) August 31, 2018
Watch: Health warning issued as fierce fire rages at Sant' Antnin waste recycling plant
Photo: Civil Protection Department
Wash fruit and veg
The Superintendence of Public Health said that it would be taking samples of local crops in the coming days to run tests for residue from the burnt material.
It urged the public to wash all fruit and vegetables before consuming, processing or cooking them.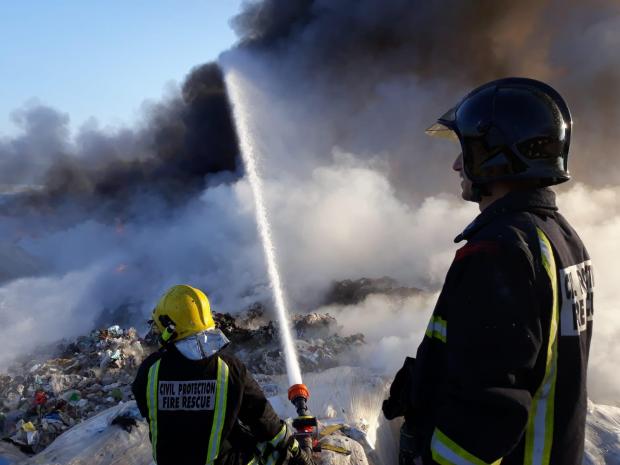 Independent journalism costs money. Support Times of Malta for the price of a coffee.
Support Us