Updated Sunday 5.45pm
The wild winds that whipped across Malta from Saturday night turned the island's roads into a veritable obstacle course.
Uprooted trees, PV panels and even boats stood in the way of those brave enough to get into their cars.
Read: Gale-force winds cause substantial damage; public urged to stay indoors
Malta Public Transport said the storm had forced the closure of many roads, impacting all bus routes, with buses being diverted by the authorities. Delays are being experienced on all routes.
Later on Sunday, MPT announced that all routes to Sliema and St Julian's, which are among the areas worst affected by the storm, had been suspended.
Transport Malta warned road users that the storm had damaged several sets of traffic lights and that motorists should proceed with caution.
One video shared online shows dozens of dead fish washed ashore and into the street at Xemxija.
Dead fish washed onto the roads in Xemxija.
Waves smash into police vehicles along the St Julian's promenade.
According to the weather site Wind Finder, Malta experienced gusts of winds that are described as a "high threat to life and property".
In a post on Facebook, Parliamentary Secretary Ian Borg thanked civil protection officers and workers of Clean Malta and Transport Malta who were working to clear the roads from the obstacles.
Do you have pictures or clips to share? Send them to us on mynews@timesofmalta.com
Driving through Sliema. Video: Dr Henning Martens
Tower Road, Sliema
Tower Road, Sliema. Photo: Michael Galea
Għargħur
The road leading to Rabat.
Cospicua. Photo: Rachel Attard Manicolo
Xemxija. Photo: Jacqueline Van Hunnik
Triq it-Tiben in Swieqi. Photo: Cristina Mifsud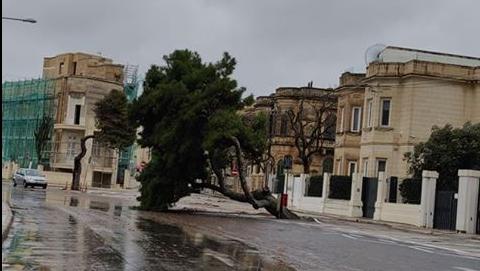 This tree in Ta' Xbiex survived World War Two. Hopefully it can be saved, architect Edward Said said.
Attard.
Attard.
This tree, in Gori Mancini Street, Birkirkara, fell down at around 3.15 am. Photo: Sandra Crossley
Qui-Si-Sana, Sliema. Photo: Elly Degiorgio
Triq it-Tiben, Swieqi. Photo: Cristina Mifsud