Updated at 5.45pm with Emirates statement
Fire tenders were deployed alongside an Emirates Boeing 777 aircraft on Wednesday afternoon after smoke was seen coming out of its rear doors while it was on the tarmac at Malta International Airport.
The incident happened shortly after the plane landed from Dubai/Larnaca.
No passengers were on board the aircraft at the time.
MIA said no one was injured. Airport operations were temporarily suspended but quickly returned to normal, an airport representative said.
Horizon, a specialist aviation Facebook page, said incoming aircraft were put in holding pattern until the situation was resolved.
An Emirates spokesperson said the plane had developed a technical fault. Engineers were working to clear the flight for its return flight, they said.
"Emirates apologises for the inconvenience caused to our passengers. The safety of our passengers and crew is of the utmost importance," the spokesperson said.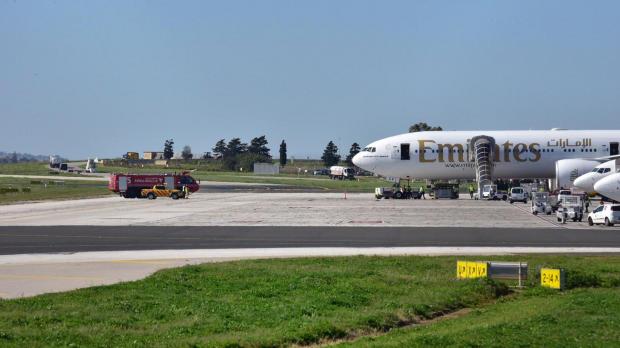 A fire truck parked close to the plane that caught fire. Photo: Mark Zammit Cordina