Crimson Peak
Director: Guillermo del Toro
Stars: Mia Wasikowska, Jessica Chastain, Tom Hiddleston
Duration: 119 mins
Class: 15
KRS Releasing Ltd
It is no stretch to describe Mexican filmmaker Guillermo del Toro as the purveyor of grand gothic dramas. Modern classics The Devil's Backbone and Pan's Labyrinth proudly sit on his writing/directing CV and, among many others, he has lent his producing skills to the exquisite The Orphanage and the solid horror Mama.
With his latest, the operatic Crimson Peak, he has wrought a gothic psychological horror film; a spine-tingling story full of romance and terror, with a terrific cast at the top of their game.
Mia Wasikowska stars as Edith Cushing, an aspiring writer in 1900's New York. A modern thinker who is rather sheltered by her protective widowed father Sir Carter (Jim Beaver), Edith is swept off her feet by the dashing British entrepreneur Thomas Sharpe (Tom Hiddleston), who sees in her a kindred spirit.
Sir Carter is unconvinced by the intentions of his daughter's dashing suitor, but after he is mysteriously attacked and killed, Thomas takes Edith back to his remote, crumbling home in England with his sister, the stern and controlling Lucille (Jessica Chastain), whose attitude towards Edith is not particularly warm.
At its most basic, Crimson Peak is a typical gothic romantic drama – dashing suitor sweeps young lady off her feet and takes her to his remote mansion, only for her to discover deep, dark and disturbing secrets about her beloved. So far, so Jane Eyre or Rebecca, and del Toro faithfully ticks all the boxes of the genre.
But, needless to say, he adds his renowned visual touch to the film's majestic production design, his imaginative creativity to the film's horror aspect and has assembled an amazing cast he to tell the story.
That the story is pretty standard, therefore, matters not a jot, for he grabs us by the hand and sweeps us away on a wave of juicy and scary melodrama and the ride is thoroughly satisfying.
Del Toro has us on the edge of our seats from the get-go, as the young Edith is visited by a menacing apparition of her late mother, warning her to beware of Crimson Peak.
After that rather startling opening, the story segues into a deceptively staid Victorian drama – with a couple of rather shocking moments thrown in to remind us we're in horror territory – until finally Thomas takes Edith back to England where the gothic element of the story makes an entrance with sublime theatricality.
Sweeps us away on a wave of juicy and scary melodrama
It's all a little over the top, at times, but that's all part of the fun and del Toro sustains the interest throughout. He shifts between moments of straight drama, lusty passion and downright eeriness. The whole never becomes too histrionic, however, thanks to the relatively grounded and committed performances from the cast.
Wasikowska, Chastain and Hiddleston are currently very much at the top of their game and, what the story may lack in complexity, the actors make up for in the depth of their individual performances, creating fully-rounded and intriguing characters, a couple of whom prove to be more terrifying than the ghostly characters.
Wasikowska's Edith is an attractive combination of sheltered socialite, and forward-thinking, independent young woman. She is a woman naïve in matters of love, yet no ingénue; facing the dangers she encounters with steely courage.
Her bright and sunny nature is in sharp contrast to Chastain's cold, aloof, unhinged Lucille. Chastain displays a disturbing and dark side, delivering yet another sublime performance as a woman whose twisted take on sibling love drives her to carry out unspeakable acts.
In between the two women is Hiddleston's Thomas – charming, handsome and exciting, yet ultimately too weak to escape his sister's obsessive clutch. Hiddleston captures the character's charm, ruthlessness and genuine feeling for Edith with aplomb.
And it all looks absolutely ravishing; the film's opulent costume and production design pretty much characters in their own right. It's a film of many shades: with scenes of both vivid colours and emphatic monochromes. The New York-set scenes boast warm, autumn colours. The Sharpe's crumbling mansion, Allerdale Hall stands tall, grey and forbidding against the falling snow, a structure in disrepair that hides many secrets. It sits atop a red clay mine, and the creaking floorboards literally exude the blood red clay that dominates the scene, the thick substance often taking on a life of its own – giving rise to the very unnerving ghostly figures that haunt Edith and crave her attention, and ours.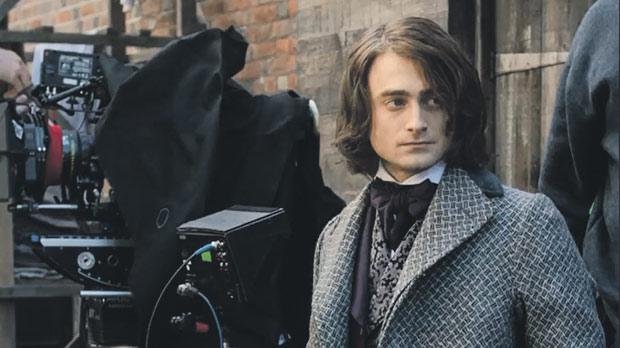 Daniel Radcliffe in Victor Frankenstein.
Also opening this week
Victor Frankenstein, Classification 15: While searching for animal body parts at a London circus, radical scientist Victor Frankenstein meets gifted surgeon Igor Strausman.
Strange Magic, Classification U: Bog King, leader of the Dark Forest, hates the notion of love and has ordered the destruction of all primroses, which are an essential ingredient of love potions. Then, he meets feisty fairy princess Marianne…
Independent journalism costs money. Support Times of Malta for the price of a coffee.
Support Us