Maps are everywhere these days. We have them in our pockets on our phones, they're in our cars telling us which road to take and they're on our tablets always ready to guide us when we look for that new place we've just heard of.
Yet, as with anything that we become overly familiar with, often we don't really take the time to notice them; toappreciate them.
David Xuereb
Which is just what David Xuereb has set out to do with his Rooftopography series of abstract works of art, where the protagonist is the outline of different localities and their roads.
"It was something that I had been mulling over for quite some time," he explains in his Mosta workshop. "I've been working on it for around 20 months. My thinking came out of the desire to put out something that is Maltese without going for the usual Maltese landscape. I wanted to do something where people could see where they live or the place where they're from. There's a big Maltese link.
I don't see a village when I look at it but, rather, an abstract work of art
"So, I started thinking about maps. I asked myself; 'What if we took a village and took away the buildings?' The more I spoke to people about the idea the more I got feedback that it couldn't, or shouldn't, be done. And the more I felt that I had to do it!
Sliema in aluminium
"The end result," he says "is an abstract work of art. The forms that emerge are so beautiful that I don't see a village when I look at it, but rather an abstract work of art. There are no buildings or landmarks which make up the locality, just the roads. In fact, in naming the pieces I didn't go for the name of the locality but instead went for the number allocated to each local council."
The process itself is quite something. "I etch out the shape of the roads in silicone which is used to create two moulds, one of plaster and the other of wax. The latter is used to create a resin based sculpture whilst the plaster one is used so that melted aluminium is poured into it.
"Plaster is ideal, because it starts to crack as soon as it faces the heat of the aluminium. However, it holds together just enough for the aluminium to set. Afterwards, I can chip away the plaster so that the only the thing that remains is the outline formed by the aluminium."
Indeed, this ends up forming one of three different versions of the same sculpture; the one that David defines as "the code complete, because for me it is the best one and the most prestigious."
"The second one is made of resin, whereas the third is a large circular sculpture that I call the plate. I etch out the route in that one and I then paint it."
Cospicua in aluminium
So far, the overwhelming reaction has been positive in spite of the initial diffidence.
"The drawback when you introduce something new is that it takes time for people to get used to it and start looking for it," he details. "Also, I haven't done many pieces. Still it has been very well received. I'm happy with how things are going."
Whilst sales do not equate to success, it is always an encouraging sign when someone is so impressed by a piece of work that they request one of their own. This is what led to David working on the Cospicua; when a boutique hotel owner commissioned the creation of the rooftopography of that locality.
Cospicua thus became the fourth locality to be included in this series. "The first one that I made was for Attard, which is the place where I grew up and I have fond memories of".
"Then, I did one of Sliema that is a place which is so desirable among both Maltese and foreigners. It is somewhere that a lot of people visit. Then I did one of Siġġiewi which I chose simply because I was curious how it would look when I'd finished it."
My thinking came out of the desire to put out something that is Maltese without going for the usual Maltese landscape
With time and experience, the process has become easier. "The process is still a long one but, now I have a certain degree of knowledge so I can now do a couple at the same time," he explains. "This also means that there is less wastage when you're melting aluminium."
The big benefit, however, is that "I can now do two at the same time. This is how I came to do Valletta at the same time as Cospicua."
Valletta in Resin and glass
"While I was working on these I started thinking about having a 3D printer so that we could do some other projects linked to this. In fact, we've scanned the Valletta sculpture and are currently experimenting printing it with different materials. The result is an exact replica of the main sculpture. We're hoping to have some corporate souvenirs that can be given out during V18."
This latter idea is indicative of his forward thinking and desire to experiment. At this stage, however, his main ambition is another one.
"My main idea is to do a Rooftopography of every locality on the Maltese islands. It is difficult because you need a lot of finances that currently I do not have. But that's my wish.
"It isn't often that I start working on something that I want to keep on doing. These, however, are different and I think that when I have the money to do another locality I will do so. I hope that I manage to do them all."
Valletta in aluminium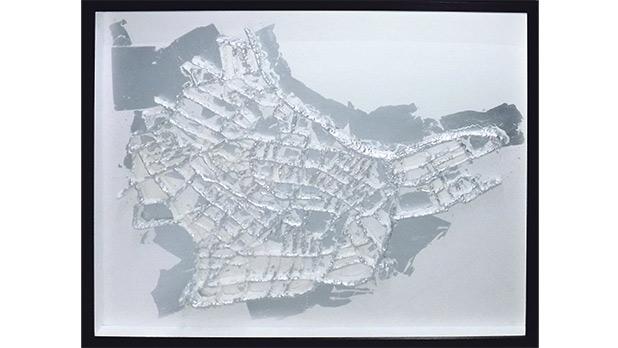 Sliema in resin and gilding
Independent journalism costs money. Support Times of Malta for the price of a coffee.
Support Us