Theatre
Treasure Island
MFCC
Who doesn't like a good old ripping yarn at Christmas? MADC's latest fare for this year's annual panto at the Malta Fairs and Convention Centre (MFCC) was a move away from the ordinary fairy tale adaptations which are normally used for pantomime plot lines. Instead, the theatre company chose to adapt Robert Louis Stevenson's Treasure Island – in a bid which follows last year's adaptation of works by P.L. Travers and previously, Dickens.
I rather like this foray into new stories rather than rehashing the older conventional and safer panto plots, especially since there are only so many ways of placing them in a Maltese setting.
Treasure Island took us to Marsamxett Harbour and had a musical score which borrowed from pirate traditions like Pirates of the Caribbean and Gilbert and Sullivan's The Pirates of Penzance.
Musical director Paul Abela and vocal coach Roger Tirazona had a great cast of highly-disciplined chorus members, who took their musical direction well and applied it to Alison White's slick choreography. In spite of the fact that the sound balance was far too loud, the performers managed to pull off a professional, enjoyable series of high-energy ensemble pieces, the backdrop of which was Claudio Apap's excellent set design.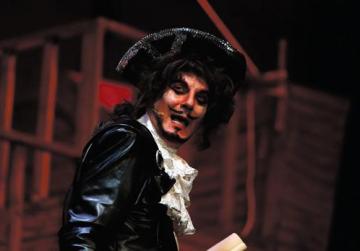 Alan Montanaro as the villain, Long John Swagger.
This year's panto had a vibrant colour palette, which had a bubblegum quality to it and exposed Isabel Warrington's penchant for the cheeky-quirky in costume design and styling, coupled with wigs and hair by Michael and Guy.
Malcolm Galea's direction was sensitive to the needs of panto as a bridging performance between children and adults and certainly portrayed his script in the best possible manner. But the script itself was not as funny as a usual panto's is or, at least, the ones that a Maltese audience is used to seeing. It was, however, very strong on plot and characterisation.
The political jokes were subtler and the selection of children much more organised and orderly. It was, in fact, a very civilised panto – enjoyable but not rip-roaringly so – at least not for adults.
I believe MADC has created one of the most child-oriented and pleasant pantos for a younger audience – starting, of course, with Dame Mama Sufia Kerapestka (Jean Pierre Busuttil), who for a welcome change did not have the accent of a Maltese ħamalla. Instead she had that of a Russian gold-digging trophy wife, who runs the local tavern The Ample Chest, with the help of her son Jim Hawkins (Alexander Gatesy Lewis), who is in love with the unfortunate Miss Arabella Ħuta (Tina Rizzo), daughter of Squire Ħuta (Joseph Zammit).
It was a very civilised panto – enjoyable but not rip-roaringly so – at least not for adults
Poor Miss Ħuta is cursed to become a fish on her 17th birthday by the enigmatic odd-ball Jamaican voodoo soothsayer Salty Sue (Steffi Thake) who wants the Squire to obtain her magical amulet from the pirates' booty before she reverses the curse. Alan Montanaro returned to panto as the villain this time, Long John Swagger – a swashbuckling, ruthless pirate captain, who, together with his crew, Wayne the Insane (Rambert Attard), Gentleman Jake (Anton Saliba), Lady Carolina (Analise Cassar), Stiletto (Cassandra Galea), Whispero (Audrey Scerri) and Fazoulus Filflus (Monique Dimech Genuis) is hell-bent on recovering his treasure.
The problem is, of course, that the map which Billy Bones (Joe Depasquale) is guarding, and which the motley crew at The Ample Chest discover, can only be read properly by Jim, as it transforms magically into the wrong route for anybody else. So they all decide to go in search of the treasure and a cure for Miss Huta, accompanied by Dr Shipshape (Katherine Brown) and Captain Sniffit (Michael Mangion) at the helm of the Rubber Jolly.
Once on the island, they are foiled by the pirates and meet Benny Gunn (Rambert Attard), who has been exiled by the cruel Long John Swagger for many years and is now in charge of his own group of natives.
Alexander Gatesy Lewis plays the swashbuckling hero Jim Hawkins who is desperately in love.
What I find so refreshing about pantos these days are singing narrators incorporated into the story instead of simply having pit singers to boost the vocals. The two singing mermaid sisters, Nettuna (Rebecca Camilleri) and Nittiena (Chantelle Micallef Grimaud), were really very good: they have strong, clear voices with the right amount of sass in the right places.
Indeed, all the performers were very well cast. Gatesy Lewis's likeable Jim Hawkins and Rizzo's excellent Miss Ħuta were paired well as principals, with strong singing voices and on point dance steps. I particularly enjoyed Rizzo's rendition of Rachel Patten's Fight Song. Busuttil's Dame had good banter with Montanaro's villain and they were certainly both high on energy, drawing the children's enthusiasm into the piece when the plot required it.
Brown's Dr Shipshape, Mangion's Captain Sniffit and Zammit's Squire Ħuta portrayed the idiosyncratic and bumbling adults which children and teens often find themselves putting up with. Depasquale's ability to portray gruff character roles is admirable and was incredibly convincing as a cynical, alcoholic pirate. The performance I enjoyed the most was Thake's Salty Sue – which was fun, sharply executed and easy to watch: her timing is excellent.
The ensemble songs which were most enjoyable were pirate ditties from Pirates of the Caribbean and The Pirates of Penzance, such as Drunken Sailor, The Pirate King and the very fun Song Sheet, Wolves of the Sea.
Choosing a closing number like Walk the Moon's Shut Up and Dance was a great idea because it kept the energy high right till the end and it's such a catchy, retro dance song that I certainly left with a smile on my face and a jig in my step.
A professional, quality show and a good night out.