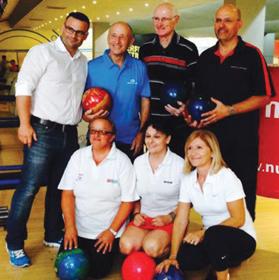 Some of the protagonists of the Senior Championships.
The fifth Senior Championships, organised by the MTBA, was played recently at the Eden SuperBowl, St Julian's.
The event for 50-plus players saw Paul Baldacchino hold on to his title as Josephine Borg was the top performer in the women's tournament.
Facing stiff competition from a solid field, Baldacchino had to be on top of his game to keep his title defence bid on track.
He took the lead from the opening game with a 193, just ahead of Roy Swift with a 188 effort.
The pair kept things tight over games two and three, with Baldacchino's higher scratch efforts in risk of being thwarted by Swift's far superior age bonus.
Baldacchino rolled a 247 and 227 to improve his lead to 33 pins (667-634), with Sammy Borg not too far behind the leading two.
Ultimately, it was his greater consistency that won the day for Baldacchino as he rolled a 627 total over the back three against a 591 from Swift to seal victory by 69 pins (1,294-1,225). Borg remained third with a final tally of 1,172.
With 2013 winner Josephine Bonello unable to defend her title, it meant a new champion was on the cards in the women's tournament.
Three-time champion Borg (2010, 2011, 2012) was the sure favourite. She led the competition at the halfway point of the six-game series with a 559 total with Mary Galea and Marianne Mula on the chase.
Borg rounded off the event with a sound 199 for a 1,095 gross total. Galea was second on 995 and Mula third, 967.
The Senior Championships were also supported by Nutrition Empire.
Independent journalism costs money. Support Times of Malta for the price of a coffee.
Support Us