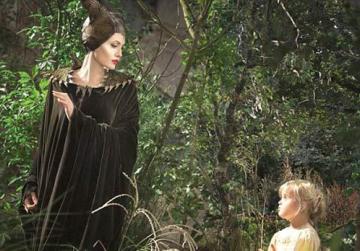 The actress' daughter Vivienne Jolie-Pitt, who plays Aurora as a toddler.
Maleficent
Director: Robert Stromberg
Starring: Angelina Jolie, Sharlto Copley, Elle Fanning, Vivienne Jolie-Pitt
97 mins; Class PG; KRS
Hands up those who remember Maleficent, the antagonist of Walt Disney's 1959 animated film Sleeping Beauty. She was the horrible, evil witch who, miffed at not being invited to the royal christening, curses baby Princess Aurora to "prick her finger on the spindle of a spinning wheel and die" on her 16th birthday.
All of you, very good (added bonus if you actually remembered her name, because while I remember the character, her actual moniker escaped me).
No chance of forgetting Maleficent here, however, in this live-action fantasy which explores the character's back story. She is embodied by Angelina Jolie, who shines as she regally steps into the character's flowing deep purple-black gowns, regal horns and rather alarmingly sharp cheekbones, which, in a service to readers, I can happily report are not real, so please don't let them distract you too much.
When we first meet Maleficent she is a young fairy who lives contentedly in the moors that lie beyond the realm of King Henry (Kenneth Cranham). The two domains of fairy folk and human­kind live in a fragile peace, side by side but often wary of one another.
When a young human boy Stefan inadvertently stumbles onto Maleficent, the two become friends; a friendship which, as they approach young adulthood, blossoms into something more. However, given the chance to inherit the kingdom, Stefan commits a horrible act of betrayal and terror against Maleficent and she slowly plots revenge, which culminates when she gate-crashes the christening of Stefan's first-born daughter Aurora.
While it may in moments be a bit dark for very young ones, it is a great family film, worthy of the Disney canon
It's an excellent premise, written by Linda Woolverton (writer of, among others, Disney's smash hits Beauty and the Beast and The Lion King) and directed by Oscar-winning production designer Robert Stromberg – who with Avatar and the live-action Alice in Wonderland on his CV, ensures that his directorial debut is a stunning visual feast.
With its strong story-telling and design pedigree, Maleficent is a highly-entertaining fantasy romp and while it may in moments be a bit dark for the very young ones, it is a great family film, certainly worthy of the Disney canon.
As with Oz, The Great and Powerful, Maleficent looks at the origins of its protagonist, and I don't think it is a spoiler to say it is also a tale of forgiveness and redemption; the twist being that beneath all Maleficent's rage, green fire and brimstone lies the beating heart of a noble and heroic woman, and as she sits and observes Aurora grow up and approach her fateful 16th birthday, our anti-hero relearns all that she knew in her youth and realises the error of her ways… even though it may be too late.
It is a perfect vehicle for Jolie, who relishes every moment and nails every sentiment. It is a role that can fall into the panto-esque, yet Jolie keeps it very grounded. Maleficent is more complex than a one-dimensional evil character. She is not just a woman scorned, driven by revenge, but also a leader, protective of her land and always mindful of her standing among the fairy folk who once revered her but now fear her. Jolie peppers her performance with the right dose of wicked humour and genuine compassion.
She shares many scenes with Sam Riley, as Diaval, a raven who Maleficent rescues from a brutal farmer, who becomes a solid friend and confidant in his human guise.
Elle Fanning plays the teenage Aurora (played as a toddler by Jolie's cute-as-a-button real-life daughter Vivienne Jolie-Pitt) with just the right amount of sweetness and light without being bland – the blandness falls to Brenton Thwaites, who is a bit of a non-entity as the young prince Phillip.
The comic relief comes in the guise of Knotgrass, Flittle and Thistlewit, the fairies charged with looking after Aurora as she grows up. As portrayed by Imelda Staunton, Leslie Manville and Juno Temple, they perfectly embody the doting – and dotty – aunts.
Fans of Disney's recent smash hit Frozen will notice some familiarity in certain plot elements, which invites unwelcome comparisons – although it seems the studio is intent on promoting female empowerment, which is never a bad thing.
When all is said and done, however, that is a small niggle in a beautifully-rendered modern telling of a typical fairy tale, and powered by an extraordinary performance which again re­minds us of Jolie's charismatic screen presence. Maleficent is, in a word, magnificent.