Today Malta takes up the third and final term of the EU presidency trio, after the Netherlands and Slovakia. The next six months should be a time for wrapping up and putting well-laid plans into action. When a Member State holds the presidency that country is meant to give added weight to its own national programme.
Environmental priorities of the Maltese presidency over the next six months were presented in Brussels last month. The Minister for Sustainable Development, Environment and Climate Change José Herrera reassured the EU environment council that Malta would continue to build on the momentum achieved by the Paris climate agreement.
Between now and June, negotiations on proposals to amend directives on waste and restriction of hazardous substances should move ahead. There is a recast of the regulation on persistent organic pollutants to be seen to and a fitness check for the birds and habitats directives coming up. How well environmental regulations are being implemented across Europe will also come under review.
Under Malta's watch, progress on a revised emissions trading scheme (ETS) is expected together with discussions on EU Commission proposals for the land use and forestry sectors to be included in the scheme.
Minister Herrera declared that Malta, together with its counterparts, would give due attention to the issue of emissions from aviation. International passenger and cargo flights emit over 1,000 tonnes of carbon dioxide each year.
Improvements in fuel efficiency through aircraft technology and operational management are constantly overtaken by the ever-increasing volume of air traffic worldwide. Efforts to bring aviation emissions under an effective global accord have so far failed. In a high-growth scenario without regulation, world aviation emissions could triple by mid-century.
Both shipping and aviation have so far been excluded from international negotiations on climate change. This has been partly due to difficulties in allocating emissions from a moving vessel or aircraft to a particular country. There has been strong reluctance all along by both industries to submit to international monitoring required by climate change regulations.
International flights have been exempted from the European emissions trading scheme since 2013 in an effort to avoid a trade war and give civil aviation more time to reach a global agreement on curbing emissions.
Malta may find itself preaching to its neighbours while much remains to be put into practice on these semi-arid islands. All but forgotten, Malta's draft national water strategy languishes in the wings
Last October, member nations of the International Civil Aviation Organisation (ICAO) finally agreed to start addressing the problem.
It was agreed that airlines would have to offset some of their emissions by buying carbon credits to invest in carbon-reduction schemes, such as installing renewable energy and planting new forests. Precautions are to be put in place against 'double counting' to ensure that existing forest protection efforts will not be passed off as new initiatives.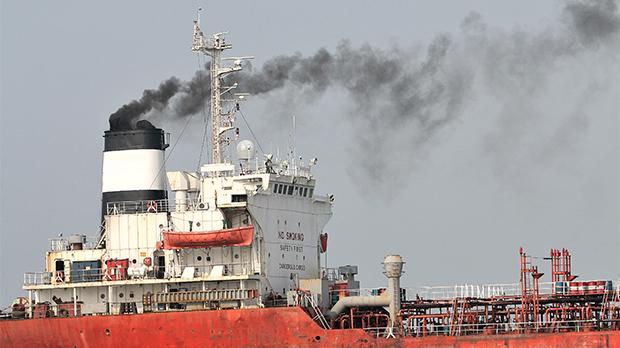 The 15 largest ships globally emit as much as all the cars in the world. This should be the year ships start cleaning up their act. Photo: Marci Paravia/Shutterstock
Around 200 countries agreed on a target for 80 per cent global aviation emissions reduction on 2020 levels by 2035. The agreement was met with criticism from NGOs as it will only regulate about a quarter of aviation's emissions worldwide while allowing unregulated growth of the industry until 2020.
Only 65 nations will participate in the initial voluntary period. This does not include significant emitters Russia, India and Brazil. The agreement, which does not cover domestic emissions – which comprise nearly half of the global aviation industry's emissions – has been hailed by critics as "a timid step in the right direction".
Europe's own emissions trading scheme for aviation had to be reconsidered in the light of a deal reached by ICAO in Montreal last October.
Airlines have an economic incentive to use the lightest fuel possible, which can include biofuels derived from plants. If biofuels are produced in a responsible way they can help cut carbon emissions and tackle global warming. But their production requires extreme amounts of water. An increased demand for biofuel crops could lead to removal of grasslands and forests to make space for planting of corn and other biofuel crops.
Despite anticipated innovations to make flight more climate friendly there is no end in sight for the rapid growth in carbon dioxide emissions from air travel and air freight as aviation continues to expand.
Shipping fuel is heavier and thicker than aircraft fuel and produces more greenhouse gases. The 15 largest ships globally emit as much as all the cars in the world. Ship-owners and shipping companies tend to be secretive about data on fuel consumption as they plea competitive issues. This should also be the year that ships start cleaning up their act.
EU environment ministers will meet this April in Valletta to discuss marine litter, adapting to climate change and re-use of water.
Europe's environment council is eagerly anticipating adoption of a Mediterranean water strategy this spring. Malta may find itself preaching to its neighbours while so much remains to be put into practice on these semi-arid islands of ours.
All but forgotten, Malta's draft national water strategy languishes in the wings.
Independent journalism costs money. Support Times of Malta for the price of a coffee.
Support Us