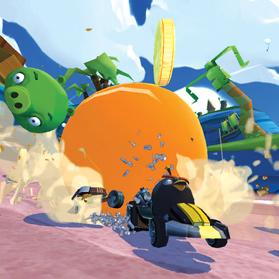 You probably already know this, but the pigs in Angry Birds Go have no clue what they are doing. They get their inspiration from glossy magazine ads for cars but unfortunately have to make do with whatever they have at hand. So the birds get to race cars made from prosaic things like irons and soft drink bottles, but somehow, they still manage to get around at breakneck speed, all the while giving the players ways in which to upgrade the car to something more like the one the pigs were aiming for ...
This quirky approach is probably one of the reasons that Rovio's Angry Birds is one of the most popular downloadable apps – over 75 million since it was launched. But what you might not know is that part of that popularity is possible because the app is available on all the different platforms. And the company that makes that possible is in Malta. At Valletta Waterfront, to be precise.
Jon Gibson is Exient's studio director and, like most of the people in this industry, wears sneakers and a sweatshirt. He joined the industry during a university gap year, to the dismay of his parents, but 20 years later he is clearly in his element.
"Angry Birds Go was the hottest racing game this Christmas ... We worked as the creative partners with Rovio and it was released simultaneously for all mobile platforms," he said.
"This is what we do; this is our unique selling proposition. We create a universal code base for every platform. Other companies tend to focus solely on the high-end consoles such as Xbox One and PS4, but we were the ones who concentrated on mobile as well as consoles and this put us in a great place!"
The free game is currently only single-player, but a multi-player version is planned.
"This is the strategy: to launch with the simplest version and use analytics and feedback to improve, so every couple of months we issue an update and improve," he explained, adding that this was one of the advantages of free-to-play apps.
"If you had a boxed product, there would be a shipping date and once the product goes out to the shops, that is it. With us, we can keep upgrading whenever we need to," he said.
Revenue is generated from the small percentage – but large absolute number – who purchase extras like upgrades.
"We don't believe in tricking people into buying, something that the European Commission is very much against. Rovio is founded on the idea of an 'overwhelming value proposition' and it has very deliberately rejected ideas that did not fit in with this concept," he said.
Exient – the name comes from excellent in entertainment – was set up 14 years ago by CEO David Hawkins, and has over 80 games under its belt, including some of the top brands like Need for Speed and Fifa Football.
The company opened an office here a few weeks ago, taking up a vault at Pinto Wharf, but its team of six is already going to grow to 16 by end-April and to 23 by end-May.
"And it could grow even more than that," he said, adding that the company was impressed by the programming skills of graduates in Malta.
"We hire on potential rather than on experience. We don't just go for industry veterans," he said.
"The important thing is that people should be enthusiastic about their work and very creative."
Exient wanted to expand from their Oxford and Lymington Spa office and considered a number of places.
The important thing is that people should be enthusiastic about their work and very creative
"Eventually Malta and Canada were the ones we looked at seriously. Malta had a good pool of untapped resources, as well as ones that have already worked in online gaming, and it is an attractive place to live if we are looking for foreign talent, and well connected by air," he said.
The original intention was for Malta to work with the Oxford office, but already this plan has evolved and Exient wants to move the whole Angry Birds Go project to Malta. And it is also planning to work on original intellectual property which it would start from scratch.
"The approach with online games is very different. With a boxed product you would have to have a massive launch campaign and it either makes lots of money or loses lots of money. With free-to-download apps, you just choose one country and have a soft launch for a few thousand users, get feedback and use it as an R&D phase, only launching when we are happy.
"You can actually team up with independents for a year or so to market each other's games too. The game development community is very small and very tight and we like to help one another out."