Colour plays a vital role in our lives so think carefully when choosing the colour of your rooms. Veronica Stivala looks at some of the latest trends in the home palette.
Colour plays a vital role in our lives. It can influence thinking, affect actions, and cause reactions. Colour has been shown to influence our happiness too, so it is important to keep this in mind when choosing the colour schemes for your rooms be it the colour of walls, upholstery or accessories and furnishings.
As a rule, dark colours tend to have a dampening effect on mood, so keep things light and bright. The colours set to come into fashion for home décor in 2015 conform to this instruction. Studies have suggested that blue encourages creativity.
So when you are designing, redecorating or simply sprucing up a room with some colour, keep in mind what you are likely to use the room for.
Colours for 2015
Neutrals, blues and greens are all the rage for the 2015 home. Interior architect at CamilleriParisMode and fashion stylist at www.cloudedrevolution.com Claire Galea elaborates on what the new neutrals are:
"Work with a grey palette, with softer beige and grey tones to create a grey to a dark blue grey effect. Let go of the favourite 'mushroom' colour and go for a stony grey instead."
To create a clean contract, Galea suggests accenting apertures and doors in white.
Walls should be punctuated in strong blues and teals, or warm green tones.
So what colours should I use for which rooms? Here are some suggestions.
Neutral colours are back in fashion for kitchens.
Kitchen
• Colour trends are soft, moving away from stark whites in favour of creamy neutral palettes with just a hint of colour such as gold, lavender, blue, green and raisin. Painted, stained and matte cabinet finishes are increasingly mixed with wood, usually in earth tones including muted greens, chiffon yellows and deep blues, as well as browns, reds, blacks and grays.
A designer at Master Brand advises that when selecting a colour palate, look to the world around you – Mother Nature has a great eye!
Be sure to integrate some of the same colour tones throughout your home to have a flow from room to room, especially in open floor plan designs.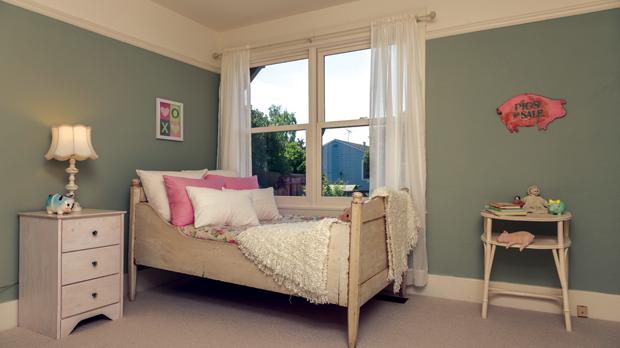 Olive green will be big in 2015 bedrooms.
Bedroom
• "Olive greens will be popular in 2015," predicts designer Capella Kincheloe. "The shade is warm, organic and neutral for almost any other colour you pair with it."
If you, like me, are a fan of clean white linen on your bed, you can have your cake and sleep on it by opting for an olive green bedskirt, and perhaps the same colour, or a patterned version of it, for an upholstered headboard, and keeping the rest of your bedclothes snow white. Add a dash of green again with a feature wall, curtains and the upholstery of your dressing chair.
Light and airy are the keywords for living room colour.
Neutrals, blues and greens are all the rage for the 2015 home
Living room
• "The blue of the Mediterranean and the tops of the churches in Santorini," designer Sara Story told House Beautiful when asked for her 2015 colour prediction. "It's so rich and fabulous, perfect when paired with a grey or pink." Choose an ultramarine blue for your sofa and pair with this blue and white patterned curtains. Accessorise with grey or pink cushions, lampshades and carpets.
Bathroom
• Designer Jenny Komenda continues the warm tones theme that can easily be applied to the bathroom. She says: "I'm seeing warmer, muddy colours start to come back into vogue." She can't get enough of rust, olive, dusty mint, and aubergine—and still likes a splash of bright colour thrown on top though, just to keep things exciting. Think an aubergine mirror, carpet or simply spruce up the room with some new, bright towels.
Following the 'blackboard paint' trend of last season, the latest trend is the 'unfinished paint look'.
Painting style
• Most among us are accustomed to walls being painted neatly, and those among us who have ever painted a wall will be familiar with taping the borders of the walls in order to create a neat, straight finish. Yet randomness, imperfection and even a sense of decay are all the rage. Following the 'blackboard paint' trend of last season, the latest trend is the 'unfinished paint look'.
Use two-tone effects on your walls to give them a quirky unfinished look, using the darker colour or more elaborate texture at the bottom. Think incomplete faux stone walls that don't reach up to the ceiling and bright teal walls that skirt the ceiling with a rough brush finish.