International television documentary The Battle of the Operas in Malta, focusing on the existence of two opera houses in Victoria, is now available for viewing on Arte.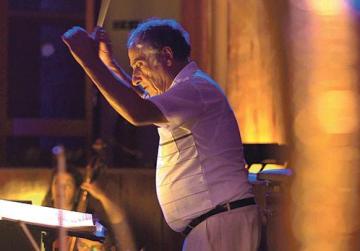 Astra musical director Joseph Vella conducting rehearsals.
Production company Sounding Images shot an hour-long film under the direction of Claus Wischmann aimed at German, French, Scandinavian and British broadcasters.
The camera team visited both the Astra and the Aurora opera houses with local international opera star Joseph Calleja and also filmed an exclusive interview with him at his home in Mellieħa. The celebrated singer began his career at 19 at the Astra opera house.
Wischmann commented that the situation in Victoria is highly unusual.
The facades of the Astra and (bottom) Aurora theatres in Victoria.
"In other countries and cities, one discusses the need for opera but, here in Gozo, they go the whole hog. The quality of the production, despite the small budget, is breath-taking, even though everyone has another day job and only does it as a voluntary activity."
With its 30,000 inhabitants and two opera houses, Gozo has more opera per square kilometre than any other place in the world. The film begins with the colourful and exuberant festas, typical of a Maltese summer and accompanies its protagonists from the challenging preparations and rehearsals to the performances in October.
The documentary clearly shows the no-holds-barred commitment that goes into opera on the island as well as a passionate love of music and how dedication and a healthy rivalry can bring forth genuine art.
■ The film can be viewed online at www.arte.tv/guide/en and is available until December 24. The documentary is in German with English subtitles.
Independent journalism costs money. Support Times of Malta for the price of a coffee.
Support Us