Burrata is made up of a mix of fresh mozzarella and cream and originates in Puglia, Italy. A thin, but tough, mozzarella film encases the soft and creamy content and it is now flown to Malta directly from Puglia every day and can be found in most supermarkets.
You can find it plain or smoked, with mushrooms, herbs and mint. My favourite remains the plain Burrata and I was amazed to taste the smokiness in such a fresh soft cheese. It is a versatile ingredient and, as well as being delicious with salads and crusty bread, it is a great accompaniment to soups, pasta and main courses as well as sweets. Look out for a series of recipes featuring cakes and desserts using burrata as an ingredient, that I will be using on www.timesofmalta.com in the coming weeks.
A thin, but tough, mozzarella film encases the soft and creamy content
Burrata was traditionally wrapped in Asphodel leaves as they served as an indicator to the freshness of the cheese. While the leaves are green, the cheese is very fresh and dry leaves are a sign that the cheese is past its prime. It is best consumed within 24 hours of purchase.
The combination of the taste and texture is glorious and this is not an exaggeration. When I made my simple dessert with strawberries for my TV show, it was described as "heaven on a plate" by my crew.
Without doubt it is also wonderful served with freshly baked ftira, ripe tomatoes and olive oil.
Casarecce with Turnip Greens and burrata
500g pasta (I used casarecce, as I love the way they hold their shape when cooked)
Leaves of 2 turnips or kohl rabi, stems removed
6 cloves garlic
1/2 onion finely chopped
6 fillets of anchovy
3 tbsp freshly grated pecorino
A pinch of chilli flakes or sweet paprika
1 tbsp fresh breadcrumbs
4 tbsp walnuts, dry roasted in a pan and chopped
3 tbsp olive oil
1 fresh, plain burrata
I met chef Michele Palazzo last month – his family have been producing cheeses in Puglia for many years and we spoke about the traditional cuisine of Puglia. He inspired me to try out some new dishes and here is the first of many to come. In Malta we do not use the turnip leaves (kohl rabi); they are simply discarded or used to feed domestic rabbits. Yet, out of these scraps we made a most delicious pasta. In Puglia it is served with burrata and it is usually made using oriechette pasta.
Cook the pasta following instructions on the packet.
For the sauce, sauté the onion and minced garlic in a tablespoon of olive oil on low to moderate heat. Add the chopped up turnip tops and anchovies. Add half a glass of white wine and half a glass of water. Turn down the heat and simmer for 20 minutes. Add the chilli flakes or sweet paprika, stir and season with salt and pepper if desired.
Drain the pasta well. Add the sauce and stir gently until it covers the pasta consistently. Serve and top with fresh breadcrumbs, grated pecorino cheese and walnuts and half a burrata per person.
Salad of Fresh Fennel and Smoked burrata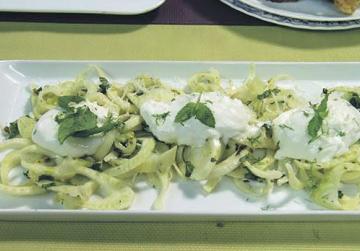 2 heads fresh fennel, stalks removed and chopped finely
2 tbsp olive oil, with extra oil to drizzle before serving
1 tbsp organic apple vinegar
1 tsp grated lemon zest
1 tsp chopped garlic
2 tbsp lemon juice
2 smoked burrata, chopped in halves
2 tbsp chopped fresh mint with extra leaves for garnish
Salt and freshly ground pepper
A few slices of lightly toasted Maltese bread
A pinch of fennel seeds
Place the chopped fresh fennel, olive oil, organic apple vinegar, chopped garlic, lemon juice, grated lemon zest and lemon juice in a large shallow dish.
Roughly grind the fennel seeds and add them to the dish. Cover with cling film and allow to rest and soak in the flavours for an hour... two hours are better.
To serve, arrange the fennel mixture on large platter. Place the burrata on top and garish with more olive oil, salt and pepper and mint leaves. Serve with toasted Maltese bread.
Strawberries with burrata
(Serves 2)
1 plain burrata (I use small individual ones)
Lots of fresh strawberries and orange zest
Agave or honey
Mint leaves to garnish
Simplicity is always best and if you have not yet tasted burrata make a point of trying this simple dish. You will then find out why it is known as the queen of cheeses.
To assemble, cut the burrata in half and plate it. Scatter strawberries and orange zest and drizzle agave or honey. Garnish with mint leaves.
Kale Soup with canellini Beans and burrata
8 cups boiling water
An organic, natural stock cube
Quarter tsp salt (optional)
4 cloves garlic, peeled and crushed
10 kale leaves (remove the middle stalk)
1 middle-sized onion, finely chopped
1 can canellini beans, drained
4 thick slices bread
4 tbsp olive oil
A pinch of bicarbonate of soda
Juice of one lemon
Grated rind of one lemon
1/2 burrata per person
Lots of fresh ground pepper
Kale grows locally and comes in many varieties. You can also make the same soup using Swiss chard.
Sauté the onion and crushed garlic in some olive oil in a large pot. Add the chopped up kale and top up with the boiling water until the leaves are fully immersed. Lower the heat and leave on a gentle boil for half an hour. Add half the lemon juice and lemon rind. Stir and turn off heat. Allow to cool and use a hand blender, pulse and whizz making sure that you do not over-blend as the soup is more delicious with the different consistencies. Add the canellini beans keeping some aside for garnish.
Brush some olive oil on to the bread slices. Rub the slices with some garlic. Bake the bread slices for around 10 minutes. Do not allow to burn or get too crusty.
Place a slice of bread in the bottom of each soup bowl. Pour the heated soup onto the bread. Place half a fresh burrata cheese in each soup bowl. I also made some croutons from local sourdough and garnished with canellini beans and croutons.
You can find more of Lea's recipes on www.timesofmalta.com/sections/view/escape or her blog on www.goodfoodeveryday.wordpress.com. You can also watch her cook every day live on TVM2.
Independent journalism costs money. Support Times of Malta for the price of a coffee.
Support Us