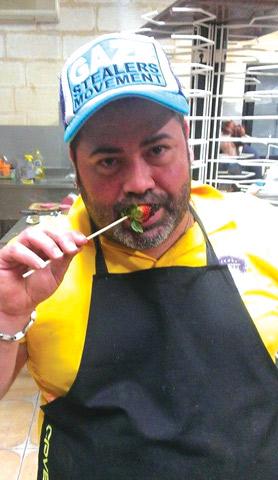 Antoine Cavett
A restaurant and entertainment venue in Qormi continues to promote itself for group and dinner parties by the pool despite being illegal.
Cavett's Place, also known as Taċ-Ċavett, at Handaq Industrial Zone was served with an enforcement notice by the planning authority in 2012.
The enforcement notice was served on Marco Gaffarena as the contravener. Mr Gaffarena is also one of the owners of the controversial Gaffarena petrol station in Qormi which was given a 'temporary' permit to operate in spite of being developed illegally.
The entertainment venue in Qormi is categorised as an "agricultural holding" in Mepa documents. But two years since the planning authority issued its enforcement notice because of an illegal change of use, the venue continues to be marketed in the name of the operator, Antoine Cavett.
The site includes structures without a permit, and the enforcement notice also states the use of the site was switched from a farm to a venue hosting commercial activities that include serving food and drinks.
In 2011, Marco Gaffarena withdrew an application to sanction the existing structures on site for use as a sheep farm, and to construct a manure clamp and a cesspit that are usually required by law on livestock farms.
The following year, the establishment was being used as an entertainment venue and its operators have been promoting its pool area for family entertainment, saying also bookings are welcomed for group parties and catering.
The operator, Mr Cavett, told Times of Malta the venue did not belong to him.
"A friend lets me use it, and it is mostly used for fundraising events sustaining social causes," he said.
He said he hosted two dinners for then President George Abela in which they raised €1,700 for his trip to the missions in Peru. His brother accompanied Dr Abela on his visit, according to Mr Cavett.
A friend lets me use it... mostly for fundraising events sustaining social causes
Adverts promoting the venue can be seen on different social media sites as well as the Yellow Pages. There is also a video on You Tube taken from inside a car driving to the venue in an effort to show people how to the get to Cavett's Place – it ends with the note "see you Friday".
As well as a venue for parties, the place is marketed as a bar and grill, and restaurant and cafe. Its specialities, according to Cavett's Place Facebook page, are lunch, dinner, coffee and drinks.
Photos of several parties held at the venue over the last couple of years are uploaded to the page.
The planning authority said no permission was sought for the venue's commercial use.
"Mepa's enforcement officers are investigating the fresh complaints that have been made pertaining to these activities," a spokesman said.
When contacted, Mr Gaffarena told The Sunday Times of Malta he did not wish to comment.
Independent journalism costs money. Support Times of Malta for the price of a coffee.
Support Us