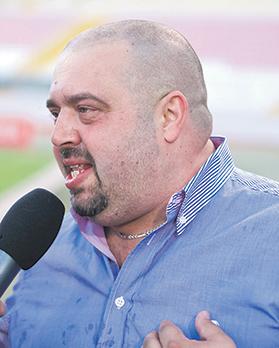 Keith Perry... re-elected as Sliema president. Photo: Paul Zammit Cutajar
Keith Perry will stay at the helm of Sliema Wanderers FC after heeding the club members' calls to remain as president during yesterday's Annual General Meeting.
After guiding the Wanderers to success in the FA Trophy last season, their first major honour in seven years, Perry had intimated that he was pondering his future as president while stressing the club's need for increased financial backing.
Perry's statement had led to reports that he was preparing to quit his post but the overwhelming support of the Blues members appears to have persuaded him to retain his post.
In the lead-up to yesterday's AGM, there was speculation that George Borg, the former Balzan FC president, had been ap-proached to take up a prominent role on the Wanderers committee but his name was only conspicuous by its absence from the list of officials elected during yesterday's meeting.
The Times of Malta has information that Sliema Wanderers and a host of other clubs in the Premier League and Division One had sounded out Borg over a return to club administration but he declined their invitation.
Jean Paul Sammut, who chaired the Sliema meeting, has been confirmed as general secretary.
Kevin Bugeja and Godfrey Pace hold the two vice-president posts while Andrea Zammit Tabona is the club treasurer.
"This season (2015/16), despite all the difficulties, the Sliema Wanderers' senior team won the FA Trophy, the Under-19s won the Knock-Out final and got promoted to Section A, the Under-17 placed third in their section and reached the Trophy final, and the Under-15s were second in the champion-ship," Sliema Wanderers said in a statement.
Eight new members have been elected to the Sliema committee for season 2016/17.
A notable absentee is Mario Debono.
Widely regarded as an influential club official who also served as general secretary to the Premier League Standing Committee last season, Debono was expected to stand for re-election to the Sliema committee but he didn't file his nomination.
Meanwhile, Perry and his fellow club officials are expected to step up their search for a new head coach in the coming days following the departure of Alfonso Greco last month.
The Italian, who was instrumental in Sliema's FA Trophy triumph after returning for a second spell in charge of the team last February, left his post with the Blues to take over as coach of hometown club Ostia Mare who play in Italy's Serie D.
Sliema have yet to draw up a shortlist of candidates but reports suggest that John Buttigieg, the former Malta coach, could be one of the front-runners for the job.
Sliema W. committee
President: Keith Perry.
Vice-presidents: Kevin Bugeja and Godfrey Pace.
Secretary: Jean Paul Sammut.
Treasurer: Andrea Zammit Tabona. Assistant treasurer: Elton Sant.
Members: Clifton Grima, Horace Aquilina, Joe Camilleri, Charles Borg, Nicky Gatt, Michael Gatt, Nikolai Gauci, Liam Camilleri.
PRO: Jean Claude Micallef.
Independent journalism costs money. Support Times of Malta for the price of a coffee.
Support Us