Continuing our three-part series on Brazil's football stadium destinations, Stephen Bailey looks at four venues in the country's centre and far north.
Manaus
From the banks of the river the trees begin.
A blanket of rich greenery extends at every angle, the Amazon Rainforest stretching for thousands of kilometres in every direction.
The murky brown Amazon River converges with the dark-blue Rio Negro, the two expanses of water flowing side by side but never mixing.
Manaus is the Brazilian gateway to the rainforest, a stepping point for heading deep into one of the world's most majes-tic wildernesses. It promises remarkable nature, vivid landscapes and adventure.
But football?
Manaus was the destination most European teams were dreading. Ninety-five per cent humidity isn't the ideal environment, given the current trend for footballers to wear woolly gloves during matches.
Temperatures could reach 40°C and TV schedules have dictated that matches will be played at the stickiest and hottest time of day.
England coach Roy Hodgson said Manaus was "a place to avoid". Proud and indignant, the mayor of Manaus ranted that England wouldn't be welcome.
So guess who is playing the opening game in the city's brand new Arena Amazonia?
While the conditions aren't going to suit free-flowing football, Manaus has to be one of the most exciting World Cup destinations in recent memory.
Spend an evening cheering on your team and then the night surrounded by raucous uakari monkeys.
An aerial view shows Arena Amazonia soccer stadium two days before its scheduled inauguration in Manaus. Photo: Bruno Kelly/Reuters
Manaus was the destination most European teams were dreading. At 95% humidity, it isn't the ideal environment
Lose three days in the sounds of the rainforest before sailing back into Manaus in time to watch Wayne Rooney et al take the field.
Combine a three-day jungle survival course with three hours partying with fans in the FIFA Fan Fest.
A man gets ready to paint Fuleco, the 2014 World Cup mascot, on Third Street of the Alvorada neighbourhood in Manaus, one of the soccer tournament's host cities. Photo: Bruno Kelly/Reuters
Multi-day rainforest expeditions are easily organised in Manaus, although the proliferation of tour companies means visitors should do their research before booking a trip. At the very least, check the company has a valid registration with the Brazilian Tourism Board.
While rainforest surrounds Manaus, the virgin landscapes require a 100km journey up or downstream.
Boat explorations and jungle treks can be done in pretty much any direction, although the region's big draw is sailing along the mighty Amazon River and sleeping in tree houses deep in the wilderness. Three days are generally recommended to appreciate this environment.
Cities like Rio and Sao Paulo ooze football, while the Amazon Rainforest has barely produced a Brazilian international, hardly a surprise given that deforestation is required to create a pitch.
So how will the city react to the World Cup? Will indigenous locals have TVs that bring the action to the trees? Just how will drunk English fans react to the heat and humidity?
Manaus promises an unpredictable experience – but what an adventure!
There are more incoming boat services than long-distance buses, and it's a four-hour flight from Rio or Sao Paulo. It's a destination emblematic of what will be missing when the World Cup heads to Qatar.
Visitors are not only likely to get a feast of football and invariably passionate locals, but they are also able to enjoy one of the world's most iconic experiences.
The Amazon contains over half of the world's remaining rainforest. So if it is possible to forget football for a moment, exploring this great wilderness could be the highlight of visiting Brazil.
Alvorada Palace, the official residence for Brazil's president, designed by architect Oscar Niemeyer in Brasilia. The futuristic capital city built from scratch on savannah ranch land in the middle of nowhere was meant to open up the interior of Brazil and symbolise its rise as an economic power. Photo: Ueslei Marcelino/Reuters
Brasilia
Brazil's modern capital was always going to get its fair share of appetising World Cup matches. Founded in 1960, with the sole purpose of replacing Rio as the state capital, this planned city is home to the country's diplomats, business leaders and upper class.
Seven games will be played here, including Brazil's final group game, and hints of corruption have been levied at organisers. But people from Brasilia are used to criticism.
Their modernist city has been regularly denounced for being bland and soulless, yet it's the only 20th century city in the world to be listed as a Unesco World Heritage Site.
The cultured green lawns and wide boulevards are more reminiscent of a sleepy southern European town than a South American capital.
It's become a tourist hub for architecture afficionados, the carefully arching streets a stark contrast to the haphazard alleys of Brazil's working class favelas.
The uniquely designed buildings are probably Brasilia's sole attraction. After the vibrancy of other cities, fans could find this one is just a little too clean.
Hoping to inject life into proceedings is the FIFA Fan Fest, situated in the centre of what locals believe is the widest road in the world.
Concerts at the Ministries Esplanade have been held for half a million people, and if the football attendance can reach even a fifth of this, the Brasilia Fan Fest could be the best in the whole country.
To put things in perspective, the Fan Fest in Manaus holds just 35,000.
Brasilia is not a city where life is lived on the street, so the multitude of nationalities converging on the Ministries Esplanade should be a special experience.
The city is also an important transport hub, so many fans could end up passing through here as they tour the country.
If that coincides with any Brazil match, then stick around as Brasilia could put on a real party.
The Arena Pantanal stadium in Cuiaba. Photo: Joel Marcos/Reuters
Cuiaba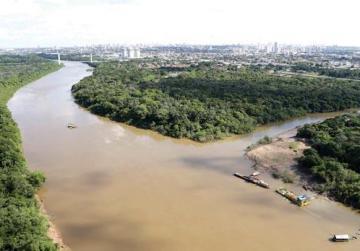 An aerial view of the Cuiaba river with the city of Cuiaba in the background. Photo: Joel Marcos/Reuters
Could the World Cup host cities be any more different? After tropical rainforest and modern cities, here is a place that's straight out of Wild West Clint Eastwood movies.
Cuiaba revels in unique traditions. Wide-rimmed cowboy hats are an essential fashion item, locals ride horses across vast cattle country, and it's only a steak if it's larger than the plate.
The surrounding area doesn't look anything like the rest of Brazil either, with vast grazing land punctuated by pastel churches and dramatic forested gorges.
This gently undulating landscape is the city's main attraction. Head downtown and parts of Cuiaba are like many Brazilian cities: polluted, crowded and full of drab, high-rise apartment blocks.
Yet hidden among the modernity are glimpses of the past, charming streets of yellow stone buildings, 250-year-old reminders of when the city grew rich from gold.
But it doesn't take long before the city rescinds and the countryside begins.
In one direction, cows graze and cowboys ride on the floodplains of the Pantanal, the herders using cow horns to direct their cattle.
In the other, the trees slowly become denser and the Amazon Rainforest begins.
Just 50km away, the spectacular Chapada dos Guimaraes National Park is a jungle version of the Grand Canyon. Dramatic rock walls are submerged in greenery, occasional pieces of red rock towering over wide jungle plateaus.
Almost every visitor here is going to succumb to Cuiaba's charms – the difficult part is finding an excuse to come.
Only four matches will be played at the brand new Arena Pantanal, and none involve any of the World Cup favourites.
It's more than 1,000km to the nearest other World Cup city, Brasilia, and coming from Rio and Sao Paulo will take two-and-a-half hours by plane.
If football is your main reason for being in Brazil ,then Cuiaba will easily slip off the itinerary, but anyone looking for more will find a highlight that has stayed off the tourist trail.
Belo Horizonte
Discarded boots hang from an electric wire where they were thrown by their owners over several months after Sunday peladamatches in the Morro do Papagaio favela in Belo Horizonte. Photo: Washington Alves/Reuters
Home to one of the world's fiercest football rivalries, Belo Horizonte could provide the perfect blend of passionate locals and modern city life.
More relaxed than Rio and more beautiful than Sao Paulo, it's a city that offers a gentle introduction to Brazilian life. Just be careful before you state your allegiance to either Atletico Mineiro or Cruzeiro. This city is divided along footballing lines.
Before a local derby, both sets of fans request divine intervention at the church of St Francis of Assisi.
This modernist church is one of Belo Horizonte's main attractions: its concrete parabolas causing one local archbishop to nickname it the 'devil's bomb shelter'.
It peers out onto the Estadio Mineirao, the second largest World Cup stadium.
When Brazil are matched against arch-rivals Argentina, they often choose Belo Horizonte as the venue, believing that this stadium provides the most imposing atmosphere.
Like most World Cup destinations, the highlight in Belo Horizonte will be dictated by what happens on the pitch. Such fervent football lovers are likely to turn the streets into a mass impromptu carnival if the hosts are winning. It's a city where locals care about their football, and emotional discussions about refereeing decisions continue all night.
Argentina's group game against Iran on June 21 could be very intriguing, given that the locals hate their rivals almost as much as they love their own.
Situated around eight hours' drive from Rio, Sao Paulo and Brasilia, it's also one of the country's most accessible destinations.
While Belo Horizonte has its own quietly stated attractions, the main draw for tourists is the proximity to some of South America's cutest colonial towns.
Ouro Preto and Tiradentes could both feasibly be visited on a long day trip and offer a pedestrianised and peaceful alternative to following the football at all times.
Cobblestone streets connect 17th century cathedrals and ancient fountains, horse-drawn carriages travel over quaint bridges and welcoming cafe terraces spread whiffs of coffee into the clean air.
Both towns could also be stopovers if travelling between Rio and Belo Horizonte.