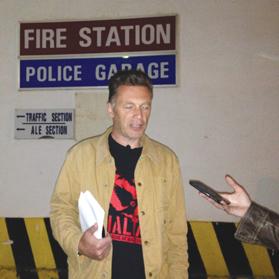 BBC journalist Chris Packham leaving Police Headquarters last night.
BBC journalist Chris Packham was questioned by police for over four hours yesterday following complaints from the hunters' lobby that he was violating their privacy.
Mr Packham is currently in Malta filming a series of short documentary clips on Malta's spring hunting practices and has openly expressed his support for the proposed anti-spring hunting referendum.
Speaking outside the Floriana Police Headquarters as he emerged from questioning at 9.30pm, Mr Packham told The Sunday Times of Malta the police had asked him to assist them with their inquiries.
He said he agreed to the request and was asked to answer questions after the Hunters' Federation, FKNK, complained he had violated data protection laws. The FKNK complained he had uploaded clips of its members without their consent.
He had uploaded clips of its members without their consent
The federation filed a judicial protest against the Police Commissioner and Data Protection Commissioner on Thursday, claiming they had failed to prevent the "crimes" being committed by Mr Packham.
In a clip uploaded on Friday, a group of hunters are seen repeatedly ordering Mr Packham to stop filming them and to leave the Miżieb hunting area.
Mr Packham denied breaching their privacy, claiming the camera was on him and not the hunters.
"They came into our shot. I even told the hunters that if they went back to where they were before, they wouldn't even be in our shot," he said. He also denied trespassing, insisting the Miżieb green area was a public space and did not belong to hunters.
"It's sad that on a beautiful spring day we didn't see a single person in that gorgeous area. Just hunters."
In the clip a hunter is seen raising his arm and repeatedly shouting: "Stop provoking me."
Asked about the incident, Mr Packham said: "I don't recall being pushed about." He insisted the police had been polite and courteous throughout his questioning.
"If my cooperation has helped in enforcing prosecution against illegal hunters, then I haven't wasted my four hours," he said.
Independent journalism costs money. Support Times of Malta for the price of a coffee.
Support Us