Ryan Falzon, detail from Pig platz ist uber hip.
Assimilated Spaces, a collective exhibition that is the result of direct observation of tangible spaces, is being held at the Xarolla Windmill.
The exhibition aims to explore the intersection between real and imaginative spaces, and how these are interpreted by the participant artists. Many of the works on display, in fact, are based on the reactions and relations present, or absent, within the context of space.
The process by which the works were created was an exercise in analysing surrounding and imaginative environments. The work attempts to reassess and re-qualify our relation to everyday space, most of which are often looked over.
Drawings by Andrea Zerafa and paintings by Ryan Falzon are presenting an assimilation of tangible spaces, created in a personal and expressive manner.
Zerafa is exhibiting a series of small ink and wash drawings which were all done on site, in this case at the University of Malta.
These drawings portrait an interaction between the area within a classroom and students; it is about capturing a fleeing moment.
Falzon's works are on a similar wavelength, where urban spaces are on a parallel level with activities that can only be executed within a built environment.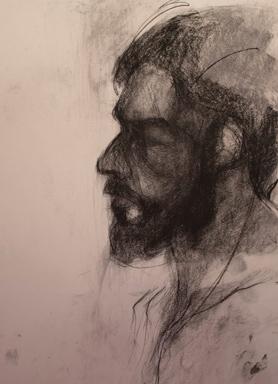 Gabriel Buttigieg, Glen.
Collage and painting are the main techniques used here, combined together to create colourful but somehow discomforting works, mostly due to the undercurrent themes found within the works, themes such as the atomic bomb on Nagasaki, the Vietnam war, traffic accidents and chronic solitude, among others.
Sabrina Calleja Jackson is presenting two works, executed in oil on canvas. The space explored here is more on a personal level, space that is visualised through soap bubbles.
These bubbles represent ephemeral happiness, a happiness floating within the boundaries of the canvas.
The works are done in an elegant, clean manner, where the light background and overblown bubbles clearly demand the attention of the viewer.
The works by Gabriel Buttigieg consist of five profiles of the same model, done in conte crayons. The model is existing within a confined space, with the boundaries between the subject and background being blurred due to the working manner of the artist, which is rough.
The fragility and elegance of the design push further this idea. Sarah Maria Scicluna's works were created out of the exploration of space in relation to the shapes in use, mainly being concerned with composition and how it can be displayed.
Scicluna is presenting four pieces executed in silk screen technique. Her works, just like those from Calleja Jackson, are clean and minimal, existing on a plain surface.
Assimilated Spaces shows between Saturday and June 22 at the Xarolla Windmill, Żurrieq. Open Saturdays and Sundays between 9am and noon. In collaboration with Żurrieq council.