Ramona Depares spends a Sicilian weekend with InCampagna Malta, discovering gorgeous organic produce at luxury boutique hotel Eremo della Giubiliana and experiencing the best dishes cooked up in the Ragusa region.
It's 10am, green fields surround me as far as the eye can see and I'm feeding biscuits to the tamest bunch of hogs (fondly referred too as Maiali Siciliani dei Nebrodi) – and easily the most well-treated bunch too, as they frolic in their massive grounds and laze about in their own pool – I've ever met. Fifteen minutes earlier I was eating freshly churned ricotta straight from a bowl, still warm, dipping chunks of homemade Ragusan bread in the concoction. Ragusan bread is somewhat thicker in consistency than what we are used to, making it ideal for dipping.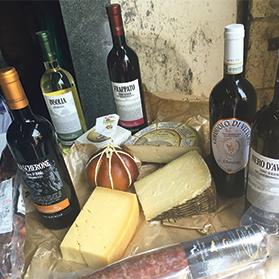 Terramatta wine served with local cheeses.
The location is the grounds of the Eremo della Giubiliana, a five-star, luxury boutique hotel where a group of us had arrived about one hour earlier, straight from the Virtu Ferries in Pozzallo. A mere 30-odd minutes away by car, the Eremo della Giubiliana is not quite your usual boutique hotel. It comes with all the obvious amenities, of course. Fabulous, individual rooms and suites, each with its own quirky decor, an unparalleled pool nestled in the centre of a grove of trees, fabulous surroundings, with the countryside stretching exquisitely all around and not a hint of grey concrete or high-rises and a personal service that never once faltered.
But it comes with more than that. Starting with its fascinating connection to the Knights of Malta, evidence of which remains strewn around the hotel building itself, which used to be a 15th-century convent. It was later restored by the Nifosi family and transformed into a hotel that somehow manages to keep its mediaeval identity, while offering top notch, modern amenities.
The arched lobby area is insane, with its curios artefacts and architecture, each conjoined room yielding particularly wonderful finds, with old books, religious curios and paintings. Antiques and fascinating artifacts are scattered all over the hotel.
The Don Eusebio restaurant is another gem, housed in a large hall in the ancient refectory used by the Knights of the Order of St John.
The hotel is run by a team of professionals, all naturals when it comes to that elusive homely and individual touch. Throughout the two nights we stayed there, nothing was too much for them. The team includes a host of wonderfully adorable pets – such as Lilly, professional customer relations facilitator and continuous tail-wagger. Or the myriad cats, each purring contentedly and walking up to selected (lucky) guests for some back scratching.
The rooms themselves are a dream, with antique furniture that makes you feel as though you've been transported into some other, more intriguing era – but hey, wi-fi works from every corner.
But back to our group and our experience with the hotel hogs. We were a group of 12, give or take, there on a familiarisation experience for InCampagna's first-ever tour to this spectacular area of Sicily, which offers the perfect gateway for towns like Ragusa, Noto, Ibla and Modica.
A collective of farming producers, InCampagna exports organic produce to Malta through its online portal and these tours – which focus on an organic food tasting experience – are set to become a regular InCampagna event, together with The Sunday Times of Malta, combining good food, culture, sustainable agriculture and eco-tourism for discerning holidaymakers.
And there was no better way to kick it off than at the Eremo della Giubiliana itself, which pretty much is the embodiment of a zero-kilometre ethos. Most of the food served is grown – or raised – on the hotel grounds, in a completely chemical-free and animal-friendly manner. Bacon is produced from the aforementioned hogs, which I'm happy to report do lead a dignified and serene life, rather than being dealt the miserable hand that so many animals that are reared for food end up leading nowadays.
The same goes for the chickens, the goats and all the other farm animals that help produce food for the guests. Everything is free range, and this does go a long way towards ensuring that we can enjoy the food in a way that doesn't lead to pangs of conscience.
These InCampagna tours are set to become a regular event, combining good food, culture, sustainable agriculture and eco-tourism for discerning holidaymakers
Something that really surprised me during our stay at the Eremo della Giubiliana is how easy it is to follow a mostly-vegetarian diet, given the right produce and someone who knows their stuff in the kitchen. All manner of vegetables are grown by the hotel, evidence of which can be found on the breakfast and dinner table everyday.
There are the freshly-made sundries tomatoes, the variety of Ragusan specialty cheeses, all prepared there, an amazing array of juicy fruit, including bajtar tax-xewk, melons, oranges, peaches, plums, apples, cherry tomatoes and crispy lettuce in a variety of options...
Then there are the homemade jams, the cakes, also using fresh fruits and spices for a wonderfully light finish, free range eggs, different varieties of home-made breads, homemade salamis... and this is just for breakfast, mind you.
Nicolo lo Piccolo (fifth from left), the brains behind Bio Gold, Chrys Mangion (third from right), winner of The Sunday Times of Malta/InCampagna competition, heart surgeon Alex Manche (first from right) and part of the Maltese contingent at the Bio Gold reserve.
Meat eaters will be satisfied, as will be vegetarians, vegans and pescatarians. This was confirmed by one member of our group, who follows a committed pescatarian diet. There wasn't even any need for him to make specific requests with the kitchen as, on any given day, there is ample choice for those following a specific diet, including those who suffer from allergies.
Of course, this being Sicily, the InCampagna tour pretty much included food tasting at every hour of the day – not that any of us were complaining. A foray at Quertzal's chocolate factory in the heart of Modica kicked off what was to be an exquisite weekend that would totally spoil our tastebuds. A fair trade cooperative that offers employment opportunities to those with a disadvantaged background, Quertzal is definitely the destination for anyone who genuinely is into chocolate. And, by chocolate, I mean the real deal – cacao mass, imported straight from Ecuador, fashioned into chocolate bars sporting myriad flavours, unpolluted by excessive sugars, butters and the like. As we watched the workers make the chocolate by hand, you name it and we tasted it. Chilli, red pepper, salt, cinnamon, hemp, lemon, orange, coffee, pistachio, almonds… we tried them all. If you'll forgive the teenspeak, various mouthgasms were achieved.
Freshly made ricotta and Ragusan bread.
Grittier than commercial varietes, Quertzal chocolate is also less fattening, thanks to the fact that the authentic Aztec recipe uses only up of 50 per cent fat (cocoa butter) and 50 per cent dry, cocoa powder.
This turned out to be only the start of an experience that would spoil our tastebuds forever. Another highlight of the weekend was definitely the visit to BioGold at the Riserva Naturale del Bosco di Santo Pietro in Caltagirone. The brainchild of Nicolo lo Piccolo, this family outfit is known for its beekeeping and organic honey production – as pure as can be, this honey is not only a food product, but also the base ingredient in a number of health and beauty products.
Of course, there is also the organic agriculture side to BioGold – and we were about to taste it right for lunch as dish after dish, homecooked by Nicolo's charming mother, was brought out for us to sample. Aubergines, garlic, radish, tomatoes, carrots, broccoli, a variety of beans, different lettuces, peppers and tomatoes, spinach, pumpkin, buttersquash… it was like stumbling on vegetable heaven.
And, if you don't think veggies sound particularly exciting, well that's because you haven't yet seen what Nicolo's mother can make with them. Try the pumpkin served with breadcrumbs and vino cotto, and then we can speak again. Or maybe the different lettuce and peppers, served with a dressing of homemade olive oil and various other citrusy oils. Or how about some simple pasta, perfectly al dente, with aubergines, garlic and fresh cheese? Because we can't forget the homemade cheeses, of course, which turned out to be quite the Sicilian forte.
This feast was followed by plump peaches and the sweetest melons and proper Sicilian coffee sweetened with, of course, honey. It was difficult to imagine me being happy with my usual boring food again, after this experience.
Finally, we were also introduced to Terramatta, producers of organic wines, some of which actually sulphite-free (goodbye headaches and jaw pain). A visit to the winefarm near Comiso was particularly intriguing as we picked the grapes straight off the vine and enjoyed their sweetness, before checking out the end product. While there, we tasted about seven wines, covering the red, white and rose spectrum, each accompanied by the appropriate cheeses from the area and a superbly interesting donkey salami (so rich). I particularly enjoyed the Mascherone DOC, made using Nero D'Avola and really intense taste.
We left Sicily on Sunday night in mourning – mourning for the genuine produce, the homemade dishes, the decadence of the wines and the chocolate, the kindness and charisma of the producers we met… once you've tasted the real deal, it's difficult to go back to the mundane.
The one consolation? A lot of this produce is actually available online via the InCampagna Malta portal (Incampagna.com.mt), which makes weekly deliveries to Malta. And yes, the provenance is guaranteed and you'll know exactly where each tomato hails from.
The other consolation? Joining another InCampagna tour, of course. Let the planning begin.
Independent journalism costs money. Support Times of Malta for the price of a coffee.
Support Us