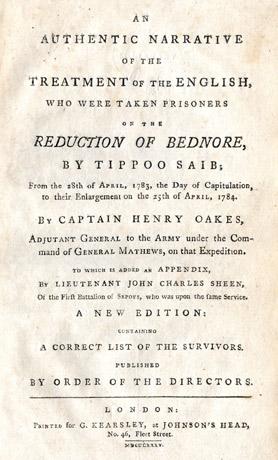 The title page of Henry Oakes' publication, giving a graphic account of the ordeal he and his colleagues suffered at the hands of Tipu Sultan.
Fortuitously, the advent of the plague to Malta in 1813 coincided with the islands' transition to permanent British government. This was able to happen after Russia's alliance with France broke down as Napoleon's army threatened his one-time ally. As a result, Britain was able to sign a peace treaty with Russia, and when the latter declared in 1812 that it was no longer interested in the restoration of Malta to the Order of St John, the British took swift action in solidifying their hold on Malta.
The position of Civil Commissioner was replaced by that of Governor; the latter being the monarch's direct representative in the colony. Asked whether he would accept the new post, the existing Civil Commissioner, Lieutenant-General Hildebrand Oakes, declined for reasons of ill health.
Although there may be no direct connection between Hildebrand's resignation and the occurrence of the plague in Malta, his preoccupation with his own health may have hastened his desire to leave these islands and return to England. He accepted the position of Civil Commissioner reluctantly in 1810, and his subsequent correspondence gives the impression he may have been something of a hypochondriac. What lay behind Hildebrand's concerns?
A portrait of Sir Thomas Maitland, courtesy of Thirleston Castle Trust.
Despite the robust health that Hildebrand displays in the fine, full-length portrait that hangs today in the Reading Room of the National Library, his health had broken down by 1813. We have contemporary evidence of this from two British officers who saw him around this time. Colonel George Whitmore of the Royal Engineers, who was stationed in Malta and lived through the plague epidemic, playing an essential part in the implementation of measures to eradicate the disease, wrote: "His health had declined and he had become irritable."
Sir Robert Wilson, who had not only taken part in Sir Ralph Abercromby's expedition to Egypt in 1801, he also published a comprehensive account of it, must have known Hildebrand since the latter was a Brigadier-General and second in command of the Reserve Brigade in this expedition. In May, 1812, Wilson stopped briefly in Malta on his way to Constantinople, recording: "At Malta we left General Oakes very unwell. He is only 60 years of age, but he is not far from his journey's end. Whenever his voyage terminates, England will lose one of her bravest officers and the world an excellent man."
William Meyer's letter to Sir Charles Stuart, dated August 29, 1813.
These comments indicate that Hildebrand was not faking illness; he ap­pear­ed to be at death's door. Yet we know that he lived on for nine more years back in England, during which he took up the appointment of Lieutenant-General of the Ordnance, a position he held without any seeming impediment until his death on September 9, 1822. So, how ill was he by 1813? Was he more preoccupied with his health than he need have been? Were his concerns justified?
In the early 19th century (when medical practice was still more akin to art than science), concerns about perceived health issues weighed heavily on the minds of military officers. Take, for example, Brigadier-General Thomas Graham, who was one of the first British officers to arrive in Malta in 1799.
Throughout the Peninsular War he had to take leaves of absence due to perceived illness, and more particularly, problems with his eyesight sometimes in the midst of preparations for battle or even mid-way through a siege. Graham's health invariably recovered and he was able to re-enter the theatre of war.
A portrait of Sir Hildebrand Oakes, courtesy of the National Library of Malta.
General Sir Rowland Hill, another high-ranking and high-achieving officer (he succeeded Wellington as Commander-in-Chief of the British Army), declined the offer of the supreme command in India in 1827 on grounds of perceived ill-health. Writing in response to the MP Charles Williams-Wynn' president of the Board of Control, who had offered him this position, he replied: "...after every consideration' I am come to a determination to decline the command in India. I am chiefly led to this conclusion from a conviction that a hot climate does not agree with my constitution' having experienced great inconvenience from that cause both in the Mediterranean and in the Peninsula."
Hill died in 1842 aged 70; however, we see in his case also how apparent health issues could curtail high office.
On examining Hildebrand's immediate family, we can identify probably the strongest reason why he might have been gravely concerned about his own health. Henry Oakes, Hildebrand's younger brother, suffered serious health problems, most likely caused by the exigencies of military life in the late 18th and early 19th centuries.
Henry was two years younger than Hildebrand; he received an India cadetship in 1775 and thereafter saw extensive military service in the subcontinent, being involved in the sieges of Tellicherry, Onore, Mangalore and Bednure. He was adjutant general when General Matthews surrendered to Tipu, Sultan of Mysore, on April 28, 1783, at Bednure. Following their surrender, the British were taken prisoners and treated with great cruelty; they were led on forced marches, starved and beaten; many officers and soldiers perished. General Matthews died mysteriously, thought to have been poisoned by Tipu Sultan.
About 200 officers and men were compelled into service, circumcised and forced to change their religious practices. The prisoners were eventually released. Henry was among the survivors, and the following year published a graphic account of the ordeal he and his colleagues suffered at the hands of Tipu Sultan, the 'Tiger of Mysore', in An Authentic Narrative of the Treatment of the English who were Taken Prisoners at the Reduction of Bednore by Tippoo Saib.
After his release, Henry continued his career in the army of the East India Company, rising eventually to adjutant general and lieutenant-general; however, his physical and mental health began to suffer. From 1788, dogged by ill health, he was forced to take repeated leaves of absence in England. He spent the period between 1788 and 1802 on furlough in his native land for reasons of ill health.
It is in the context of his brother's repeated illness that we should view Hildebrand's own concerns about his health and his eventual resignation from a position of high authority in Malta
In August, 1802, he travelled to India once again; however, soon after arriving, he became so ill he had to return to England. Having apparently recovered, he was appointed Military Auditor General in Bombay in April 1807. On arriving in that city in September of the same year, he felt so ill he was compelled to embark immediately for England once again. It was quite apparent that Henry was severely ill. Was his suffering brought on by his service in India, by the harsh treatment and deprivation he suffered as a prisoner of Tipu Sultan?
It is in the context of his brother's repeated illness that we should view Hildebrand's own concerns about his health and his eventual resignation from a position of high authority in Malta. At about the same time as Hildebrand was experiencing health problems, his younger brother's military career was effectively coming to an end. While Henry had suffered torture and deprivation at the hands of the enemy in a harsh, disease-ridden India, Hildebrand had served in Charleston in the American South, the West Indies, Gibraltar, Egypt and Malta; these were all countries that harboured tropical diseases, such as malaria, and most re­cent­ly, the plague. Judging by his brother's experiences, Hildebrand had good reason to be concerned for his own life.
The ultimate tragedy struck Henry in 1827. The Times of London informs us that at about 9am on Thursday, November 1, 1827, Lady Oakes (as Hildebrand had no male heirs, Henry was permitted to inherit his older brother's baronetcy), having searched their house for Henry, asked the gardener whether he had seen her husband that morning. The gardener, noticing that the door of the cow shed was open, entered and saw his master lying on his left side in one of the stalls, a horse pistol by his side.
When Dr Parrott arrived about 30 minutes later, he found Lady Oakes cradling her husband's body in her arms. On examination, the doctor found that the victim had taken his own life by firing the horse pistol into his mouth. At the inquest, the doctor gave evidence that he had frequently seen the deceased in a low, despondent state, and that about four or five years previously, Henry had suffered "under an aberration of intellect", so he felt compelled to direct the servants to watch him closely, lest he should attempt to destroy himself.
There is no doubt as to the origin of Henry's mental and physical instability. The Dictionary of National Biography states definitively that his "constitution had been completely undermined in India [and he was] subject to fits of insanity". True, these events took place after Hildebrand's death; however, might his concerns in 1812-1813 been brought about by worries about his brother or a premonition of what could happen to him?
We should also remember that while with Sir Ralph Abercromby's expedition to Egypt, Hildebrand was wounded in the leg at the Battle of Alexandria. We have no way of telling what the long-term effects such a wound might have had on his physical or mental health but it might have left more than just a physical scar on him.
These circumstances give some indication of Hildebrand's frame of mind in early 1813. His brother's officers had already noted that Hildebrand was in bad health; he must have been mindful of his brother's poor state of health, so it is no surprise that on March 17, 1813, Hildebrand wrote to another colleague, Colonel Henry Bunbury, then serving as military under-secretary for war, informing him of his wish to resign.
The plague did not arrive in Malta until March 29, and it wasn't detected until early April, so at the time of writing, Hildebrand was not cognisant of the presence of the plague in Malta. He had made up his mind independently.
On June 8, the Secretary of State for War and the Colonies, Henry, Third Earl Bathurst, wrote to Hildebrand informing him that the Prince Regent had commanded him (Bathurst) to "convey to you (Hildebrand) his gracious permission to retire from a situation the duties of which you have discharged with honour to yourself and advantage to His Majesty's service". Hildebrand was promised a baronetcy on his retirement from Malta, an honour he received in November, 1813, just a few weeks after he quit Malta.
Once his resignation was accepted and Lieutenant General Thomas Maitland was appointed in his place, Hildebrand seemed desperate to leave Malta, writing to Bathurst on July 22: "Should I find it necessary to quit Malta, previously to the arrival of my successor, an event which I anxiously expect, I shall… commit the temporary government of the islands to Major General Layard."
Despite his wish to depart from Malta, Hildebrand set to work diligently in combating the plague after the somewhat slow start he has been accused of. Fort Manoel was established as a plague hospital; the inhabitants of Malta were ordered to keep to their houses; Valletta was subdivided into eight districts and barriers erected in the streets to prevent people from circulating and spreading disease across the city; all stray animals were destroyed and anyone who left their house without authority did so under penalty of death.
Despite his wish to depart from Malta, Hildebrand set to work diligently in combating the plague after the somewhat slow start he has been accused of
In a letter dated July 21, 1813, Hildebrand informed Bathurst that since the regular police force was inadequate in the circumstances, he had formed a Corps of Civic Guards to watch the infected houses, attend the barriers and enforce regulations. Hildebrand created the temporary appointment of Inspector General, invested with the power and authority of a superior magistrate of Police, in overall charge of the Police Establishment and the Civic Guards. To fill this position, he ap­poin­ted Lieutenant-Colonel Francesco Rivarola.
As part of the plague measures, prisoners, including prisoners of war, were induced to help in plague duties, visiting homes and collecting the infected and deceased. Colonel George Whitmore refers to the forsati in their plague costumes striking terror in the hearts of the Maltese. As Whitmore informs us, their "smock frocks of painted cloth, their faces, half-concealed by hoods, were smeared with dirt and grease, and to their length of neglected beard was added the cadaverous features of prison discipline and the reckless ferocity of their desperate calling".
A very informative image, unlikely to be contemporary to the 1813 outbreak of plague, was recently brought to our attention in the pages of The Sunday Times of Malta (May 26, 2013) by Salv Stellini and is reproduced here with his kind permission. It includes three vignettes of what must have been regular events at the time: the first is the carrying away of an infected person on a stretcher (this person could be dead or still suffering from plague) to the distress of a family member leaning out of a window; the second is the shooting of a cat living with the infected household to prevent the spread of the epidemic. The third vignette depicts two men dragging a corpse out of another house.
All are supervised by a man armed with a pistol and bearing the word Sanità on his hat. The hooded men must be what Whitmore refers to as forsati in their hooded plague costumes. Whitmore's mention of painted cloth and grease may refer to the oil cloths that were worn by grave diggers and spestati. By mid-September, new cases of the plague were diminishing.
In his invaluable book Governors of Malta, A. E. Abela states, probably influenced by Rev. S. S. Wilson's account of the plague in A Narrative of the Greek Mission or 16 Years in Malta and Greece, published in 1839, that the disease "was to be stamped out by the sterner measures of his (Hildebrand's) successor". However, documents seem to support Whitmore's views that "the disease was virtually subdued before the arrival of… Maitland". After all, Whitmore had first-hand experience of events.
The facts speak for themselves: Hildebrand handed over command to Maitland on October 5, 1813, yet on September 27, 1813, he wrote to Bathurst: "It affords me very great satisfaction to acquaint your Lordship that the hopes expressed in my dispatch of the 11th instant continue to be realised; and that there is now strong reason to presume that the plague of which the influence has of late sensibly diminished, will very soon be eradicated from the island."
We know that Hildebrand was in a hurry to leave Malta. What could possibly have delayed Maitland in arriving in Malta? According to Abela, Maitland sailed into Grand Harbour aboard the Royal Navy sloop Partridge. As an 18-gun, 423-ton vessel, the Partridge would not have been an appropriate boat for Maitland to have sailed from England.
A letter in possession of the author, written on August 29, 1813, by William Meyer to Sir Charles Stuart, British Minister at Lisbon, informs the recipient that Maitland sailed from England in the larger HMS Boyne, a 98-gun, second-rate Line of Battle ship, built in 1810.
HMS Boyne was ordered to accompany and protect a convoy of ships bound for the coast of Spain, Portugal, and then on to the Mediterranean.
HMS Boyne was detained at St Helens for about 10 days due to adverse winds; but was able to set sail for Portugal on August 20. Meyer was aboard HMS Boyne, bound for a diplomatic posting in the Ionian Islands, and so reports first hand that once they left British waters, they were able to make good progress, reaching Lisbon in just nine days.
Off the coast of Portugal, the convoy was joined by HMS Sabrina, and Meyer reminds Sir Charles Stuart (whose father, General Stuart, paid a fleeting visit to Malta while the French were blockaded in Valletta) that Lord Walpole, Stuart and Meyer had sailed to Malta in the Sabrina in 1809. Meyer later served as secretary to the 1812 Royal Commission to Malta conducted by William Court, Judge John Burrows and Hildebrand.
Meyer then advises Stuart that "if General Maitland can be accommodated with a frigate to convey him to Sicily or Malta, on our arrival at Gibraltar, all the passengers will be landed there. We shall otherwise proceed to Mahon". Unfortunately, we do not know at which port Maitland transferred to the Partridge.
Maitland arrived in Malta on October 3, 1813, and took the oath of office, assuming the government of Malta and its dependencies, on October 5.
Independent journalism costs money. Support Times of Malta for the price of a coffee.
Support Us