It was not the first time I had fallen asleep on a bus after the bar had closed and I had had a bit too much curry, gin and craft beer.
But it was definitely my debut sleeping on a double-decker with Egyptian cotton sheets, a log-burning stove, complimentary bottled water, tea- and coffee-making facilities, a freestanding roll top bath and a waterproof flat screen TV.
It was my first time in a three-star bus.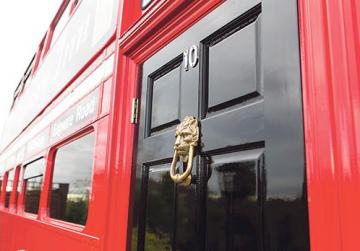 Philip and Susan Moiser run north England's South Causey Inn, six miles from Newcastle and Durham. They bought themselves a traditional red London 'Routemaster' and converted it into a deluxe suite in the garden of their award-winning pub. It even has a hot tub.
I remember asking the barman the way to Trafalgar Square and he pointed me to a door. After that I remember getting lost, going around in circles and through several doors. I hazily remember a mutton-chopped gentleman in 1900 colliery clothes and pitman boots directing me down a corridor and telling me to head for the stables.
You enter through a Number 10 Downing Street door. And its interior is red velvet
I think I remember seeing an indoor forge and smithy, passing a French boudoir and tripping over an anchor. I vaguely remember lobster pots, a room with a tree growing in the middle of it, Marilyn Monroe, Elvis, Stars and Stripes and a Union Jack. And a lady in turn of the century northern working class costume telling me to "look for Downing Street".
Eventually I found the door to Number 10 Downing Street and collapsed into bed.
The South Causey Inn, as well as having its own dog-walking club and gin appreciation society and regular who include workers at the nearby Beamish folk museum, has themed suites. From the US to Captain Cook. Now it has a vintage 1960s bus in its garden. Its timetable is fairly easy to understand as it never leaves Burn Road, Stanley.
Built in Southall and Park Royal in west London, 'Routemaster' double deckers replaced London trolley buses in 1956. They began to be phased out in 1983 and were finally retired in 2005.
You cannot mistake The Causey Inn's bus from a normal three-axle, front-engined, half cab, six-cylinder diesel 3-30'x8x14 seven-ton double-decker bus still in service. You enter through a Number 10 Downing Street door. And its interior is red velvet.
According to an authentic sign, its passenger capacity is 77. Upper saloon seats 40, its lower saloon 32. Standing is not allowed. But I had it to myself for eight hours. Just me and the spinning 'Push Once' sign. At times, my alcohol intake caused me to feel like the driverless bus was undergoing a skid test.
It costs £220 to stay the night, which might not be just the ticket for some. But it is memorable to stay in a three-star bus. And go to bed with a national treasure and sleep with a national symbol. And spend the night inside a cultural icon.
Opportunities like that don't come along very often.