Renowned German blogger and food writer Meike Peters, whose first cookbook, Eat In My Kitchen, has just been published worldwide, reveals how her time in Malta inspired some of her best-known and best-tasting recipes. Words by Iggy Fenech.
When I lived abroad I found myself missing the weirdest things about Malta: the sound of church bells on Sunday mornings, the smell of freshly-baked bread making its way through the narrow alleyways, and the eccentricity of Maltese TV... Undoubtedly, I was very prone to romanticising the island; and I'm not alone. After all, as quirky and as maddening as Malta can be, it's home – and that is why so many people are fighting to stop its rape and pillaging. Changing it, would change us.
Yet, ever since I met Meike Peters, I've started seeing Malta, my home, from a completely new perspective. Her book, Eat In My Kitchen, which is now available from all major bookstores in Malta and worldwide, was hugely inspired by the island and by Meike's experiences here.
Malta is the land of ricotta and citrus for me
Having spent a lot of time here over the past 11 years – Meike's boyfriend, Jim (who she affectionately refers to as Jamie), is half-Maltese, half-American – Meike has had the chance to experience the island not as a tourist, but as a guest. That, along with her insatiable curiosity, took her off the beaten track and into the homes of some very inspirational people, all the while discovering and experimenting with age-old recipes we know too well to think much of.
Gozitan Ftira
"I often go to Gozo with my boyfriend's family and my perfect day there always includes a ftira from Maxokk (the cheese one for me). What I love about it is that the pastry is folded up like an open gallette, which is both visually pleasing and also helps keep the juices in, and the fact that there are potatoes on it. The potatoes really add a depth to the flavour; and the starch makes it feel richer and cosier. It's a combination of taste and feeling; and that's why it's connected to many beautiful memories for me.
A few years ago, my boyfriend and I decided to not accept any invitations on Sundays and instead spend the day together making pizza from scratch and watching movies from the 1960s and 1970s. The version in my book is similar to the one found in Gozo, but with a twist on a few of the ingredients. For the cheese I use the semi-ripe goat's cheese French Chèvre, which has a bit of a punch. Then, once all the ingredients are on, I cover it all in thin slices of either aubergine or zucchini and brush it with fennel oil (to make this, simply heat fennel seeds in oil). Finally, the crowning glory is a sprinkling of fennel seeds once it's out of the oven."
Maltese Minestrone with South Tyrolean Crepes Frittaten
"My boyfriend's grandmother, Granny Edith, moved into her house in Msida when she got married at 18. Her kitchen hasn't changed at all over the past 60 years, and that includes the cooker. What's inspirational about Granny Edith – on top of the fact that she's a wonderful woman – is that she always has something on the stove... More often than not, minestra.
Now, her children and grandchildren visit her very often, sometimes even popping by to say hello during their lunch breaks, and they always end up eating.
I love visiting her too, particularly since she is most definitely the wisest person I know, with great advice about life and love. Of course, whenever I go there she offers me food, and she never accepts a no for an answer, and that's why I wanted to have a minestrone inspired by her in my book.
What was new to me was the addition of the long marrow, butternut squash and zucchini to it, and how she grated Parmesan cheese on it. My version is similar, but has a German twist inspired by South Tyrol, where they make these really thin, savoury pancakes. These are normally rolled up and cut into strips, turning them into spirals.
This is quite a traditional way for southern Germans to add a hearty and rich layer to a lighter soup, and I believe it works perfectly with the Maltese minestrone."
Maltese Pasta with Lemon, Basil and Ricotta
"After a night out, we often come back feeling famished so, obviously, we whip something up every time. One night, though, Jamie and I came home late and all we had in the fridge was lemon, basil and ricotta, which inspired Jamie to create this simple dish – please note, I was sitting down and drinking even more wine as he did all this.
We decided to call it Maltese Pasta because the ingredients are so rooted in the Island's fare. Malta is the land of ricotta and citrus for me, and I absolutely love the intense flavour of citrus, which has influenced me so much in my cooking. Moreover, ricotta on lemon is amazing – sweet and savoury at the same time, it's like eating Sicilian cannoli but as a savoury dish. I also believe pasta dishes should only have a handful of ingredients – this is what makes it good. Coincidentally, this recipe was the one that got me featured in the US for the first time in Saveur Magazine. Americans went crazy for it and, thankfully, I can admit it's Jamie's recipe and not mine."
Crispy Fried Potatoes with Fennel
"The first time I came to Malta with Jamie was in April. I was only there for a week but he wanted to show me around the whole island. One night we ended up at a restaurant in Marsaxlokk, which was really unpretentious but where the food was absolutely divine. We had a whole grilled fish, which was great and flavoursome, and Maltese potatoes with fennel. Although it's only been 10 years, I feel that there aren't that many restaurants that serve proper Maltese potatoes, anymore... Many give out French fries instead, nowadays.
Now, fried potatoes are a very popular dish in Germany, while, in Malta, they tend to be baked in the oven. The dish in my book is a fusion of both, inspired by my mother's fried potatoes and the Maltese fennel potatoes. In mine, I use fennel seeds, fennel bulb and the green fronds (the top part of the fennel). I first fry potatoes in oil until they're golden. The trick to perfectly crisp potatoes is to lie them down next to each other and turn them individually – don't use a spatula or they'll crumble. I then warm up oil in a pan with lots of fennel seeds until they release their oils, and then replace them with the bulb. Finally, I mix everything together in the pan and sprinkle the fennel fronds."
Ottijiet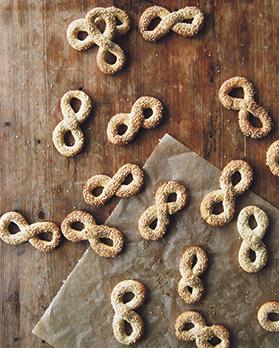 "Tea time is a big event at my Maltese family's home. We often get together in the kitchen at around 5pm, drink lots of tea and eat ottijiet – which I don't like dunking, just in case you were wondering. Whenever I'm about to leave Malta, I always take a few bags with me and often ask anyone who's visiting to bring some up. What I love about them is the ceremony that they inspire, how they bring people together, and, of course, the amazing flavours of sesame, anise, cloves and citrus zest.
The recipe in my book is similar to the Maltese ones but I accentuated the taste of the spices and the citrus. Jamie, as someone who has grown up eating ottijiet on a regular basis, has a very clear idea of what they should taste like, so he was very critical of this recipe. In fact, I had to change the recipe four times before I found a balance of taste that was true to the original but also different enough to be unique."
Eat In My Kitchen – to cook, to bake, to eat and to treat, published by Prestel, is currently available in all bookstores. To discover more of Meike's recipes, visit http://eatinmykitchen.meikepeters.com .
Independent journalism costs money. Support Times of Malta for the price of a coffee.
Support Us