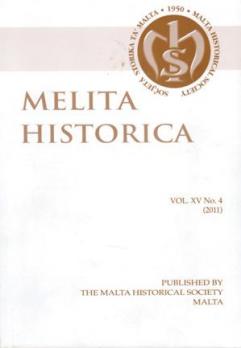 Joseph Grima (Ed): Melita Historica, journal of the Malta Historical Society. Vol. 15, no. 4. 2011. The Malta Historical Society, 2012. pp. 351.
This issue of a much-respected journal, edited in this instance by Joseph Grima, offers a set of papers varying from those of minor interest to Godfrey Wettinger's highly important one about Malta in the High Middle Ages, which makes this issue worth acquiring by readers who are not subscribers to Melita Historica.
Wettinger's longish paper is, one imagines, this senior historian's final and definitive statement of his position in the controversy regarding what really hap­pened in Malta after its conquest by the Arabs in AD 870. It also deals with the related matter of whether the traditional belief of unbroken Christian continuity in Malta can still be maintained.
Basing himself on the Arab author Ibn Hawqal, who wrote around a century after the Arab conquest, Wettinger says that "870 witnessed an outright ethnic break and not merely a cultural and religious switch on the Maltese Islands".
Malta's utter lack of human inhabitants during much of the 10th century is also attested by later medieval Arab writers like Himyari.
Hawqal wrote that Malta was then uninhabited, the main living creatures there being wild donkeys and sheep. The islands' visitors came over from time to time to round up and ship away the donkeys they caught, eat a sheep or two and export Malta's excellent honey.
Wettinger suggests that immigrants from Sicily, then entirely Muslim, began to arrive in the late 10th century and began to till the land, carrying out animal farming. A larger influx of these immigrants came around the mid-11th century, when the ruined citadel at Mdina, built in Byzantine times, was rebuilt.
The important author Goffredo Malaterra, on whom most historians rely, narrates that Count Roger's invasion of Malta in 1091 led to its conquest, despite the fact that the Arab rulers were left in charge and the Normans left no garrison.
On the other hand, the Arabs were made to pay tribute to the Normans. Their Christian captives were freed by Roger and taken away from the island. It was in 1127 when Roger's son, Roger II, made a well-planned invasion of Malta that Arab rule came to an end.
But Malta's Muslim inhabitants remained a significant part of the population for long after. There is also the question of the Christian community, with its bishop in Gozo, that is mentioned by the author of the 12th-century Greek poem published by Stanley Fiorini, J. Busuttil and H.C.R. Vella in 2010.
About this, Wettinger's view is that if such a community did exist, it would have consisted of Christians from Sicily or elsewhere who had settled in Gozo after 1127. After that year Christianity was gradually im­posed, but it was only in 1168 that Malta was made a diocese (with a non-resident bishop) and had to wait till the end of the following century, 1299, to have its own cathedral.
Kenneth Gambin's Popular Reactions to a Tridentine Parish Priest should appeal to all who enjoy articles about shocking misbehaviour of Maltese priests in the distant past.
The priest in question was Don Giorgio Gauci, parish priest of Attard in 1635-1663, who was accused over several years of misbehaviour when hearing women's confessions and, on one occasion, even of rape. Once he was imprisoned by the bishop and once again he was suspended for six years from his office. But he soon persuaded the bishop to revoke his suspension.
Gauci had his enemies in Attard, chief of them being the architect and sculptor Tommaso Dingli, but he managed to wangle his way out of his troubles even when the Inquisitor was out to get him.
Anton Bugeja's An Outline of Developments in Maltese Ar­chaeology During the 19th Cen­tury shows how Malta's antiquities were ex­plored through the activity of interested British governors and private antiquarians, Maltese and British.
The excavation of the site formerly known as the Roman Villa in Rabat, with its fine mosaic floors, stimulated interest in Maltese archaeology. At the end of the century, A.A. Caruana's finely illustrated volumes – such as Ancient Pagan Tombs and Christian Cemeteries (1899) and his reports on what needed to be done to about the methodical study and protection of antiquities – contributed significantly to the decision early in the new century to set up a proper government department responsible for antiquities.
In his paper on the Confraternity of St Ives (Sant' Ivo), Albert Ganado shows that when it was set up in 1802, one of its main aims was that of providing a free legal service to indigent litigants. This was at a time when the state did not provide one.
Douglas Gourlay writes a short paper based largely on two letters written by Andrew Jameson, the Scottish lawyer during his stay in Malta in 1840-1841 about his important contacts in Malta that led to his being commissioned to revise Malta's criminal code.
Conrad Thake's lucid paper on A Project for a Centro d'Italianità in Malta is an enlarged version of his paper on the subject published in Treasures of Malta some years ago.
Independent journalism costs money. Support Times of Malta for the price of a coffee.
Support Us