If she were granted one wish, Michaela Portelli, mother of 11-year-old coeliac Julia, tells Simonne Pace she would ask for a children's gastroenterologist to be available in Malta, where only 1,500 coeliacs of an estimated 4,000 have been diagnosed. She would also like to see the Church offering a truly safe choice for coeliacs who receive Holy Communion.
Julia, 11 (bottom), who suffers from coeliac disease, and her sisters Martina, 15, and Thea, 17.
On the day Michaela Portelli got the news that her daughter Julia was a coeliac, she cried. Her next action was to read as much as she could about the disease.
Three years on, the picture is brighter but not without hurdles. Julia, who is now 11, is trying to live life as normally as possible as she faces the trials and tribulations that come with her condition.
"I had heard about the disease during my studies but I had never met a coeliac patient, and what we were taught then didn't apply to my daughter. Coeliacs were described as skinny, underweight children with a big, bloated belly," said Ms Portelli, a paediatric nurse by profession.
"But patients are now being diagnosed at any age, with symptoms varying from typical intestinal discomforts, such as tummy aches, diarrhoea, malabsorption, anaemia and osteoporosis, to no symptoms at all."
It all started with Julia's sister, Martina, 15, who suffers from Hashimoto's disease, a condition that affects the thyroid. Since this can be hereditary, both Julia and her other sister, Thea, 17, get screened regularly. A routine blood test showed signs of anaemia in Julia.
"We were lucky that our endocrinologist took the findings seriously and ordered another blood test. An endoscopy was carried out and biopsies of Julia's small intestine taken. It resulted that my daughter suffered complete atrophy of the villi of her small intestine but showed no serious symptoms on the outside.
"If left undiagnosed and untreated, Julia would have suffered more severe anaemia and malabsorption of other nutrients that could eventually lead to osteoporosis, other autoimmune diseases and possibly intestinal cancer," said Julia's mother, who is German and who has been living in Malta for 23 years.
I was told she can receive Holy Communion in the form of wine, but I will not give a child wine when this is forbidden by law
"Unfortunately, the only children's gastroenterologist available at the time has left Malta and not been replaced. His patients are now under the care of 'normal' paediatricians," Julia's father, Joe, said.
The family's standard joke is that the mother of a coeliac does better research than the FBI. "You never know enough about the disease. We simply knew that for the rest of her life, my daughter had to be on a strict, gluten-free diet."
The family has had to adapt to quite a few changes. They first had to clean out their kitchen, changing wooden boards, wooden spoons, pasta strainers, hand mixers, cake tins and the toaster.
"Flour poses a major contamination danger to coeliacs. Certain items I have to buy double. One is used on gluten-free bread, the other on bread with gluten. We label food items used by Julia with a smiley sticker, so we don't mix up jars. One breadcrumb in her butter would be enough to damage her intestine, so we don't want to risk that," her mother said.
The family have decided to go for a gluten-free lifestyle at home. "We don't want Julia to feel like an outsider. We want her to be able to eat what we can," her sisters said.
The only food items containing gluten found in the Portelli home are cereal, bread and pasta. Julia's mother cooks and bakes the rest from scratch using gluten-free ingredients.
The family have also experienced a few close shaves at restaurants that cater for coeliacs.
"Sometimes, food brought to the table is not gluten-free, or gluten-free cakes are stored right under normal cakes and cut with the same knife. I can understand that it's hard to avoid cross-contamination but if restaurants offer to cater for coeliacs, they need to be more aware of the responsibility this entails or not offer the service at all."
Bread is among the many sources of gluten, which also include pasta, cereals, cakes and biscuits.
Food labelling is another issue of concern for the Portellis from Gudja.
"The European food labelling law, introduced in 2014, is either not implemented in Malta or shops take the easy way out and just mention all of the 14 allergens present on each food item. This frustrates me, as we need the right information to make a conscious decision. Our option to decide if a food item is safe for our daughter is being taken away from us and our daughter simply cannot eat it, even if she could," Mr Portelli said.
Another point the family feel strongly about is that Julia is "excluded" from receiving Holy Communion safely.
One breadcrumb in her butter would be enough to damage her intestine, so we don't want to risk that
"The Church offers a gluten-reduced host, but since my daughter doesn't react on the outside, I cannot know if the amount of gluten in the host will damage her intestine. I was told she can receive Holy Communion in the form of wine, but I will not give a child wine when this is forbidden by law," her mother said.
Coinciding with International Coeliac Day – which is being marked tomorrow – Julia's parents would like everyone involved to make an extra bit of effort to make the life of a coeliac person easier and better.
"My 11-year-old would just like to live a normal life… and maybe also eat a McDonald's burger once in a while (they used to offer gluten-free ones for a time but stopped them again)," Julia's father said.
The Coeliac Association Malta supports newly diagnosed coeliacs with the aim of improving their quality of life and increasing awareness within the catering industry.
www.coeliacassociationmalta.org
The host must contain gluten
Fr Jesmond Manicaro, the Archbishop's Delegate for Liturgy, says the Code of Canon Law lays down that "the bread must be made of wheat alone and made recently, so that there is no danger of corruption".
In a circular letter to episcopal conferences, dated June 19, 1995, then Cardinal Joseph Ratzinger, Prefect of the Congregation of Doctrine of Faith, expanded on this law in the light of the dilemma faced by sufferers of coeliac sprue disease:
"Special hosts quibus glutinum ablatum est [in which gluten has been removed] are invalid matter for the celebration of the Eucharist; and low-gluten hosts are valid matter, provided that they contain the amount of gluten sufficient to obtain the confection of bread, that there is no addition of foreign materials and that the procedure for making such hosts is not such as to alter the nature of the substance of the bread."
Fr Manicaro says: "Host manufacturers have developed a Communion host that is extremely low in gluten. They report the hosts test to a level of 20ppm [parts per million] of gluten. These hosts meet the requirements of the Code of Canon Law and may be validly used at the celebration of the Eucharist with permission of the Archbishop and after seeking advice from a medical doctor. In this way, a Catholic coeliac person can now fully participate in Holy Communion."
These low-gluten hosts are also approved by the Coeliac Association Malta, he adds.
"Catholic coeliacs may choose to receive consecrated wine but in doing so, they have to use a separate chalice, for there is greater risk for contamination using this option. The fraction rite may allow small, yet dangerous, crumbs to be in the cup."
The one per cent
Coeliac UK provides these facts on coeliac disease:
• It is an autoimmune disease caused by a reaction to gluten. It is not a food allergy or an intolerance. Gluten is a protein found in wheat, rye and barley. Some coeliacs are also sensitive to oats.
• If a coeliac accidentally eats gluten, they are likely to be unwell within a few hours. Symptoms can include severe diarrhoea and vomiting and can last several days.
• If a gluten-free diet is not followed, the disease can ultimately lead to nutritional deficiencies and is linked with osteoporosis, cancer of the small bowel and unexplained fertility problems.
• Obvious sources of gluten include flours and flour-based foods, breads, pasta, cereals, cakes and biscuits. Gluten is also found in many favourite foods such as fish fingers, sausages, gravies, sauces, stock cubes and soy sauce.
• Gluten-free food can be contaminated by gluten-containing food during preparation. Potential sources of contamination include breadcrumbs in toasters and on bread boards, use of utensils for spreading and spooning jam, butter, chutney etc. onto bread and from cooking oil and water.
• Coeliac disease affects at least one in 100 people in the UK and in Europe. However, only about 24% of people with the condition are clinically diagnosed.
• The average length of time taken for someone to be diagnosed with the disease from the onset of symptoms is a staggering 13 years.
• There is no cure for the condition; the only treatment is lifelong adherence to a strict gluten-free diet.
• Coeliac disease runs in families; studies show that if a family member has the condition, there is a one in 10 chance of a close relative developing the disease.
www.isitcoeliacdisease.org.uk
www.coeliac.org.uk
What the expert says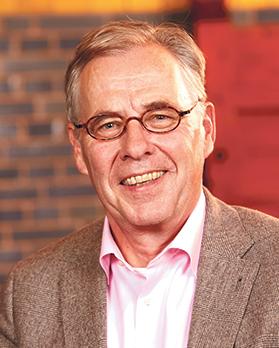 According to Chris Mulder, Professor of Gastroenterology and Head of the Department of Gastroenterology and Hepatology at the VU University Medical Centre in Amsterdam, a diagnosis of coeliac disease can only be made or confirmed by a gastroenterologist, and the only confirmation is by having an endoscopic biopsy. Routine screening for coeliac disease is not recommended, he said in reply to questions.
Is it healthy for non-coeliacs not to consume gluten? Should gluten be completely eliminated from our diet?
Gluten is excellent for 99 per cent of people. We have to evaluate whether non-coeliac gluten sensitivity is hype or reality. In the meantime, it is unnecessary for non-coeliacs to eliminate gluten from their diet.
What advice do you give coeliacs?
Although compliance may be hard at times, it is essential that they adhere to a gluten-free diet to prevent complications. In some cases, remission can be achieved by leading a good-quality life. What's good is that gluten-free products keep improving in taste and bite.
What foods should coeliacs avoid completely?
Only gluten should be avoided. It is not necessary to complicate one's dietary intake even more.
How important is it to know more about the disease?
It is imperative that knowledge is increased to avoid other autoimmune diseases and the development of complications like lymphomas. Training for healthcare professionals is rapidly improving.
What is the situation in the Netherlands? Is it similar to Malta?
In the Netherlands, there are only 25,000 patients diagnosed with coeliac disease within a population of 17 million. At least 135,000 patients are yet undiagnosed. Malta has a better grasp of the situation, with 1,500 cases diagnosed out of 4,000 coeliacs.
Prof. Mulder, who has been contributing to research on coeliac disease since 1984, was in Malta to deliver talks to doctors and the public about coeliac awareness, organised by Narrative Structures, in collaboration with the President's Foundation for the Wellbeing of Society. He focused on care, diagnosis and treatment, stressing the importance of acknowledging the impact this autoimmune disease has on their daily lives.