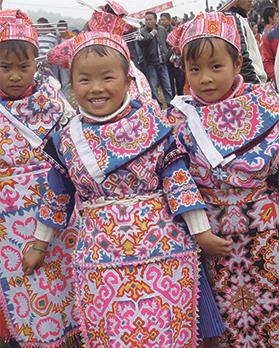 A collection of 130 exhibits providing a glimpse of elaborate traditional costumes, silversmithing, painted opera masks, wax-dyed fabric and woven ornaments from Guizhou province in China is on its way to Malta.
Guizhou province covers an area of 176,000 square kilometres, has a population of about 37.64 million people and hosts at least 28 ethnic groups.
The ethnic groups account for about 37 per cent of Guizhou's total population. Over the years, the groups have inherited the intangible cultural heritage forged by China's ancient agrarian civilisation, as shown in some of the items that will be on display at St James' Cavalier in Valletta next month.
The exhibition, organised by Spazju Kreattiv and the China Cultural Centre, forms part of the Malta – Colourful Guizhou Culture and Art Festival. Called Memory in Hand – Guizhou Exhibition of Intangible Cultural Heritage, it will be open to the public free of charge between September 12 and November 12.
Spazju Kreattiv artistic director Toni Sant said: "Like most other Chinese provinces, Guizhou is rich in intangible cultural heritage, mostly owing to the large number of minority groups that have made up its population for hundreds of years.
"This makes for a rather diverse and rich cultural setting where music, dance and performance reflect the fantastic stories and legends of the people, along with works in silver, embroidery, batik, clay, wood and many other forms of intangible cultural works."
Presented just months after Malta signed the Unesco Convention for the Safeguarding of the Intangible Cultural Heritage, the exhibition will be a unique opportunity to see up close what is normally only available through photos and videos, Dr Sant said.
"While providing an opportunity for us to take a closer glimpse at aspects of Guizhou's intangible cultural heritage, we will also acquire a new appreciation for our own. Our ultimate goal is to enrich Malta's creative sector by providing exceptional experiences that are outside our immediate grasp in everyday life, even if the world is now hyperconnected like never before in the history of humanity."
On the day the exhibition opens, lecturer Wang Xiaomei will give a talk, 'Blue Flower Narrating – The Ancestral World and Cultural Changes in the Oral Accounts of Ethnic Minority Groups' at the China Cultural Centre, at 173 Melita Street, Valletta, on September 12 at 7pm.
Seats for the lecture must be reserved by contacting the centre on 2122 5055. Find more information on www.kreattivita.org/en/event/memory-in-hand.