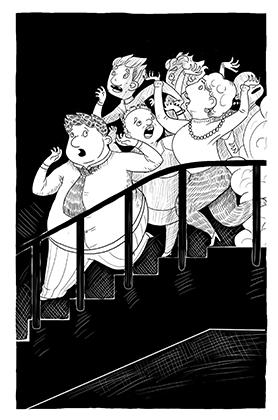 Illustrations by Lisa Falzon
Irvin's favourite packet of snacks, Spintzies, is the target of a band of burglars. They break into supermarkets, cleverly blackening security cameras, leave their mark, but never steal anything. Oddly, in each and every shop broken into, it's only the boxes of the cheesy, crispy Spintzies which have been moved around.
Luckily 19-year-old Irvin is a detective – well not exactly, he is studying to get his private investigator warrant and operates from
a makeshift office at his parents' garage. Eager to sharpen his sleuthing skills, he is fast on the trail of Spintzies clues, together with the help of his cousins Luca and Laura.
Irvin Vella: Il-Kaz tas-Serqiet Strambi is the sequel to Irvin Vella Il-Każ Manduca – the first detective in children's fiction to hit the Maltese bookshelves. Written by John A. Bonello and published by Merlin Publishers, the novel is perfect for children aged nine upwards.
"There is something that is totally unique to Irvin – his Maltese identity, his love for food, his family values, the way he brainstorms ideas," Bonello said.
Irvin is inspired by Bonello's favourite detectives in literature and movies such as Fatty from Enid Blyton's The Five Find-Outers, Peter Falk's Detective Columbo, Raymond Chandler's Philip Marlowe and Jupiter Jones from Alfred Hitchcock's The Three Investigators.
"All of these sources somehow contributed to Irvin's character," Bonello said, quipping that there are no autobiographical traits in the detective apart from a "calm and determined" approach to events.
The result is a whodunit full of hidden clues, action, suspense and a good dose of humour. The book is illustrated by Lisa Falzon, who uses black and white incisive drawings to capture the investigative mood brilliantly.
Bonello is an award-winning author of fantasy novels for young adults and adults. His Il-Logħba tal-Allat trilogy has a significant cult following and two books in the trilogy won him the Best Young Adult Fiction Award at the National Book Awards. His fantasy novel for adults, Fil-Mergħat tal-Impossibbli and its recent sequel Jien, Wieħed Minnhom have been an unprecedented hit.
His Irvin Vella novels mark his first foray into children's literature and, following the success of the first book, he is already hard at work on the next episodes in the series, due for 2017 and 2018.
Irvin Vella: Il-Kaz tas-Serqiet Strambi is available from all bookshops or online.
www.merlinpublishers.com