New sensations flood Cortefiel's autumn. A wide range of colours finds its place in female colleges inspired by nature.
The Cortefiel man continues to represent elegance combined with comfort and sportsmanship.
Woman
Colour takes centre stage in the autumn/winter collections. Variations for all tastes, both in the most elegant lines and in the most informal make up the new season.
Weekend break
Indigo blue and khaki blend to create the perfect collection for the weekend. As a novelty, there's the polka dot jacquard that feminises the khaki colour and the total denim look in dark indigo.
New attitude
The brand enters winter with a new attitude. It renews the return to the office with total sartorial looks but not for the boring ones. The gold buttons XL stand out in dresses, suits and even blouses.
The brand also highlights the colour palette based on the navy with diplomatic stripe print and a touch of yellow and blue.
The perfect blend
The colour of this end-of-summer collection unifies and brings novelty to the tailoring.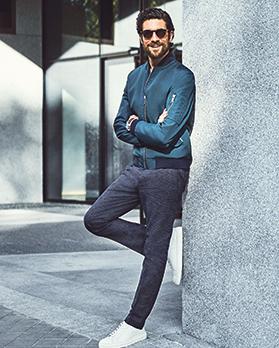 Man
In the autumn/winter bet of men, both in casual and business lines, one can see an inspiration from the most cosmopolitan cities on the planet: London, Tokyo and New York.
The three cities stand out in the men's casual business collections. All reflect the contemporary style, with a relaxed and informal attitude that represents Cortefiel DNA, together with care and attention for detail.
London
A very trendy collection with a point of inspiration in the English capital, it presents a palette of colours based on blues, indigos and navys, mixed with greys and khakis. This highlights the traditional cut with chinos and ultra-light jackets as star garments.
Tokyo
The Harajuku district of Tokyo is the brand's next destination. It represents the pure urban feeling, based on marine colours with camel, as well as the green forest. Blazers, shirts and bombers combine perfectly with chinos for a modern look.
New York
From Broadway to Wall Street, this collection brings the most New York autumn with greys combined with camel and oranges that add colour. Wool and nylon vests, combined with pants and shirts made of light fabrics, make it the perfect collection for autumn.
Tailor shop
The tailoring stands out with elegant garments that combine sophistication and modernity, without skimping on details. This season the renewal of the collection comes from the hand of microtextures and new designs. Slimmer silhouettes, with sobre lines in the interiors and combinations of navy and grey feature.
The first collection of summer notes features warmer fabrics and colours with mid-season garments such as overcoats and lightweight parkas. The second collection highlights include blue mixed with grey and white, where fabric is given more prominence than colour. Ultra-light jackets are inspired by baseball and cotton pants with extra elasticity.
(Content provided by International Fashion)