The book as art: Author and bookbinder Glen Calleja at work. Photo: Chris Sant Fournier
Every new book receives a different welcome. Some readers riffle through the pages, taking in the smell of new print. Others refer to the back page blurbs, read the author's biography or flutter the leaves, enjoying the prospect of a new story, a new author, a new adventure.
Others see a new book for what it is: an object, a receptacle for words.
Author Glen Calleja started to do so back in 2010. Before then, he had mostly focused on writing and reading, primarily in Maltese. But a text he wrote containing three verse variations on the subject of masculinity, Ir-Raġel (Man), was soon to take on a life of its own.
Mr Calleja transposed a selection of the 6,000 permutations contained within it and transferred 10 of them onto the walls of his residence in Naxxar. He then opened up the space to a select audience, who walked through as they contemplated the installation.
Sketchbook featuring stub binding with Chicago screws. The cover is handmade Zaansch bord from the Netherlands.
Mr Calleja even registered for and obtained an ISBN from the National Book Council, though his work was not accepted for the National Book Prize, as he was told it did not fit the selection criteria.
Eventually, the walls were painted over, but this experiment led Mr Calleja to further investigate the notion of the book as art.
In his seminal manifesto The New Art of Making Books, published in 1975, Mexican conceptual artist Ulises Carrión wrote: "A writer, contrary to the popular opinion, does not write books. A writer writes texts. The fact that a text is contained in a book comes only from the dimensions of such a text..."
The very first thing he had to learn was how to cut paper properly with a blade
To put it into everyday context, if you sort your library according to the size or colour of books, you are treating a book as a work in itself, rather than focusing on the text.
Carrying on with his investigation, Mr Calleja contacted one of the top bookbinders in the world, Lori Sauer, a 62-year-old from Iowa residing in the UK.
Single-section mini-notebooks with a cloth spine and patterned paper covers.
Ms Sauer is the president of Designer Bookbinders, one of the foremost societies devoted to the craft of fine bookbinding. Her bindings can be found in public and private collections, including the British Library and the Alexandria Library in Egypt.
The work Designer Bookbinders do is so special that since 1991, all the shortlisted books for the Man Booker Prize get bespoke bindings made by them.
The cost of this, according to Mr Calleja, would run into the thousands.
He began training under Ms Sauer in 2012, with a focus on merging traditional binding with contemporary design. He travels to the UK at least twice a year to work with her in her studio in the English countryside and follows as many courses as he can, both with her and with other bookbinding masters.
Concertina book with patterned cover and ribbon closure on both sides.
Surprisingly, Mr Calleja explained that the very first thing he had to learn was how to cut paper properly with a blade. It made him realise how much our education system has failed us, in that we are no longer taught how to make things using our hands.
He explained that making books involves working in three dimensions and is therefore very useful to develop problem-solving skills and technical know-how. To this end, he has carried out workshops with youths in the past.
Mr Calleja reckons that the underlying problem with bookbinding nowadays is that there is a lot of nostalgia linked to the craft.
Plexiglas spine with long stitch, multiple section binding.
"It is time to move on," he said. This is something he is trying to do through his choice of materials, as well as the projects he takes on.
He refuses commissions to repair bibles or bind theses. On the other hand, he has created books as containers for poetry, as photo albums, or even as sketch books.
The bookbinding process depends heavily on the book itself and the structure that it will take. Determining its structure depends on the function that the book will fulfil.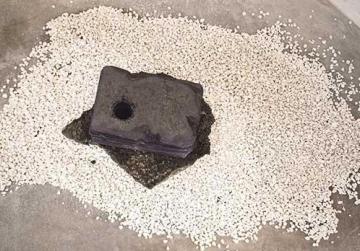 Mr Calleja's Exit#Zero book installation at the 2015 Underground Poetry Festival in Brussels. Photo: JPvanR Photography and More
Mr Calleja uses various materials, including different types of paper, cloth, needle and linen thread, glue, board, woods, metals, jute, sandpaper and leather. He has to source the paper from overseas through family and friends. The material he enjoys working with most is Zaansch bord, which is made in a particular mill in the Netherlands.
Mr Calleja often makes books for research purposes, to experiment and explore different materials and techniques. He also frequently involves a local community to assist him – however, he is not aware of any other artist doing this type of work with books locally.
He is currently working on 15 editions of books which he aims to sell at the Malta Mediterranean Literature Festival taking place at the end of August. The time it takes him to make a book can vary from 15 minutes for a simple one to one week for a more complex undertaking. One specific piece last year took him one month to complete.
One of Mr Calleja's particularly impressive works was created for the Underground Poetry Festival in Brussels last year. The theme focused on cancer, so Mr Calleja devised Exit#Zero, a book that looked like a rock, in an attempt to synthesise the experience of a terminally ill person.
Plexiglas spine with long stitch, multiple section binding and coloured section dividers gives the feeling of a bound document.
The book was made of five pieces, all individually bound, with an exposed coptic binding and without a cover.
"It uses multilingual poetry and elements of asemic writing, a wordless, open, semantic form. The collages are sourced from tombola sheets and a mathematics textbook and allude to the genetic probability of contracting such diseases, the medicalisation of life once a patient is diagnosed and the counting of the remaining days," he explained.
The work was displayed on gravel representing a Zen garden, alluding to the state of meditation and transcendence that a patient may experience. Weighing nine kilograms and containing 2,000 hand stitches, Exit#Zero is now at Mr Calleja's home.
To get in touch with the artist, please write to glen@glencalleja.com.