Updated 8.23pm
A court may have annulled a deal to hand three state hospitals over to private investors, but a lot of work remains to ensure accountability for that fraudulent deal, Opposition leader Bernard Grech told protesters outside parliament on Monday.
Prime Minister Robert Abela continues to defend the deal, Grech said, years after he first defended it while serving as Joseph Muscat's legal consultant.
The PN leader was addressing a large crowd that answered the party's call to gather outside parliament and make their voices heard following Friday's landmark court judgement against Steward Health Care.
The crowd heard from Grech as well as his predecessor and current MP Adrian Delia, who filed the case against Steward more than five years ago.
Insults for government MPs
When government MPs walked out of the parliament building soon after 7pm, some threw coins at them, rattled barriers set up by the police and chanted "mafia" and "corrupt".
The shouting went up a notch when prime minister Robert Abela exited the premises.
Labour MPs exit parliament to cries of 'korrotti'. Video: Matthew Mirabelli
Once members of the Opposition walked out of the building, the chanting and screaming turned into cheering.
Bernard Grech: I expected to hear an apology
Grech thanked the crowd for not only standing by the party but by standing by the country.
"During Parliament, I expected to hear our Prime Minister apologise to the people. Instead he had no remorse, and continued to defend this corrupt, fraudulent deal."
"They had one plan- a road map for money in their pockets and secret accounts."
"Instead of stealing from the people, the case was won, because the court stood up and said 'no more'".
He asked the crowd to join him and the members of the party once again on Sunday for a national protest against corruption in Valletta.
"We need to work together. If we do not continue to fight, this win would have been for nothing. Yes, we won our hospitals back but it is not enough."
Delia: This is a win for Malta
Delia described the outcome as "a win for Malta".
"For the past three years, our Prime Minister Robert Abela did not defend you, but he defended the fraudulent foreigners," he said.
"Tonight in parliament, all cabinet members kept saying they know nothing, but the court was clear when it said they are corrupt."
Delia said the government stole millions from the population and in every sector.
"Even before the contract was arranged, there were already plans on how they would steal from us," Delia said.
He noted how nobody from the government benches had answered a key question: who would assume responsibility for the debacle.
"They do not represent the people, but only represent their pockets," he said.
In his conclusion, Delia said the case brought about hope to the people.
"This is a win for Malta, and has brought hope back to our people. I have faith for our country and I carry this hope with me," he said.
"If I was alone for five years but managed to bring back three hospitals, imagine what we can do together."
Protestors booing at PL MPs. Video: Giulia Magri
In anticipation of the event, police set up barriers around parliament all the way up to Castille Square, providing buffer space to allow ministerial cars to escort politicians to parliament.
The heightened security presence is a harsh reminder of December 2019, when Freedom Square was full of barricades limiting access to protestors, who at the time were calling for then Prime Minister Joseph Muscat to resign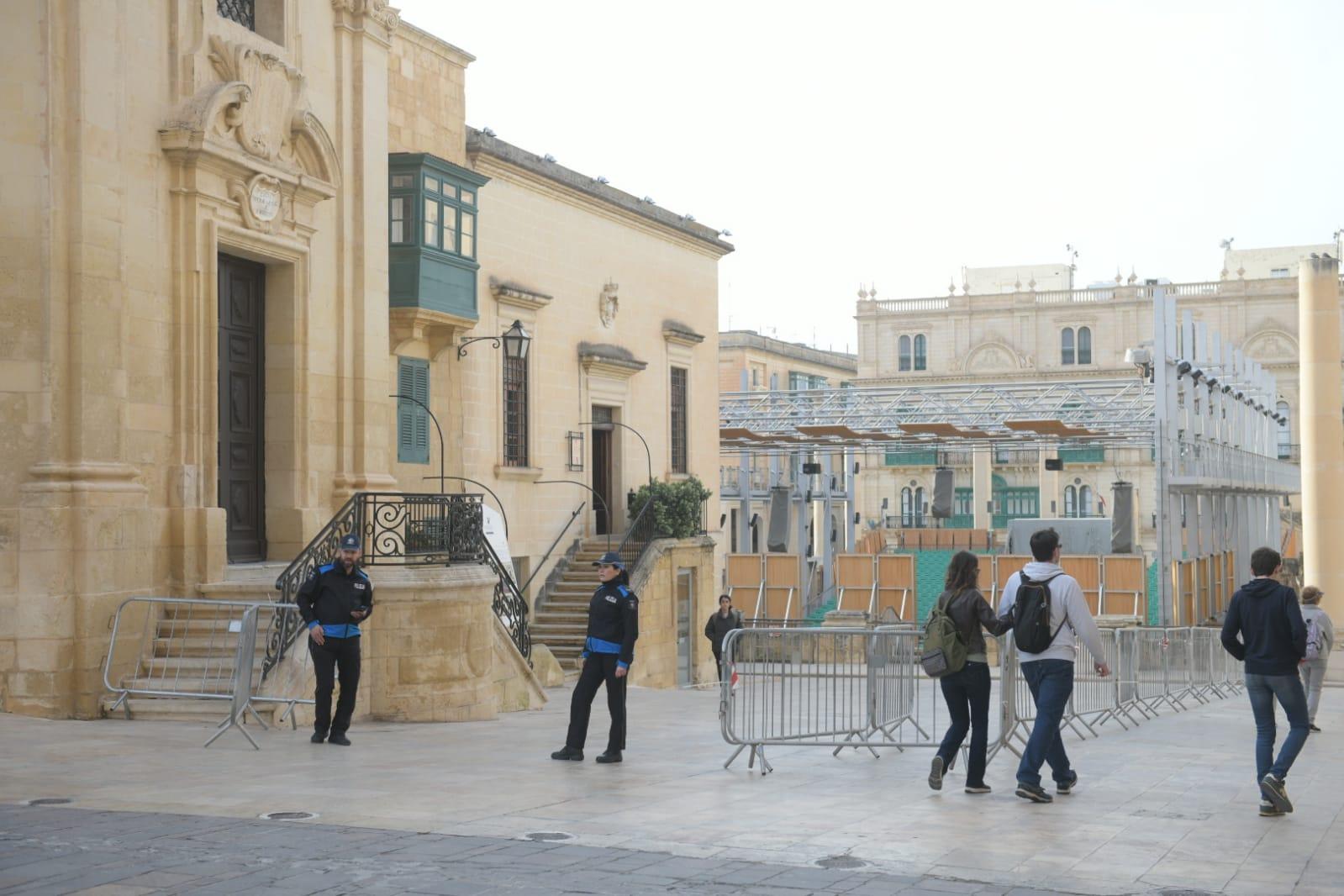 Police barricades reach all the way to Castille square ahead of Monday nights protest. Photo: Matthew Mirabelli
A court on Friday ruled that three hospitals that had been handed to Vitals and subsequently to Steward Healthcare should be returned to the state, because the privatisation deal struck with the government was fraudulent.
The court concluded that Gozo General Hospital, St Luke's Hospital and Karin Grech Hospital should be returned to the state, because contractually agreed upon targets were never met.
Mr Justice Francesco Depasquale delivered the judgment after 44 hearings in the case filed by former opposition leader Adrian Delia.
Steward Health Care hit back at the judgment and reserved the right to proceed with legal action.
On Monday, protestors started turning up at the square at around 4pm, some of them waving the Maltese flag.
PN leader Bernard Grech's speech in parliament was streamed live for the crowd.
Adrian Delia's father Andrew was waiting for him outside parliament. Photo: Giulia Magri
Adrian Delia addressing the crowd outside parliament. Photo: Giulia Magri
The heightened security presence is a harsh reminder of December 2019. Photo: Matthew Mirabelli