Nori at The Villa, Le Meridien's new signature Asian fusion and seafood restaurant, is now open and – besides the mouth-watering menu, it's also serving some serious cocktails. Behind the bar we find Daniele Russo and Zdravko Mitey, two award-winning bartenders who will be concocting cocktails that are completely unique to Le Meridien.
Each barman has his own distinctive style, with Mitey tending to prefer some hardcore concoctions while Russo opting for fruitier and lighter tastes. I caught up with the two of them to find out what's going down at Nori.
Daniele Russo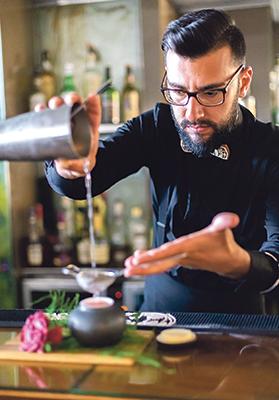 Daniele Russo
"I think my first cocktail must have happened when I was a floor manager in a restaurant in Copenhagen and I made a whisky sour for one of our guests. I'm talking about five years ago. I then decided to move from Denmark and go somewhere to invest in my personal career. Being part of the hospitality industry has always fascinated me, but being the person who takes orders was no longer really satisfying, so I decided to move to Barcelona to study bartending at the European Bartender School.
From that point onwards, I have been very goal-oriented in my career. When I came to Malta I started bartending in a laid-back lounge bar. After that, I moved to Rome to work for one of the best hotels in Europe. This was my first five-star luxury working experience and, after almost one year, I was promoted to outlet assistant manager, and then bar manager of a five -star boutique hotel on the Côte d'Azur, owned by the same company.
Although my managing skills improved in just two years, my bartending and mixology skills were not yet up to the level I wanted to reach. So I moved back to Malta looking for a job. Here I had the opportunity to meet Rodney Pisani and his incredibly passionate team of bar afficionados.
I have been working on my skill set in mixology and bartending techniques since last April and became assistant bars manager of Le Meridien in June, I'm now looking forward to managing the bars of the first Malta Marriott.
I believe that a good cocktail is all about balance. An awesome cocktail is giving a customer a multi-sensorial experience that features the artistic touch of the creator, marrying the aesthetic presentation as well as the creative combination of ingredients. I relate it to a masterpiece of an artist, using beverages instead of paints.
I'm the bitters type – if I have my way, I will definitely include a touch of bittersweetness, spiciness and chocolate. The signature cocktails we are preparing for Nori, in fact, are all an accurately-crafted mix between our Mediterranean culture and the oriental one. We literally want to make it the best spot on the island for those who love great food and cocktails.
I leave you with this simple recipe for a cocktail prepared 'on the fly' – Drambuie, Bitter Campari and Ruby Port."
Zdravko Mitey
Zdravko Mitey
"The first cocktail I ever made, I believe, was Blue Lagoon – and it tasted awful! I got into this profession due to a natural wish to step behind the bar. It seemed like the kind of job that comes with a lot of fun! I had no experience whatsoever to speak of, much less any qualifications, so it took a while to get my foot in the door. Then, one day I received a call from the food and beverage manager of a four-star hotel inviting me to an interview. After a short chat, I was told that the most important part of the job was customer relations – if I could keep the clients happy, the rest didn't matter much. So there I was, bluffing my way into a job that I know nothing about, a fact that I found super funny at the time!
But I'm the type of person who, when I decide to do something, I will go all out and do it properly. And so I started studying… and by the following year I was promoted to head bartender for the hotel, responsible for about three bars. And I've been studying ever since.
I arrived in Malta four years ago, knowing nothing about your island. I found a job at a five-star hotel and was promoted to head bartender within six months. I got lucky, I guess! And it was at this point that my competitive instinct kicked in.
Taking part in competitive events was the best decision I ever made, professionally. From that point, I grew a lot both as a person and professionally; I met great people who are now my friends and who are more experienced than I am. You know who you are!
Then, in 2016 I won my first competition, and then represented Malta in the World Cocktail Championship in mixing non-alcoholic drinks in Prague, the Czech Republic, last year. This year went off to a great professional start, as I placed third place for Malta in one of the most famous cocktail competitions in the world, the Havana Grand Prix. And then I got first place in The Drambuie Isle of Skye competition.
I'm often asked about the difference between a good and an awesome cocktail – it is the person who's doing it, period. I love to use fresh, homemade and not so common ingredients – after all, you have to be versatile and different. I'm a firm believer in that.
All of the drinks we have on the menu are signature; they have been developed so that we have something for everyone, but truth is we are not restricted to the menu. I'm lucky to work with some of the biggest talents on this island.
Nori is our new Med-Asian concept, so what we brought to the table are carefully-selected drinks with an Asian kick, award-winning cocktails, award-winning bartenders. And, most of all, a great experience for our guests. Our plans are to exceed the expectations.
I leave you with this simple recipe for a quick cocktail: Skinos Mastiha Liqueur, Olleo Saccharum and lime juice. Cheers!"
Independent journalism costs money. Support Times of Malta for the price of a coffee.
Support Us