As a young boy, old motors were never on the horizon of Pierre Spiteri, who always had a roving eye on the mainly modern and powerful four-wheel models belonging to that era.
This proximity led him to develop a keen interest in things technical and mechanical, which he mainly self-taught.
"I remember doing most of the necessary maintenance and service required by the Datsun which my father Victor used to drive as his daily car," he says.
"Although I studied electronics at school, yet what was beneath the bonnet of a car and how it worked always fascinated me."
Spiteri came into old motors quite by coincidence.
"In 2001, my father-in-law Joseph Vassallo, for some reason became obsessed with acquiring a Fiat 500 with suicide doors. Always being a man in a hurry and not resting until a mission is accomplished, he finally found what he was looking for in Mqabba, and bought it. However, the 1962 black vehicle was in a shell shock state: many of the important components, like the engine and seats, had been changed, and a well-planned project was definitely needed to bring it back to roadworthiness."
The two worked in tandem on a nut and bolt restoration which saw the Fiat eventually returning to showroom condition within six months. The majority of original parts, including the engine, were sourced and bought, the body was scraped down and rust removed, and the renovated vehicle was painted red.
Spiteri thought that his father-in-law, once having whetted his appetite in acquiring the Fiat and bringing it back on the road in such a short time, was now going to enjoy it to the full.
"But I was mistaken, for Joseph only took the Fiat out for a drive twice a year, and then only for short runs in and around our hometown of Mosta. Over time, his interest in it waned, and he then left it standing idle in his garage."
In the meantime, after helping his father-in-law in the Fiat restoration project, Spiteri started to look at classic cars with a longing eye. He used to frequently visit his friend Tony Turner, who had a number of old motors at his garage, including a Morris Minor that made his heart skip many a beat, not least for the fact that prior to getting his driving licence, he used to get formal motoring lessons in such a model. When some time later Spiteri found a similar vehicle for sale in Mosta, he lost no time in acquiring it.
The blue 1959 Morris Minor 1000 convertible was in a good condition but it needed some maintenance. Spiteri also removed some items that had been added but which did not form part of the original set-up of the vehicle, which was sprayed again in the same colour. He says that he really likes the car owing to its simple structure as well as the availability of required spare parts.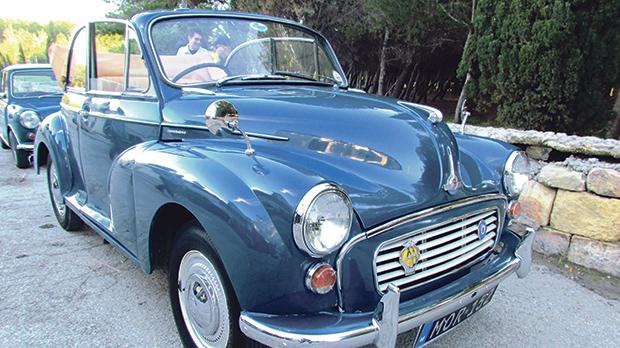 The Morris Minor was produced between 1948 and 1971, and was described as the vehicle that typified the English character. It was the first car in the UK to sell more than one million models, and came out in three batches – the Morris Minor (1948-1953), the Series I (1953 – 1956), and the 1000 (1956 -1971). Its sturdy yet sleek design, drawn up by a team under the leadership of Sir Alec Issigonis, has been hailed as a classic example of car design.
Another auto that similarly was the brainchild of Issigonis – the Mini – subsequently fell under Spiteri's radar, who says that he has a soft spot for small cars.
After helping his father-in-law in the Fiat restoration project, Spiteri started to look at classic cars with a longing eye
"I frequently visit one of my friends, Joseph Zerafa, who has a remarkable collection of old Morris motors. He happened to have a Mini 1000 and I eventually bought it from him. The green 1988 vehicle was in a very good condition, and needed no alterations. I only carried out some cosmetic changes."
The Mini was a small economy car produced by the British Motor Corporation and its successors between 1959 and 2000. It is one of the iconic landmarks of British popular culture of the 1960s. The Mini has also been voted the second most influential car of the 20th century.
In the meantime, the restored Fiat continued to gather dust in the garage of Spiteri's father-in-law, who a few years ago then decided to put it up for sale. It was advertised and a few prospective buyers came to see it, with no eventual sale. Spiteri fleetingly thought of buying it himself but the smallness of the car put him off – he is tall, towering just below two metres, and he could not see himself fitting comfortably into it.
Spiteri then did the next best thing, offering to take the Fiat to his garage so that he would see to its maintenance and prevent deterioration, something his father-in-law agreed to.
"As I was driving it the short distance to my garage, I immediately realised I had made a mistake, and I asked myself what I had let myself in for. Over time, the classic car started to need more essential maintenance and I thought I might just as well offer to buy the car."
His father-in-law did want to sell him the Fiat but preferred giving it to his nephew Daniel, who Spiteri describes as the only one of his three children with a fixation on classic cars. He continues to keep close tabs on the old motor, waiting for the 17-year-old son to come of driving age.
The Fiat 500, which last year celebrated its 60th anniversary, was a rear engine, two-door, four-seat small city car manufactured by the Torino auto giant between 1957 and 1975. In 2007, on its 50th anniversary, Fiat launched a new 500 with front mounted engine and front-wheel drive. The 500 altered car design and production owing to its elegant lines, style and technology.
Once he bought the Morris Minor, Spiteri immediately downloaded an application to become a member of the Old Motors Club, which required only a copy of the car log book and a couple of photos of the vehicle. But he left it there for nearly a year, prior to being prodded on by his friend Joseph Zerafa, and soon afterwards he signed on the dotted line at an OMC show in Mosta.
Spiteri is astounded at how big the local old motors scene is growing, a situation he describes as positively explosive.
"Just looking at my own place of work at the Malta Air Traffic Services, more colleagues are being affected by the old auto fever. Once you get the bug, there is no turning back, and like Oliver, you keep asking for more. As for myself, the three old cars at the moment suffice – but if dreams can come true, I could see myself behind the wheel of an Austin Healey at some time in the future," he concludes with a boyish grin.