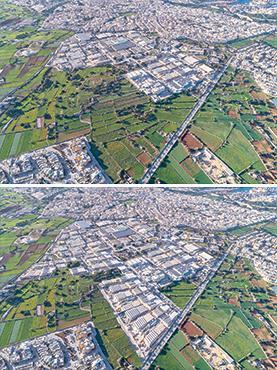 Updated with parliamentary question at 6pm
The Żejtun council has added its voice to those protesting against plans to extend the Bulebel industrial estate, saying that it should be removed from the development zone and protected for future generations.
The council met on Tuesday to hear from various groups and individuals and has taken a stand against the extension, saying that there were Punic and Roman remains in the area, and that the industrial zone would creep to just 200m from residences at Gebel San Martin.
About 120,000 square metres of land would be taken up by the proposed development, displacing farmers who use the land to cultivate vines, potatoes and other crops.
Read: Żejtun residents fight to save 120,000 sq.m. of farmland
Around 70 carob trees can also be found in the area, although they could be retained in the development.
The land is owned by the government, which has said the farmers, who have already received eviction notices, have no legal title to it. The farmers contend this is because their lease payments (qbiela) are not accepted.
No formal application has yet been submitted, although the plans have been confirmed by Malta Industrial Parks Ltd, the State entity responsible for industrial zones.
Studies will be made - minister
In his reply to a parliamentary question on Wednesay evening posed by MP Edwin Vassallo, Investment Minister Chris Cardona reassured that the design process was at a preliminary stage and that Malta Industrial Parks would carry out studies to assess the social and environmental impact on the land.
Only then would any steps be taken to start the development procedures with the authority involved, he said.
"The process will be comprehensive and will include consultation with all stakeholders – and it is not ruled out that other alternatives may be considered," he said, reminding that the land had been earmarked for industrial development in 2006 and had been passed on to MIP in 2009.
Independent journalism costs money. Support Times of Malta for the price of a coffee.
Support Us