La Calabria could easily be considered as the cradle of Italy's ancient civilizations , where all over its territory one can encounter plenty of evidence of them dating back to Prehistoric times.
The cave of Romito, as an example, which is situated in the province of Cosenza, has some of the most important Paleolithic engravings in Europe.
Calabria can easily be reached from Malta by a fast Cataraman to Pozzallo in Sicily (or in the near future by Tirrenia to Catania), whence one could reach mainland Italy by two fast motorways to Messina and then take the 'Tragetti' to Reggio di Calabria in 20 minutes.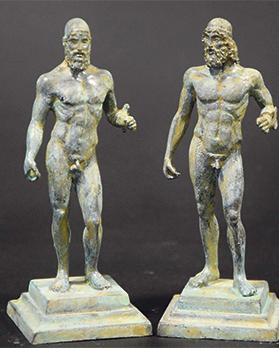 Riace bronze statues
Located in the lower part of Italy, Calabria extends southwards from Basilicata and is shaped in the form of a peninsula surrounded by the Tyrrhenian sea on one side and the Ionian on the other… a land where the sea and the mountains almost live side by side, offering the tourist an opportunity to visit truly unique areas in a short time.
Besides the great era of 'Magna Graecia', innumerable remains from Roman, Norman, Swabian, Angevin, Aragonese and Bourbon cultures left their marks after the several invasions during the passage of time.
These historic eras left indelible traces in the region which reflect the various historical phases of Calabria's artistic heritage, considered among the richest of Italy.
One can name as an example the famous bronze statues of Riace, housed in the Archaeological Museum of Reggio Calabria and which have been discovered in the seabed off the Ionian coast in 1972.
The archaeological sites of Locri can be reached from the A 3 motorway near Gioia Tauro and then following SS 111 and 106 to the Ionic side. Sibari archaeological site can be reached from the A 3 highway near Castrovillari and by the SS 105 from the eastern coast.
One can also see canvasses by Mattia Preti, who was born in Taverna, province of Catanzaro, the regional capital and other important Byzantine monuments in the region.
Apart from Calabria's historical heritage one cannot leave out several areas of environmental beauty spread through the whole region. However, the artistic heritage is at times closely bound to particular areas with strong handcraft traditions such as San Demetrio Corone, where Albanian language and customs still thrive.
Romito cave
The importance of Calabria, however, does not end here. Alongside this blend of history and tradition , Calabria's amazing beauty stands out not only along its 800 km of coastline adorned with beautiful rocky and sandy beaches and clear blue sea, but also in the wilder mountainous areas of the central region. Such examples are the enchanting gorges of the Pollino Massif, the Sila highlands with their lovely lakes and a wealth of rare species of trees, the Aspromonte forest region with its lush vegetation and plains dotted with citrus orchards and centuries-old olive orange and lemon groves.
The Appennine region of Calabria can be considered as a high granite plateau with an unusual Alpine aspect and covered with extensive coniferous and broadleaf forests… similar to a Switzerland in miniature.
The Province of Cosenza (gateway to La Sila ), which in fact occupies an extensive area of Calabria, is dominated by two imposing rocky mountain ranges – the Pollino and the Sila, with beautiful landscapes alternating between lakes and hilly areas, where the traveller, especially by car, can encounter wooded Alpine areas of great beauty in this fabulous region.
Calabria region is considered by many a natural paradise
La Sila, covering an area from Cosenza to the Adriatic side almost as far as Crotone, may be divided into three main regions: the north known as the Sila Greca, the Sila Grande in the central part containing the Lake Region and the southern part often known as the Sila Piccola.
The national park covering an area of about 18 thousand hectares is situated between the Sila Piccola and Aspromonte mountain area. The park was inaugurated in 1968.
Basilicata
Several rivers and streams, often forming torrents of water during winter, are more or less dry during July–August, but the lakes hold water all the year round.
Historical researchers are of the opinion that during the Norman conquest some lands were given to Cistersian monks to work the fields and construct several monastries. Such an example is that of St Francis of Paola and San Giovanni in Fiore which is not far from Lorica in the Sila Piccola. Both monasteries were built during the reign of King Tancred and Henry VI during the 12th century.
Later on several small villages started being built in the area, including Camigliatello (which provides winter skiing), Mancuso village, Lorica and San Giovanni in Fiore.
Besides several small villages, La Sila area comprises several mountain areas (40 per cent of Calabria is in fact mountainous) and rivers, streams and lakes formed artificially by means of dams to produce hydro-electric power.
Situated at an altitude of over 1,300 metres Lake Cecita gets more than a millon cubic metres of water annually. Not far from the lake are some 50 giant pine trees (giganti della Sila), considered to be about 7,000 years old, 2 metres in diameter and over 40 metres high. The area is a habitat for wild cats, wild pigs and beautiful grey and brown squirrels, besides several song birds.
Lake Ampollino, which can be reached by SS 107 is surrounded by pine forests, while Lake Arvo, which lies by the shores of Lorica tourist village, has an altitude of over a thousand metres. Lorica, in fact, has all the amenities for tourists, including two fine camping sites by the lake. We camped for a week and used Lorica as our focal point while touring the region.
Lake Angitola is protected by WWF for its famed wild flowers and birds and is located in the Pizzo Calabro region, while Lake Passante is not far from the tourist village of Mancuso and a few kilometres away from Taverna, birthplace of the famous painter Mattia Preti.
Camigliatello Silano is situated at the foot of Mount Curcio at the western entrance of the Sila and is the most important commercial centre. Lying by the river Camigliati, it includes winter sports facilities. Being surrounded by beautiful forested hills, it has been transformed into a busy tourist centre with several hotels and is well served by first class roads around its Natural Park and mountain area. Chair lifts reach Silvana Mansio, Monte Curcio, and Botte Donato, the highest mountain.
Reggio Calabria
San Giovanni in Fiore, referred to in Dante's Paradiso, is situated on a plateau above a hilly area of outstanding picturesque beauty, almost 300 metres above sea-level. In actual fact, San Giovanni is the oldest inhabited village in the Sila region.
It has connections with the legendary Abate Gioacchino Fiore, who had predicted an earthquake in the area, when San Giovanni village was left unharmed. It serves as a focus centre and through the SS 107 connects both the eastern and western Sila regions.
Though the first building was erected as early as 1189, up to 1530 it was still a small village. The local monastery was given the title of Universitas by Federico II, King of Sicily and Malta in 1221. The king guaranteed immunity for those who built their homes there.