The Women's KO final between Birkirkara and Mġarr was all in the balance until the Stripes' central defenders decided to rise up to the occasion, score twice and complete the job for the Valley club.
Stephania Farrugia and Ann-Marie Said were the Stripes' heroes on the night as they helped the Malta champions to despatch of Mġarr United 2-0 and complete a third successive league and cup double.
Birkirkara's two-goal lead was rarely threatened even though Mġarr, who finished second in the league and were contesting the final for the second time in a row, tried to pile up the pressure on their opponents, especially when ends were changed.
However, Birkirkara's superiority came to the fore as their experienced players helped them preserve their advantage, and going close to further stretch their advantage on a couple of occasions.
En route to the final, the Stripes scored seven goals without conceding any in two games and they took their form into the final as they halted Mġarr's chances to wrap up their cup journey with three clean sheets in as many games played.
"I am really proud of my team-mates, because they never give up and that attitude has helped us win the league and the cup this season," Farrugia, who scored her 100th goal in her 300th appearance for Birkirkara, told the Times of Malta.
"Our defence was crucial for us, like every year, as our solidity and chemistry at the back helped us to go through in difficult moments."
Birkirkara were clearly the dominant force in women's football this season, but such superiority was not foreseen at the start of the season when they lost the Super Cup to rivals Hibernians.
However, coach Melania Bajada was able to fix the problems following that game, steering the team to performances like the ones produced in the final.
"Honestly, it is a bit unexpected to finish this season on such a high note after our difficulties early in the campaign," defender Said said.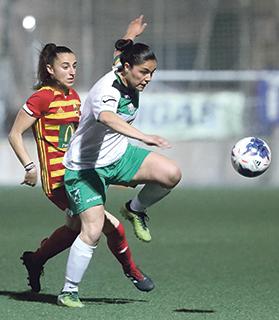 Abigail Camilleri (right) of Mġarr anticipates Birkirkara's Raina Giusti.
"We were forced to change some things in our team and adapt to the new tactics. Nonetheless, we showed great courage in recovering our energies and focus on these targets."
For yet another year, Mġarr has fallen to the Stripes in the final but while last season they were a penalty away, this time they found it difficult to break down their opponents.
"First of all, I would like to congratulate Mġarr for their season," Said, the former Raiders (Luxol) player, said.
"Our games against them were really challenging, but it also helped us to raise our level of game and make sure that we retain the league and the cup."
On a personal note, it was a satisfactory night for Said as she managed to list her name on the scoresheet in the final, something that she is not used to do in her career.
"I am really happy for my goal, because it was my first time to score in a final," she explained.
"I really want to dedicate it to our physio, who throughout the season has helped us remain in healthy conditions so we could fight until the end to reach our objectives."
Fans support
The final was played in front of a numerous crowd, not really the norm in the women's game in Malta.
Fans of both Birkirkara and Mġarr coloured the Mosta Ground, and their enthusiasm and constant support added to the excitement of this game.
For Birkirkara captain Farrugia, it was something memorable to play in front of such a crowd especially in a cup final.
"No doubt that the numerous supporters attending our game injected a huge boost into our team," Farrugia admitted.
"It motivated us on the field to put up our best display, especially in front of people who maybe do not attend women's games on a regular basis."