From drinks to dessert ideas, eat your summer watermelon for every course with these genius recipes, courtesy of the Australian Watermelon Association.
Coconut pancakes with watermelon
1 vanilla bean
110 g (½ cup) caster sugar
1 tbsp fresh lemon juice
750g piece of watermelon, peeled, deseeded, cut into 1cm cubes
Double cream, to serve
Coconut pancakes
25g (⅓ cup) shredded coconut
packet of pancake mix
Melted butter, extra, to grease
Use a small sharp knife to split the vanilla bean lengthways without cutting all the way through. Place the sugar, water, lemon juice and vanilla bean in a medium saucepan over low heat. Cook, stirring, for two to three minutes or until sugar dissolves. Increase heat to high and bring to the boil. Reduce heat to medium and simmer, uncovered, for five minutes.
Remove from heat and use tongs to remove the vanilla bean. Use the knife to scrape the vanilla seeds into the sugar syrup. Discard the pod. Add the watermelon pieces to the syrup and set aside for 25 minutes to develop the flavours.
Dry fry the coconut in a small non-stick frying pan over low heat for three to four minutes or until golden brown. Transfer to a small bowl and set aside for five minutes to cool. Make up the pancake mix following the packet instructions and add the cooled golden coconut to the mix just prior to cooking.
Brush a medium shallow non-stick or cast-iron frying pan or crepe pan with extra melted butter to lightly grease. Heat over medium heat until it foams. Pour 60ml (¼ cup) of batter into pan to make a 12cm pancake. Cook for two to three minutes or until bubbles rise to surface and pancake is golden underneath. Turn with a spatula or toss. Cook for a further one to two minutes or until just cooked. Transfer to a plate and cover with foil to keep warm. Repeat with remaining batter to make 12 pancakes, greasing the pan if the pancake begins to stick, and stacking the pancakes as they are cooked.
Divide pancakes among serving plates, top with the watermelon and drizzle with the vanilla syrup. Top with a dollop of the double cream and serve immediately.
Watermelon Lemonade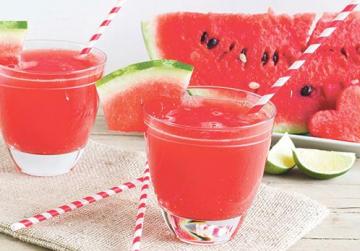 ½ a large wedge seedless Watermelon cut into large pieces
½ cup raspberries
1 cup (250ml) water
⅓ cup sugar
½ cup (125ml) lemon juice
Place watermelon, raspberries and water in container of electric blender, cover and blend until smooth.
Strain through fine mesh strainer into pitcher. Stir in the sugar and lemon juice until sugar dissolves and refrigerate until chilled, for about an hour. Stir briskly before serving.
Watermelon Tart
½ cup pine nuts
1kg seedless watermelon chopped into 1.5 cm cubes
½ cup raw honey (+ a little to drizzle on the top)
2 tbsp raw caster sugar
¾ cup plain flour
½ tsp cinnamon
2 tbsp olive oil
Preheat oven to 180˚C. Grease a quiche dish with a little olive oil. Chop the watermelon into cubes and then place into a sieve and allow to drain (for an hour or two).
Squeeze the watermelon with your hands to remove any remaining liquid. In a bowl mix the sugar, flour and cinnamon. Add the honey and oil and gently add the watermelon pieces to the mixture and stir carefully.
Pour the mixture into the dish evenly. Sprinkle the pine nuts on the top. Bake in the oven for about an hour. Drizzle with honey and eat warm or cold with Greek yoghurt.
This unusual cake is delicious served warm with natural Greek yoghurt.