What do Valletta and Matera in southern Italy have in common?
An aerial photo of Matera, in the Basilicata region in southern Italy. The old city is the European Capital of Culture 2019.
That is for the individual to perceive on visiting a photographic exhibition marking the end of Valletta 2018 and welcoming Matera as European Capital of Culture 2019.
The exhibition, which runs for two months at St Augustine's Convent in Old Bakery Street, Valletta, features 26 prints by Italian photographer Maurizio Urso and a team of professionals, which capture the two territories' common elements as well as unique ones, including sacred art, architecture and landscapes.
"The exhibition narrates Valletta and Matera culturally and artistically. It's not a simple sequence of images but, like a journey, it is a sensorial experience with spectacular images," said TV journalist and author Mariangela Petruzzelli, who is also the curator of the exhibition.
Mr Urso has worked in Malta for more than 20 years. Among others, his images have illustrated the books Roman Malta/Malta Romana (1992), about the archaeological heritage of the Maltese islands, and Memento Mori (2005), which focuses on the Latin-inscribed tombstones at St John's Co-Cathedral.
The exhibition forms part of a larger project − a festival titled Malta Meets Matera – Matera Meets Malta, founded by Ms Petruzzelli and Mr Urso, which had its international premiere in New York during an annual show-cooking competition for Italian female chefs, titled Miss Chef, held on Columbus Day, in October.
During the event, photos by Mr Urso were presented to New York mayor Bill De Blasio, the Italian Consul in New York, Francesco Genuardi and the director of the Italian Culture Institute in New York, Giorgio Van Straten.
Photographer Maurizio Urso at work.
The project's founders also entered into an agreement with the municipality of Grassano, the native town of Mr De Blasio's mother, Anna Briganti, in order to create an itinerary titled Via dei Cavalieri di Malta, involving all four cities ‒ Grassano, Valletta, Matera, New York − where the Knights of St John have left an indelible mark on the cultural heritage.
After Valletta, Mr Urso's exhibition will move to other Italian cities and more distant shores, including London and Beijing.
The festival will continue in August-September 2019 at Palazzo Viceconte and the Ex-Ospedale San Rocco in Matera.
Apart from photography, there will be music, theatre, literature, storytelling and travel and documentary films. There will also be a programme of meetings with architects from Malta and Matera, who will focus on the value of the European cultural heritage of the two territories, and with chefs to promote Maltese and Italian food and tradition.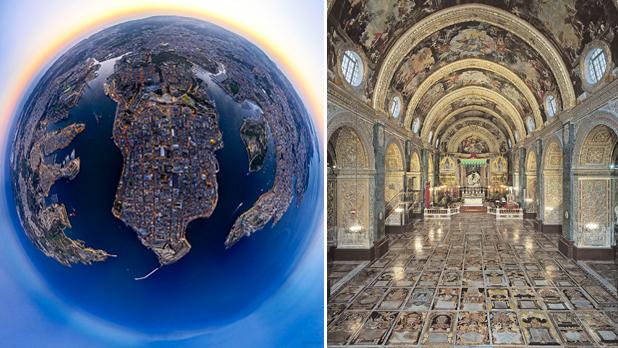 A bird's-eye view of the Grand Harbour. Right: St John's Co-Cathedral in Valletta.